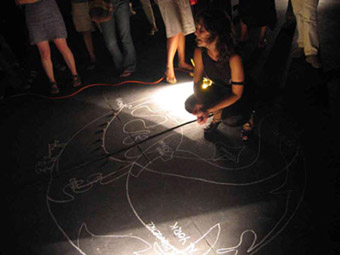 courtesy Magdalena USA
Rosa Casado, Paradise 2
CARNI (Contemporary Artist-run New Initiative, Melbourne), is not paradise. On this damp Thursday night in winter, the fabric of the former tannery feels rather desolate. But the audience for Paradise 2—the incessant sound of a falling tree is not at CARNI, or the place and its limitations are incidental: the performer's first line shifts the scope of our setting straightaway to a vast and conceptual horizon. "We are in Melbourne, Victoria, Australia, the Earth, more exactly at latitude 37°49'S and longitude 144°58'E."
In Paradise 2, Rosa Casado introduces herself as "a human being, a European woman", "in front of you, standing." To objectify herself in such reductive, irrefutable terms produces a few smiles and someone laughs. Yet Casado's audience discovers that she is open to risking absurdity. Her aspiration is not to disguise but to practise the possibility of being undisguised and, more broadly, of unmasking that which may seem self-evident. Paradoxically, she remains, somehow, inscrutable.
Written in Spanish, and translated into English by Elvira Antón, Paradise 2 is Casado's first 'fixed' script for solo performance. Insofar as it is motivated by a precise regard for efficient communication, the work might be described as an illustrated lecture. Its rhetorical quality follows especially from the succinctness and sometimes awkward terseness of the lines: many feature definitions sourced in the Royal Spanish Academy's 'official' dictionary of Spanish.
The spoken lines alternate with the execution of a drawing of the earth and other planets of the solar system, in chalk, over the extent of the concrete floor. Casado squats to do so, pulling a small construction lamp as its electric chord allows, lighting the ground and only occasionally her face. Her approach to the drawing and its style are as deft and stark as her use of spoken words. By a methodical repetition and variation of these elements, reflections on a holiday in West African Mali open out, steadily, into reflections on subjecthood in the global context. "I am a foreigner in Mali; a foreigner who travels for pleasure is a tourist." And Casado brings the preconditions of her own journey into narrative, spatial and, so, perceptual coincidence with that of Ibrahima Boyé. This man is personally unknown to her, but "a biped, mammal, Senegalese", and "a foreigner in Spain; a foreigner that travels to a country to stay is an immigrant."
There is an island at the centre of the room: a hollow, elongated sculpture about 20cm high made from dark chocolate, and dotted with chocolate palm trees. Lit by a single, bare bulb, this island is implied as the sun of the solar system that Casado is sketching. Its shape is based on that of Fuerteventura in Spain's province of Las Palmas. Amongst the 7 Canary Islands, Fuerteventura is considered the oldest in geological terms, and its sweeping beaches are the longest. For these reasons it has been perhaps most insistently mythologised as the place in the Atlantic Ocean where sensory delight and perfect gratification are guaranteed—indefinitely.
Although the choreography of Paradise 2 telescopes to conclude at the chocolate island, Casado does not begin there. She visits it intermittently: having used a word related to economic thinking or analysis, she breaks and chews through one or more palm trees. Thus speaking, drawing and eating, Casado treats distinctions between tourism and migration as a pattern of assumptions about money and consumption, freedom and responsibility.
Together the palm trees amount to nearly 400 grams of chocolate. As each is taken, the sampled sound of a falling tree is set into reverberation. Casado's chewing and swallowing is unhurried, yet resolute, her gaze never faltering from the possibility of direct eye contact with members of the audience. This eating is neither private nor necessary, but nor is it powerless, or defensive: it is a highly controlled display of over-gratification. The quantity of chocolate that passes her lips becomes abject, as does the denuded island, though Casado herself does not. Even so we must hear the tree trunks splitting relentlessly. Over the 35 minutes of the performance, these accumulate into a soundscape that suggests a collapse of any difference between the depletion of natural resources and of human dignity—and we are all complicit.
Casado works without (both lacking and outside) a proscenium. Yet the premise behind Paradise 2 proves highly traditional, in the sense that she undertakes to recreate an image of the world; in this case, the world as a matter of ordinary words and gestures—and desires that the capitalist marketplace makes ordinary through constant justification and fulfilment. Now having witnessed Paradise 2, I am aware of a new desire: to be confronted and stimulated by Casado's next work.
Rosa Casado has trained in ballet, studied physics at the University of Madrid and theatre at the University of Theatre, Istituto d'Arte Scenica. "Her current artistic work is centered on rewriting reality by means of de-contextualizing ordinary daily acts to explore new ways of "thinking" and "doing" and on developing interdisciplinary spaces to promote contemporary artistic practice" (magdalena.actrix.co.nz/guests/rosa.html). She performed and conducted a workshop at Magdalena Aotearoa, New Zealand in July.
Paradise 2—the incessant sound of a falling tree, Rosa Casado in collaboration with Mike Brookes, CARNI (Contemporary Artist-run New Initiative), Preston, Melbourne, June 8. Presented as part of the Institute of Postcolonial Studies' interdisciplinary panel series Performance and Politics.
RealTime issue #74 Aug-Sept 2006 pg. 47
© Cynthia Troup; for permission to reproduce apply to realtime@realtimearts.net