from Casula Powerhouse's Nam Bang!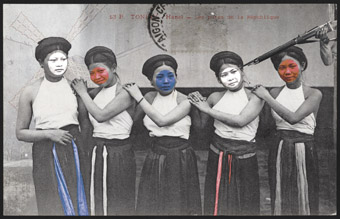 courtesy of the artist and Casula Powerhouse
Liza Nguyen, The whores of the Republic, 2008, photograph printed on canvas
"Thirty-four years after the official end of the conflict, Nam Bang! examines the consequences of the Viet Nam War from a generational and international perspective. This is the third in a three stage project by Casula Powerhouse, representing multiple perspectives, from service and non-service personnel who served in, or came from Viet Nam, to protestors and pacifists who opposed the war. This latest exhibition incorporates international perspectives, particularly from the second generation [such as French born Liza Nguyen, Ed.]—the partners, children and families of those of affected by the conflict." Adapted from Nam Bang! press release.
Casula Powerhouse, April 28-June 21. Echoes of War conference April 17-18, keynote address, US art critic, author & activist, Lucy R Lippard. www.casulapowerhouse.com
from r e a, PolesApart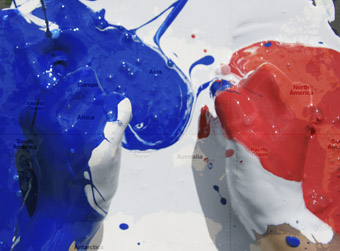 r e a, PolesApart, an installation of 4 triptychs of c-type photographs and a video work
April 4-May 2, BREENSPACE. Image courtesy of the artist and BREENSPACE, Sydney. The work can also be seen subsequently at Manly Art Gallery & Museum, May 1-June 7, as part of the 2009 Guringai Indigenous Festival.
In her essay accompanying the exhibition, Dr Christine Nicholls (Australian Studies, Flinders University) writes: "In Poles/Apart, r e a' s most recent multimedia work, the artist extends earlier ideas and enters new territory. In the silent video that she has created expressly for this exhibition, r e a embodies, enacts and performs the part of a fleeing figure of an ageless Aboriginal woman. The protagonist is running through a seemingly bushfire-devastated forest of tall, stark, fire-blackened trees. There is little ground cover. She is wearing a long black dress that places her in an era earlier than the present. The woman who has taken flight successively runs, crouches in fear, stumbles, rests, picks herself up again, then resumes her fugue. Why? From what or from whom is she trying to escape? Are her pursuers real or imagined?"
from May's Lane Street Art Project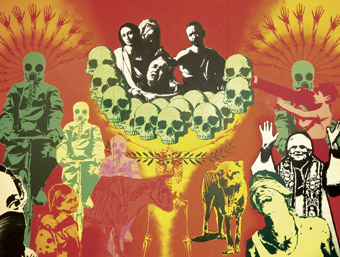 Towards a Better World, Die Laughing Collective, 2006, medium: stencil, aerosol, image © 2009 MAY'S, CarriageWorks, March 25-April 6
As part of CarriageWork's hugely successful Platform 2 Hip Hop Festival, the building's vast foyer is filled by Tugi Balog and his team with finely crafted large-scale graffiti and street art from the 2005-08 archive of May's Lane in St Peter's, Sydney. Towards a Better World is one of the show's most striking images—the unusual colour palette, the seamless, layered mix of iconic images drawn from war, protest and Renaissance art reveals a satirical impulse that doesn't kill the drama. But if John Howard is John the Baptist, who is the Liberal Party Jesus coming in his wake? God help us.
–
RealTime issue #90 April-May 2009 pg. 2-3
© RealTime ; for permission to reproduce apply to realtime@realtimearts.net