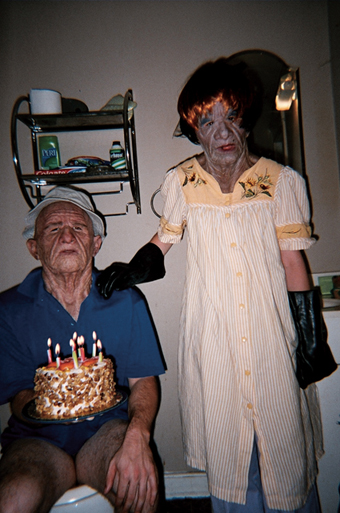 Trash Humpers
ONE OF DAVID LYNCH'S GREAT QUIPS AROUND THE TIME HE MADE INLAND EMPIRE IS THAT THE PROBLEM WITH HIGH DEFINITION VIDEO IS THAT IT LEAVES NO MYSTERY FOR THE VIEWER, YOU ARE ALLOWED TO SEE EVERYTHING—NO FUZZINESS, NO BLURRY EDGES OR STRANGE VISUAL ARTEFACTING. LYNCH EQUATES LOW DEFINITION VIDEO WITH THE FILMS OF THE 1930S WHEN THE EMULSION WASN'T SO GREAT, PROVIDING LESS INFORMATION ON THE SCREEN, ALLOWING THE MIND TO GO DREAMING.
Harmony Korine's Trash Humpers is a film of mystery in many ways of which I'm sure Lynch would approve. A feature length film shot in glorious VHS, full of bad tracking and noise glitches, it recalls the bizarrely nostalgic aesthetic of 80s domestic video, offering a refreshingy beaten-up and wonderfully degraded audio visual experience—something that the crystal clear and all too perfect high definition world of contemporary video misses.
Korine has spoken about what attracted him to shooting the film on VHS: "There was a strange beauty in the analog. You almost have to squint to see things through the grain and the mist. There's something sinister about it." Now numerous films from Blair Witch to Paranormal Activity have attempted to exploit these 'sinister qualities.' Domestic video functions as a recorder of real events unfolding before us, adding to the overall verisimilitude and scariness of film, but none has done it so succinctly or perversely as Korine with Trash Humpers.
The theme of Korine's latest delve into the depraved depths of white trash involves another kind of beating up and beating off—geriatrics (actually Korine and co in old people masks and orthopaedic shoes) going about humping trash and generally fucking shit up. The film, exactly like the title suggests, depicts old folk humping trash—in fact trees, mailboxes, and anything else that doesn't move. Korine's treatment of this material appears in general like an improvised shoot and run approach. The camera follows its manic-decrepit characters through abandoned streets and parking lots as they hump, smash up property, murder, commit home invasion and along the way meet an assortment of other weirdo characters, including conjoined twins and a guitar strumming sex obsessed cretin.
Lynch's sense of low definition video's 'mystery' also extends to the premise of the film itself: just what are we watching? If HD video shows us everything of the world, the VHS of Trash Humpers reveals the unseen, the unknown, the hidden—old people who come out at night to connect with the world around them in ways not normally seen. Far from shock value, one of the characters in Trash Humpers offers us what could be described as one of the more poignant moments in this bizarre film as he discusses how these people are free, free to do whatever, unlike the rest of society trapped by rules and conventions.
Trash Humpers' freak show characters recite nursery rhyme fragments and chant repetitive nonsense as they go about their depravity, recalling the wonderfully disturbing onscreen personas of artist Paul McCarthy. In McCarthy's Painter (1995) the artist intones phrases in a demented, high-pitched voice, and in Family Tyranny (1987, with Mike Kelley) he repeats over and over remedial phrases to disarming effect. McCarthy too has long explored the use of mutant masks in various performances, providing him, like the grandpas and grandmas in Trash Humpers, a certain crazed freedom to play out all manner of debased activities.
Trash Humpers adds up to a surreal, creepy and wonderfully perverse experience. Like a good horror movie, the film's abrasive and nutball images stay with one for days afterwards. Apparently it was Korine's intention to make a film that might be unearthed in a thrift store on an old VHS tape, a fuzzy analogue artefact from another time and place. He even flirted with the idea of leaving copies of the video on the sidewalk, for unsuspecting viewers to find.
The end result is a recombinant mix of nasty home video, jackass inspired pranks with a sexual bent, performance based video art and horror, all seemingly improvised into a macabre, vaudeville horror show. Trash Humpers celebrates destruction, vandalism and perverse freedom. It's the perfect antidote to the worthy and important art house fare of the Melbourne International Film Festival and its grating byline this year: "it's a matter of taste".
Harmony Korine is an American director whose films include Gummo, Julien Donkey Boy and Mister Lonely. Trash Humpers won the DOX Award at the 2009 Toronto International Film Festival and screened in the 2010 Melbourne and Sydney Underground Film Festivals (MUFF and SUFF).
RealTime issue #99 Oct-Nov 2010 pg. 16
© Ian Haig; for permission to reproduce apply to realtime@realtimearts.net