IN THE MANY WARS OF THE LAST HUNDRED YEARS—FROM WORLD WARS TO COLD WARS TO CULTURE WARS TO WARS ON REFUGEES, ON TERROR AND IRAQ—HOW HAS PERFORMANCE RESPONDED TO INTERNATIONAL AND CIVIL CONFLICTS? WHEN WAR USES THE TERM 'THEATRE' TO DESCRIBE ITS AREA OF OPERATIONS AND EFFECT, HOW MIGHT THEATRE EXAMINE THE FALLOUT OF WAR?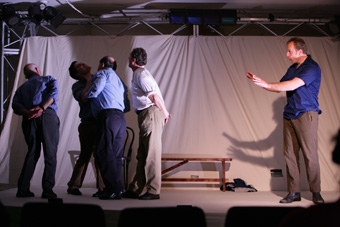 photo Dawne Fahey
Chris Pitman and cast, Maralinga
Fallout, a day-length symposium investigating the intersections of theatre and war, aimed to analyse a range of performance practices operating within this territory, framed by questions of the ethical imperatives, political efficacy, logistical challenges and the aesthetic innovations of these practices.
Originally convened as an opportunity to reflect on Maralinga, a long-term interview-based verbatim theatre project by Paul Brown and collaborators, Fallout was expanded to draw together artists and scholars from Australia and the UK to discuss and debate a number of artistic projects in both countries that take war as their subject. These ranged from Australian works like Ngapartji Ngapartji, Through the Wire and The Wages of Spin, to the work of British companies such as Ice and Fire and The Exodus Project, sound artist Louise Wilson's atmospheric audio interventions into abandoned military research sites in Scotland and the work of the Manchester University-based research project In Place of War, now in its third year.
"That Maralinga should be classed as a war zone struck me in the face", said Paul Brown in his introductory remarks, but that it made sense as a "Cold War zone." Far away, on the fringe of its former Empire and thanks to meek Australian compliance, Britain was able to flex its nuclear muscles, to demonstrate that it too was a force to be reckoned with in the new world order. Maralinga, recently shown as a work-in-progress at the Ettalong Beach War Memorial Club on the NSW Central Coast, confronts official blanket secrecy and denial by seeking unofficial, often anecdotal accounts from ordinary soldiers in extraordinary circumstances. The play distills interviews with a large number of British and Australian servicemen who worked on the tests between 1952 and 1967, most often young men off for the adventure of a lifetime, who had no notion of what they would be exposed to, and whose primary function in many cases seemed to be as guinea pigs—to discover not only the health effects of the tests, but also how soldiers might psychologically cope with and begin to normalise the atomic battlefield of the future. Fallout convenor James Arvanitakis remarked of Maralinga that it was an act of "highlighting broken bodies, and how they broke." Not being the bearers of stories of glory and triumph, atomic test veterans have faced painfully extended battles with military and government authorities that continue to deny claims for compensation, partly on the basis that the soldiers were not deemed to have served in a war.
James Thompson, Alison Jeffers and Jenny Hughes discussed the work of In Place of War, appearing live from Manchester via video streaming. The project examines performances that occur within war zones, triggered by Thompson's experience of working in war-torn Sri Lanka, where anthropological literature declared that no performance was occurring, despite this clearly not being the case. Much of the work of In Place of War examines performance being created by and for survivors of civil strife, both within the war zones themselves and in countries of refuge such as the UK. There were obvious links here with the recent explosion of refugee-themed 'verbatim' or 'documentary' theatre in Australia, explored elegantly by Caroline Wake. While Alison Jeffers' paper focused on the performances that refugees themselves must produce in order to be recognised by state authorities as legitimate refugees, Wake focused on the ways in which refugee witnessing has been redeployed in recent examples of Australian theatre. As Paul Brown noted cautiously, "truth surrounds verbatim, but it would be a mistake to think that verbatim theatre is any more truthful than any other form of theatre."
2006 marked the fiftieth anniversary of the Maralinga tests. As the United States agrees to provide India with nuclear technology, covers munitions with radioactive 'depleted uranium', and begins developing a new range of 'safe' battlefield nukes and while Australia scrambles to satisfy China's appetite for uranium and actively courts nuclear power as a 'realistic' and 'clean' answer to global warming, it is difficult to ignore the spectre of the Maralinga tests and the death, dislocation, and destruction they produced. As such, forums like Fallout act as both timely reminders of buried histories of injustice and as opportunities to gather critical mass to resist such atrocities recurring.
Fallout: A Symposium of Politics and Performance, convenor James Arvanitakis, School of Media, Film and Theatre, University of New South Wales, Nov 22 2006; Maralinga. www.nucleartheatre.org; In Place of War, www.inplaceofwar.net
RealTime issue #77 Feb-March 2007 pg. 46
© David Williams; for permission to reproduce apply to realtime@realtimearts.net