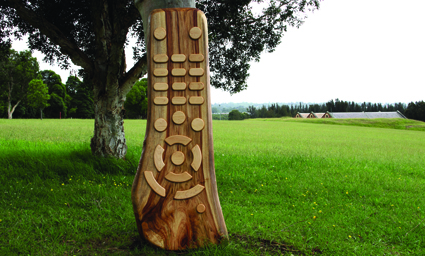 courtesy the artist
Wade Marynowsky, Remote Tribe 1 – Sweet poison 2012, in-situ
Wade Marynowsky has amused and bemused gallery viewers over the last few years with his distinctive take on interactivity and robotics. Dan MacKinlay wrote of his 2009 work, The Hosts–A Masquerade of Improvising Automatons: "There is a kind of inversion of the panopticon here. I know I am watched, but I do not know truly by what. Is it another of Wade Marynowsky's telepresence hoaxes, or some automated trickery, or perhaps something more unnaturally intelligent? Is the moment at hand when we reprise our ancient animism, catching ourselves being polite to our appliances just in case there is an intelligent mind of any sort peering back at us that we might offend?" (online exlcusive RT93)
Marynowsky has a new solo show, Universal Remote, opening at UTS Gallery comprising media art pieces along with some more 'traditional' sculptural and photographic works. The universal remote of the title is in fact a series of oversized replicas (almost two metres tall) of remote control devices carved out of Canadian rock maple and Australian camphor laurel. Marynowsky was inspired by the totem poles he saw when undertaking an artist-residency in Canada. He rather cheekily states, "Remote controls are the talking sticks of my generation; at my parents home the person 'in control' of the remote holds the power to speak…or choose what we all watch" (press release).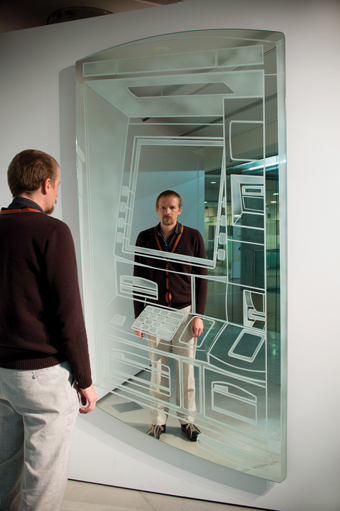 courtesy the artist
Wade Marynowsky, The balance of your bank account is reflected in your face 2012, installation view.
Similarly playful is another sculptural piece, The balance of your bank account is reflected in your face. Here the outline of an ATM is etched into a large mirror in which you become the ghost in the machine.
Entry to the exhibition is via a sound installation titled One room, one button: composition for padded room. Marynowsky says, "It consists of eight white padded panels and an oversized chaise lounge [sic], embedded with 704 arcade buttons. The installation explores the insanity of the ever growing 'smart revolution,' in particular the smart home" (email correspondence). Perhaps Wade Marynowsky shares Dan Mackinlay's anxiety about machine intelligence.
Wade Marynowsky, Universal Remote, UTS Gallery, April 24-June 1, artist talk with MCA curator Anna Davis, May 22, 5.30pm; www.utsgallery.uts.edu.au/gallery
RealTime issue #108 April-May 2012 pg. web
© RealTime ; for permission to reproduce apply to realtime@realtimearts.net