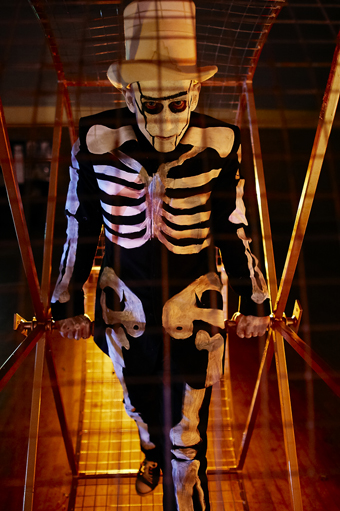 photo courtesy of the artist
Aerialize, Clammy Glamour From the Curio-Cabinet
sydney styles a fringe
Unlike Melbourne and Adelaide, Sydney has been without a fringe festival in recent years, putting it on the fringe of the fringe so to speak. However, this is all about to change with Kris Stewart's inaugural Sydney Fringe Festival. Sensibly, the initial festival is based where its artists are—in the city's inner west. Stewart states that around 60% of the program is from artists working in and around the Newtown area. Even if you're living there, you're unlikely to get to all 200 events so you could focus on theatre or visual arts or the intriguing category marked "other events." Or you might like to choose a venue such as CarriageWorks, PACT or the Addison Road Gallery and stick with it. You could choose an already widely acclaimed show like Elbow Room's Tiny Chorus, or a company like Newcastle's Tantrum Theatre that you've seen praised in RealTime, or seek out Aerialize (http://realtimearts.net/article/issue82/8802) who train many young circus and physical theatre performers. Aerialize will be staging Clammy Glamour From the Curio-Cabinet, directed by underground cabaret star Annabel Lines and Legs on the Wall associate Simone O'Brien. The show is billed as "an aerial tale, sparkling ominously in the half-light of a strange and disturbing doll's house" (press release). Sydney Fringe Festival, September 10-26, http://thesydneyfringe.com.au/; Aerialize, Clammy Glamour From the Curio-Cabinet, CarriageWorks, Sept 15, 16, 17, 23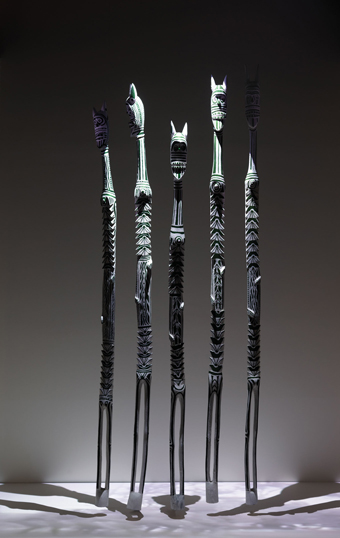 photo courtesy of the artist
Mokuy, Nawurapu Wunungmurra
making new media indigenous
The 27th Telstra National Aboriginal and Torres Strait Islander Art Awards (NATSIAA) have been announced. There is some extra excitement this year as NATSIAA has introduced a new prize category in recognition of the growing number of Indigenous artists who are embracing new media as part of their artistic practice. Previously, such works fell into the Wandjuk Marika 3D Memorial Award category (http://www.realtimearts.net/article/issue87/9154). The inaugural Telstra New Media Prize has been awarded to Nawurapu Wunungmurra for his work Mokuy.
Mokuy (spirit) is an elegant sound sculpture with video projection that evokes images and sounds of the coming together of spirits associated with sacred yams, "Morning Star feathers," scrub fowl and doves at the sacred ground called Balambala: "The Yirritja mokuy come in on the birds djilawurr (scrub fowl) and bugutj-bugutj (banded fruit dove). The Dhuwa mokuy, they come in from rangi side (saltwater)." [http://www.nt.gov.au/nreta/museums/exhibitions/natsiaa/index.html]
The Telstra Award and General Painting Award went to Mr Donegan for his work Papa Tjukurpa, Pukara. Other winners included Glen Namundja for Kunabibbe Ceremony at Manmoyi (Telstra Bark Painting Award), Dennis Nona for Saulal (Telstra Work on Paper Award) and Wukun Wanambi for Bamurrungu (Wandjuk Marika Memorial 3D Award). If you can't get to the Museum and Art Gallery of the Northern Territory in Darwin to see these and the rest of the 96 pre-selected works go to: www.nt.gov.au/nreta/museums/exhibitions/natsiaa/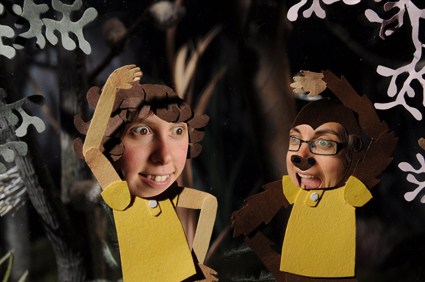 photo courtesy of the artists
Isobel Knowles and Van Sowerwine
Australia, You Were In My Dream (still) 2010
van sowerine & knowles: winning interactivity
In other media arts news, Victorian artists Isobel Knowles and Van Sowerwine have been announced as the winners of the 2010 Premier of Queensland's National New Media Art Award, which includes $75,000 prize money. The judges praised their entry You Were In My Dream as "a playful work that offers a rare combination of interactivity, narrative, and nostalgia." Saige Walton wrote in her review for RealTime of Experiment's Utopia Now exhibition: "You Were In My Dream is a glorious stop-motion animation that recalls media art history from the vantage point of the present. Functioning as equal parts perspective box, reflective display and interactive installation, the visitor is seated at a booth and provides the stand-in face for a child protagonist (fed live into the animation)" (RT96)
The judges also highly commended Wade Marynowsky's (NSW) work The Discreet Charm of the Bourgeois Robot 2 2010 as "enchanting, poetic and unnerving" (press release). Other artists short-listed for the 2010 Premier of Queensland's National New Media Art Award and featured in the exhibition are: Philip Brophy (VIC), Nigel Helyer (NSW), Chris Howlett (QLD), Soda_Jerk (NSW) and Lynette Wallworth (NSW). Their creations are on display at the Gallery of Modern Art in Brisbane. Danni Zuvela will review the works and the judge's decision in RealTime 99. You can read about the inaugural New Media Art Award in our archive here. Premier of Queensland's National New Media Art Award 2010, Gallery of Modern Art, Brisbane; http://qag.qld.gov.au/
historical, personal, material, ephemeral
While at GoMA you might also like to see the work of Simryn Gill, whose exhibition Gathering is on display until mid-October. Gill's work explores the intersection of the historical and the personal, the material and the ephemeral. Bec Dean has previously described her work as "deeply engaging, commanding a gentle seeking of her audience, and a willingness to explore that is no less compelling than the immersive, sensory video installations of Stan Douglas and Bill Viola" (RT42). Gathering consists of a selection works from the past five years, including key photograph series such as May 2006 and Run, the book-based installation Paper boats, as well as Untitled (interiors), a series of bronze sculptures cast from drought cracks in western New South Wales. Simryn Gill: Gathering, Gallery of Modern Art, Brisbane, Aug 28-Oct 17; http://qag.qld.gov.au/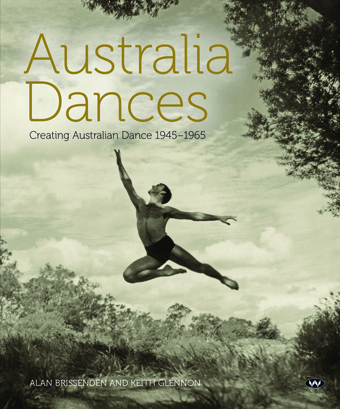 Alan Brissenden and Keith Glennon, Australia Dances: Creating Australian Dance 1945-65
australian dance: the formative years
This handsomely produced book from Adelaide's Wakefield Press is a groundbreaking account of Australian dance as it took shape, in ballet in particular, between 1945 and 1965. It was a long, hard struggle to build ongoing companies, train Australian dancers and, often most challenging, to create original Australian works. But within a mere 20 years (and with the impetus of the huge popular taste for ballet built by the pre-WWII visits of the likes of de Basil's Ballet Russes), the Australian Ballet was formed, performing alongside some of its state antecedents.
Written by Alan Brissenden and Keith Glennon, Australia Dances is packed with wonderful black and white photographs, colour plates of set and costume designs (fascinating for their correlation with contemporary art movements) and vivid accounts of a multitude of individual works—replete with eye-witness recollections. Regional companies, dance studios, educational strategies and eisteddfods are given their due, as is Aboriginal dance—the authors highlight the role of the 1961 Darwin Eisteddfod, which included a performance by 15 Aboriginal people, in triggering touring of traditional Indigenous dance by the Australian Elizabethan Trust in the early 1960s. In a country largely bereft of serious, accessible documentation of the performing arts, Australia Dances is exemplary of the kind of books Australian artists and their audiences warrant. Alan Brissenden and Keith Glennon, Australia Dances, Creating Australian Dance 1945-65, RRP $70, www.wakefieldpress.com.au
australian media arts: dream in beijing

Dream Worlds: Australian Moving Image 2010 is a collection of media artworks curated by Melinda Rackham, former director of the Australian Network for Art and Technology and occasional RealTime contributor. It features works by Daniel Crookes, Anita Fontaine, Warwick Thornton, Kate Richards, Jess MacNeil, Troy Innocent, Chunky Move and Peter Miller. Each work is roughly three minutes long with the entire program screening every half hour on large format, open air video display in Sanlitun Villagein Beijing. Dream Worlds: Australian Moving Image 2010, Beijing, Sept 4-Oct 16; www.dreamworlds.com.au
RealTime issue #98 Aug-Sept 2010 pg. web
© RealTime ; for permission to reproduce apply to realtime@realtimearts.net