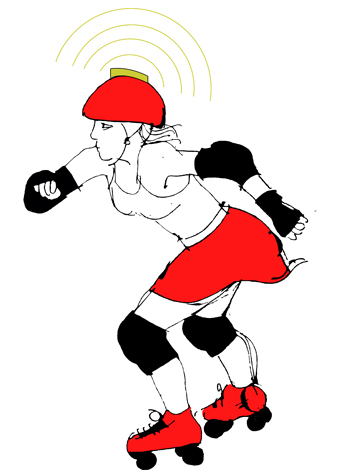 image courtesy of the artists
Bloodbath, Bump Projects
blood, sweat and art
In the language of public relations, roller derby is currently having a "moment," thanks to articles in the Sydney Morning Herald and the Australian as well as Drew Barrymore's movie Whip It. Bloodbath, however, promises to take roller derby in a slightly different direction.
Conceived by new media artist Linda Dement and billed as a "collaborative distributed artwork," Bloodbath involves an all girl flat track roller derby game, where sensors are attached to the players. These sensors convey information to a server, which then sends the data on to the five participating artists, who generate their "digital elaborations of the moves and collisions on track" on site and in real time. These elaborations are then projected as the game plays itself out.
Besides Dement, the artists involved include Kate Richards (interviewed in RT80, Sarah Waterson, Francesca da Rimini and Nancy Mauro-Flude, all of whom have track records in new media, data visualisation, mediated performance and work with embodiment or violence. Bloodbath is funded by the inaugural Digital Culture Fund of the Australia Council. Bloodbath, Bump Projects and the Sydney Roller Derby League, Horden Pavilion, October 9, www.bumpp.net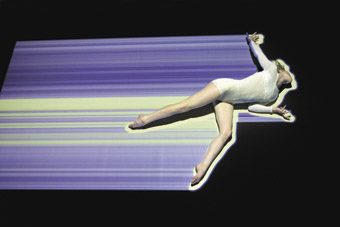 photo Rom Anthonis
Kristy Ayre, glow, Chunky Move
glow fires again
Chunky Move's Glow (RT78) has had a long, successful life touring the world, illuminating the possibilities of bringing together dance and interactive media: it now makes a welcome return to Sydney. This deeply engaging, visceral short work was the first of two Chunky Move collaborations with German interactive video artist Frieder Weiss (RT84), the second was the full-length work Mortal Engine.
In Glow the audience peer deep down into the dark at a still form that suddenly convulses into life, scattering about it brimming light, staccato geometries and threatening shadows. What makes Glow, a disturbing evocation of evolution and emergence, doubly exciting is that the light is triggered and controlled by the dancer's movements making light and movement eerily seamless. Chunky Move, Glow, Seymour Centre, Oct 13-16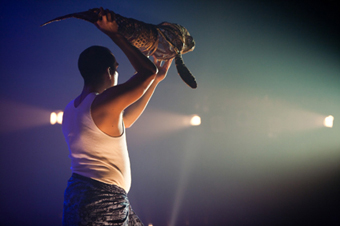 photo courtesy of Ilbijerri Theatre Company
Ilbijerri Theatre Company
bold, black, brilliant
That's the title of the Ilbijerri Theatre Company's retrospective exhibition, which is currently on display at the Bunjilika Aboriginal Cultural Centre at Melbourne Museum. The exhibition marks the 20th anniversary of Ilbijerri, which was created by Aboriginal and Torres Strait Islander artists in Melbourne in response to seeing non-Indigenous theatre companies telling Indigenous stories.
From the breakthrough production of Stolen, commissioned in 1992, to the upcoming world premiere of Jack Charles v The Crown (a collaboration between the actor and the playwright John Romeril) at the Melbourne International Arts Festival, the company has toured nationally and internationally, finding resonance and critical acclaim with Indigenous and non-Indigenous audiences alike. Along the way we've reviewed the company's Blak Inside season (RT48) and Rainbow's End (RT66), among others.
The retrospective gives visitors a behind-the-scenes look at life in the theatre company through objects including sets, props and photography from Ilbijerri productions. It's being displayed alongside From Little Things Big Things Grow, an exhibition about Aboriginal activism in Australia between 1920 and 1970. 20 Years: Bold. Black. Brilliant, curator Ben McKeown, Bunjilaka Aboriginal Cultural Centre, Melbourne Museum, July 9-Oct 31; http://museumvictoria.com.au/melbournemuseum/
made in melbourne
We've only just recovered from the Next Wave festival (RT98) but the Melbourne Fringe Festival is fast approaching and the numbers are enough to induce panic: 19 days; 150 venues; and almost 5,000 artists. One of the highlights will be Visible City, which isn't so much programmed as expected to crop up all over the city at different times and places. It's described as a "massive cross-artform venture that sees 12 contemporary artists creating new work every day of the festival" (press release).
The artists include some RealTime regulars such as Sarah Rodigari (RT66), Willoh S Weiland (RT88), Lara Thoms (RT76), Jason Maling (RT96) Ingrid Voorendt (RT57), Jennifer Jamieson (RT57) and Michael Yuen (RT66), as well as a few less familiar faces like Rachel Main (Vic), Melody Woodnutt (Qld), Kerry Ann Lee (NZ), Sally Ann McIntyre (NZ) and Joned Suryatmoko (Indonesia).
It's also worth keeping an eye out for artists who have participated in the Outside Eye development program, run by the Fringe in collaboration with FULL TILT at the Arts Centre and the City of Geelong. This program gives artists 16 hours of one-to-one mentoring with an industry practitioner, the opportunity to attend professional workshops and free space for rehearsal, research and development. This year, the lucky few were Kate Boston Smith, Zoe Robbins, Anne Edmonds, Lisa-Skye Ioannidis, Michael Connell, Linda Beatty, Katrina Rank, Isabel Andrews-Burillo, Sasha Stella, Brodie Maguire, Hoa Pham, Jono Burns, Fregmonto Stokes, Sabrina D'Angelo, Tim Mager, Flynn Hart, Jemma Woolmore, and Justine Makdessi. Melbourne Fringe Festival, Sept 22-Oct 10; www.melbournefringe.com.au/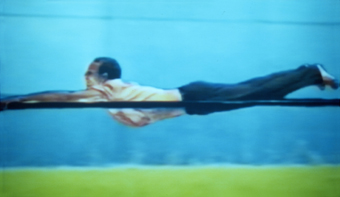 photo courtesy of the artist and Sutton Gallery, Melbourne
John Meade, Propulsion 2001 (still)
objects, diagrams and immersion
Three new exhibitions have just opened at the Perth Institute for Contemporary Arts. First, there is Objects To Live By: The Art of John Meade, featuring works by one of Australia's leading sculptors (see RT44). Meade's first major retrospective comprises 17 works ranging in scale from intimate objects on table tops to architecturally scaled wall pieces.
The second exhibition is Love of Diagrams, showing eight contemporary artists investigating "all things diagrammatic." The artists come from a variety of places—Armando Andrade Tudela (Peru), Bradford Bailey (US/UK), Jose Damasceno (Brazil), Natasha Dusenjko (VIC), Marita Fraser (Australia/Austria), Joyce Hinterding (NSW), Bojan Sarcevic (Bosnia/France) and David Thomson (WA)—and work in a variety of forms including drawing, collage, painting, photography, sculpture, sound art and installation.
Last but not least is Sekilala, the first Australian showing of work by SHIMURABROS, the Japanese brother and sister team Yuka and Kentaro Shimura. Sekilala is a three-screen immersive video installation, shot on super 16mm, filmed in Prague with a storyline inspired by the controversial image of a mouse with a human ear growing on its back. The press release states that "a family drama in which the father is obsessed with bio-furniture erratically unfolds in multiple, fractured stories. Projected onto three screens and randomly configured in 26-shot sequences, the same story is never experienced twice, and the viewer becomes the editor of an infinite and complex film." SHIMURABROS received the Excellence prize for this work at the 13th Japan Media Arts Festival in 2009. The work has also been shown in Tokyo, Prague and Cannes. Objects To Live By: The Art of John Meade, curator Zara Stanhope; Love of Diagrams, curator Leigh Robb; Sekilala, SHIMURABROS, Perth Institute of Contemporary Art, Sept 11-Oct 24; www.pica.org.au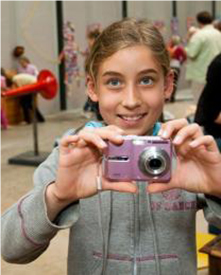 photo courtesy of CarriageWorks
Sydney Children's Festival, CarriageWorks
kids picture the world
The 2010 Sydney Children's Festival is enticing young photographers and filmmakers to skill up. Benedict Brink's Digital Photography Workshop focuses on the use of use perspective, colour and natural light to "take a stunning portrait of a friend, capture a landscape masterpiece, or create abstract art out of everyday objects." In Kyra Bartley's Make a Film in a Day Workshop participants form a team to "brainstorm and storyboard ideas, cast the actors, hunt for interesting looking locations to film and edit the work to produce the perfect final cut!" In Bartley's workshop you might end up behind the camera or acting in front of it. In Darryl Cordell's Picture Us, kids and their families perform to camera to make magical and wacky photographic collages. Sydney Children's Festival, CarriageWorks, Sept 27-Oct 9, www.sydneychildrensfestival.com
RealTime issue #98 Aug-Sept 2010 pg. web
© RealTime ; for permission to reproduce apply to realtime@realtimearts.net