realtime @ totally huge
RealTime will be on-site at TURA's upcoming Totally Huge New Music Festival in Perth. Gail Priest will be joined by local writers Sam Gillies and Henry Andersen, delivering daily reviews of concerts, installations and events across the 10-day festival. Highlights include Space/Shifter, an installation by David Chesworth and Sonia Leber, and a surround sound concert by Philip Samartzis who has been Remote Artist in Residence in the Warmun community in the East Kimberley. Speak Percussion will perform two concerts: Gerard Grisey's epic percussion masterwork, Le Noire de l'Etoile; and Flesh & Ghost featuring works by Anthony Pateras, Luke Paulding and Thomas Meadowcroft. International guests include the inspirational Marina Rosenfeld who will present Teenage Lontana at the Midland Railway Workshops working with local teenagers to create a 35-voice choir and speaker installation. Local ensembles Decibel and Etica will present concerts, and there is a three-day conference including Rosenfeld as a keynote speaker, panels and artist presentations. TURA, Totally Huge New Music Festival, various venues across Perth, September 15-25. www.tura.com.au/totally-huge-music-festival/events.
Onsite coverage will be posted in our features section. Join the RT- e-dition list to receive updates from our onsite coverage: www.realtimearts.net/joinemail
life on the fringes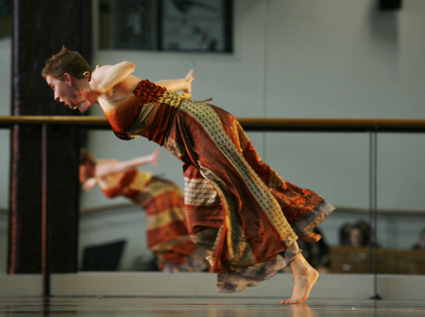 photo Matthew Woodward
Angela Hill, Laying Down Bone (Bringing up Brain)
Since the demise of the Live Bait festival based at Bondi Pavilion in the mid 2000s Sydney has been fringeless but 2010 saw a new Sydney Fringe emerge, run by the Newtown Entertainment Precinct Association, drawing on the wealth of venues, bars and vibrant culture of the inner west. This year the festival continues to grow with 300 events taking place over three weeks, extending beyond the inner city with activities in Leichhardt, Parramatta, Chatswood and beyond. With so much on, and heaps of new and emerging artists, it's hard to pick out highlights (fringe festivals, by their nature being gloriously variable), but here are few intriguing possibilities.
For those seeking dance, Angela Hill's piece Laying Down Bone (Bringing up Brain) with sound designer Andre Hayter at the Newtown Theatre explores the "body mind connection to trauma" (website), in a lecture, dance theatre hybrid. Hill's work is playing in a double bill with Margot Politis' Woman on Verge described as "Part Pina Bausch part Gloria Swanson…40s screen glamour, horrendous psychotherapies and definitions of insanity" (website). Over at PACT in Erskineville, Emiline Forster performs a solo, Dust, about a housewife defending her home from encroaching corporations and personal neuroses.
From Japan, Theatre Group Gumbo present Level 7 at the Greek Theatre in Marrickville, a provocative farce about three irradiated survivors of the post-tsunami nuclear incident trapped in a resort-style reality TV show. In Spinning a Yarn at PACT, Simone O'Brien and Susan Williamson become Mrs Polly Mer and Mrs Polly Ester (the Plastic Bag Ladies of the Sea) creating a coastal cubby house out of knitted refuse and inviting you in to share their stories. With a set by Joey Ruigrok and costumes by Matty Stegh, this short performance installation could hold hidden treasures.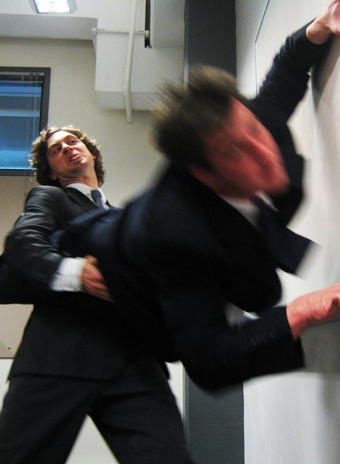 photo Ben Mitchell
Nice Work If You Can Get It, The Lost Rung
At the Newtown Theatre, The Lost Rung (Adam Jackson and Josh Mitchell) will present Nice Work If You Can Get It, an acrobatic onslaught as the two men fight to climb the corporate ladder. Also at the Newtown Theatre IPAN (International Performing Arts Network) presents Bite Size offering six new works by women writers drawing on the theme "things aren't always as they seem." See the full program for information on visual arts, cabaret, burlesque, music, special events and more. Sydney Fringe Festival, various venues, Sept 9-Oct 2; http://thesydneyfringe.com.au/
notes from the underground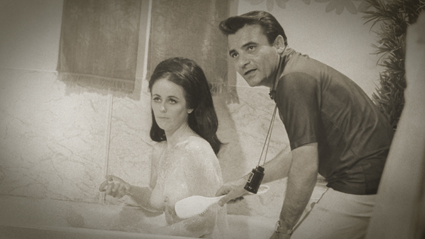 Dad Made Dirty Pictures
Now in its fifth year the Sydney Underground Film Festival continues to hunt out "unique, quality independent films that transgress the status quo and challenge the conservative conventions of filmmaking" (website). RealTime contributor Katerina Sakkas reports here on her sneak peak at some of the fare:
Dad Made Dirty Movies takes an affectionate look at Stephen C Apostolof, the man who fled communist Bulgaria to eventually produce and direct such schlock classics as Orgy of the Dead (1965). Told mainly by his four children, with commentary from actors and film historians, the film features interesting archival material from Apostolof's life and plenty of footage from the 'dirty movies' in question.
Better This World is a stranger-than-fiction documentary charting the events which led to two young Texans being charged with domestic terrorism after they were found in possession of Molotov cocktails at the 2008 Republican National Convention. Engagingly told through a mix of interviews, surveillance footage and court transcripts, it raises serious questions about the role of FBI informants and the justice of the US sentencing system.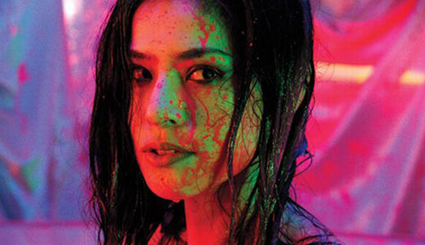 Guilty of Romance
From Japan's Sion Sono, writer and director of cult horror film The Suicide Club (2002), comes the trippy thriller Guilty of Romance, a titillating, violent descent into sexual degradation wrapped up in a murder mystery. And finally William S. Burroughs—A Man Within pays tribute to the iconoclastic Beat writer, sometime heroin addict, gun enthusiast and 'Godfather of Punk' through a multitude of interviews with fellow Beatniks, ex-boyfriends, Burroughs biographers, filmmakers and punk rock luminaries such as Patti Smith and Iggy Pop. (KS)
Other highlights include Recycled Cinema featuring Soda_Jerk's sample masterpiece Pixel Pirate 2, The Director's Cut (see RT's Studio), The Ballad of Genesis and Lady Jaye (previewed in RT103) and a range of short film programs with evocative titles such as Animation Fornication, LSD Factory and Mother's Milk featuring shorts by female directors. Sydney Underground Film Festival, The Factory Theatre, Marrickville, Sydney College of the Arts, Rozelle, MuMeson Archives, Annandale, Sept 8-11; http://suff.com.au/
ozasia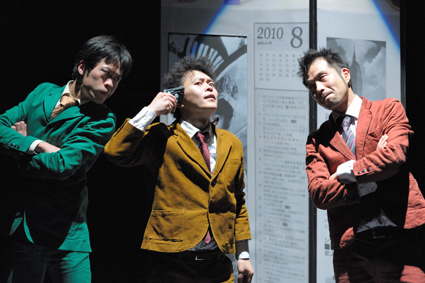 courtesy OzAsia
Continent, CAVA, OzAsia 2011
The fifth annual OzAsia festival at the Adelaide Festival Centre will have a distinctly Japanese flavour. Japanese mime company CAVA will present their 2010 Edinburgh Festival smash hit Continent: a cartoon-style physical farce based on the Coen Brothers' film Barton Fink. KOAN presents a concert of Japanese chamber music led by Natsuko Yoshimoto, violinist and concertmaster of the Adelaide Symphony Orchestra, along with Shakuhachi master Akikazu Nakamura from Japan and Claire Edwardes on percussion with Bernadette Harvey on piano. On the other end of the musical spectrum the festival will also feature the Australian debut of Shugo Tokumaru, known for his eccentric pop creations and Japanese Ska band Cool Wise Man with singer, songwriter, producer DJ Likkle Mai. The Japanese Film Festival has also been incorporated into this year's OzAsia.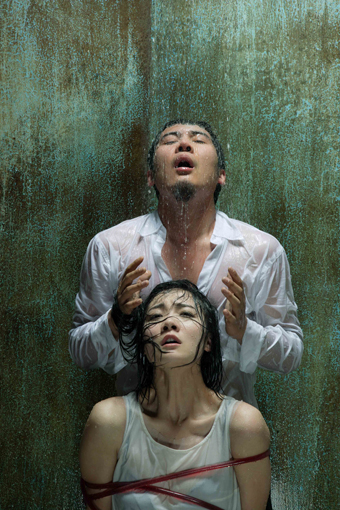 courtesy OzAsia
Rhinoceros in Love, National Theatre of China, OzAsia 2011
Non-Japanese fare includes Rhinoceros in Love by the National Theatre of China, directed by Meng Jinghui, which is said to have "reinvented modern Chinese drama" (website) when first performed in 1999. The show will debut at OzAsia and then tour to the Brisbane and Melbourne festivals. South Australian based Indonesian dancer Ade Suharto collaborating with composer David Kotlowy will present In Lieu, an evening of dance and contemporary gamelan music. And the festival would not be complete without the Shaolin Warrior touring spectacular featuring 22 Kung Fu Masters. OzAsia, Adelaide Festival Centre, Sept 2-17; www.ozasiafestival.com.au
monumental visions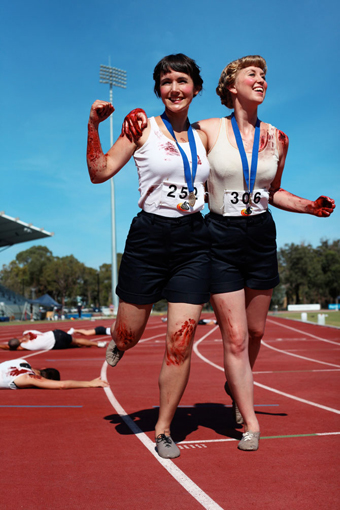 photo Kim Tran
Tarryn Gill and Pilar Mata Dupont, Blood Sport, 2010 (detail). Courtesy of the artists and Goddard de Fiddes Gallery, Perth.
Presented in PICA's Central Galleries, Stadium will be the first survey exhibition of work by Tarryn Gill and Pilar Mata Dupont, who create large scale theatrical, video and photographic works exploring historic themes and cultural propaganda. The gallery will be literally transformed into a stadium, tiered bleachers and all, equating the idea of exhibition with "games or contests of strength" (press release). The centrepiece of the exhibition is Ever Higher, a performance inspired by the controversial 1930s films of Leni Reifenstahl involving an aerial performance and local cheerleaders, the Perth Angels. Along with the performances there will also be an artist talk hosted by curator Leigh Robb and a screening of Riefenstahl's Das Blaue Licht (1932). A review of the exhibition will appear in RT106 (Dec-Jan). Tarryn Gill and Pilar Mata Dupont, Stadium, curator Leigh Robb, PICA Central Galleries, Sept 3-Oct 30,; see website for performance times; www.pica.org.au
challenging perspectives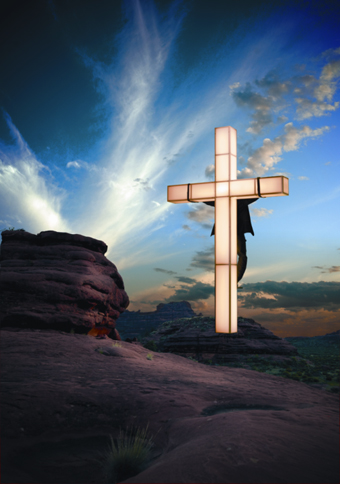 © the artist
Warwick Thornton, Stranded, 2011, film still, commissioned by Adelaide Film Festival Investment Fund 2011
Warwick Thornton's Stranded, a 3D installation depicting the artist, dressed as a stockman nailed to a neon cross in the outback, bemused and challenged audiences when it first appeared in Stop(the)Gap, an exhibition of international Indigenous media art curated by Brenda L Croft, and part of the 2011 Bigpond Adelaide Film Festival. RealTime reviewer Tom Redwood wrote "Perhaps what we are seeing here is the juxtaposition not only of ideologies but of histories: the 'newness' of the flash cross (Christianity) highlighted by the 'ancientness' of the surroundings (Country, Dreaming)…Perhaps in Stranded we encounter another 'muddying of the waters:' art that worries at the line between Indigenous and non-indigenous, elusively pushing beyond established concepts." (See full review.) Sydney audiences will be able to experience this intriguing work including a series of accompanying photographs at Stills Gallery through September. Warwick Thornton, Stranded, Stills Gallery, Paddington, Sept 7-Oct 8; www.stillsgallery.com.au

courtesy the artist
Bindi Cole, Made for Each Other, 2008, pigment print on Hahnemuhle (cotton rag) paper
Meanwhile Melbourne audiences will be treated to a survey exhibition of works by Indigenous artist and curator Bindi Cole. The exhibition, Seven Times Seven, will feature three major image series and a video work exploring the "classification of indigenous Australians according to the darkness or lightness of their skin" (press release). In her Not Really Aboriginal series Cole explores her own perspective on Aboriginality in contemporary Australia, while Post Us explores the influence of the "white Anglo-Celtic male viewpoint" on culture; and Sistagirls looks at transgendered people from the Tiwi Islands. Finally the video centrepiece, Seven Times Seven, explores ideas of forgiveness. Bindi Cole, Seven Times Seven, Nellie Castan Gallery, Sept 15 – Oct 8; www.nelliecastangallery.com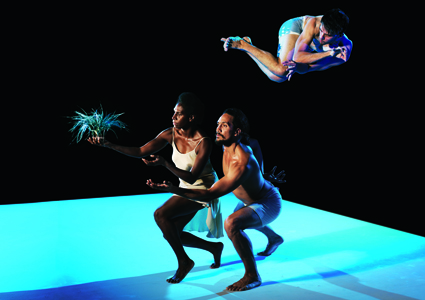 photo Jason Capobianco
Elma Kris, Waangenga Blanco, Daniel Riley McKinley, Belong
Melbourne and Wollongong audiences can also experience Bangarra Dance Theatre's Belong as it continues its east coast tour. Consisting of two works—ID by artistic director Stephen Page (see RealTime Dance for a full profile), and About by choreographer and company dancer Elma Kris—Belong has roused enthusiastic critical and audience responses in Brisbane and Sydney. Bangarra Dance Theatre, Belong: Merrigong Theatre Company, IMB Theatre, IPAC, Wollongong, Sept 8-10; www.merrigong.com.au/shows/belong.html; Playhouse Theatre, The Arts Centre, Melbourne, Sept 16-24; www.theartscentre.com.au; www.bangarra.com.au
RealTime issue #104 Aug-Sept 2011 pg. web
© RealTime ; for permission to reproduce apply to realtime@realtimearts.net