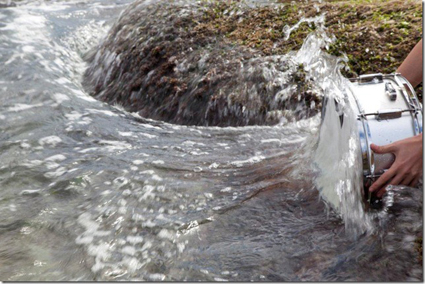 image by Nick Hudson, courtesy of the artist and Anna Schwartz Gallery
Lauren Brincat, Snare the Sea (2012), documentation of an action
tarrawarra biennial 2012: sonic spheres
While it is one of the newer biennials on the Australian scene, the 2012 TarraWarra Biennial is certainly fast claiming its place. Sonic Spheres is the third biennial to take place at the TarraWarra Museum of Art (located on the vineyard of the same name in the Yarra Valley) and is curated by the museum's new director Victoria Lynn. It brings together 21 pieces that concern themselves with music, sound and the voice. Consequently the exhibition includes a number of Australia's leading sound artists, such as David Haines & Joyce Hinterding, Marco Fusinato (see Sound Full article), Robyn Backen (see RT109, Ross Manning (RT96), Eugene Carchesio (RT102), Lauren Brincat and John Nixon.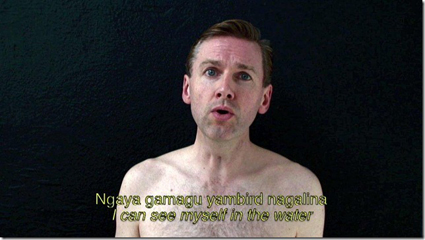 courtesy of the Artist and Gallery Gabrielle Pizzi Melbourne
Christian Thompson, Dhagunyilangu – Brother (2012)
However Lynne says: "I was most interested in thinking about sound visually and introducing different ideas about how we might think sonically within a museum" (interview with Dylan Rainforth, Artguide). Consequently there are also artists who are not so clearly identified with sound but who have a particular piece in which the combination of sound and voice is a significant player. For example Angelica Mesiti's Some Dance to Remember, Some Dance to Forget (2012) features a vision impaired Arabic musician in Paris performing a rendition of the Eagles song "Hotel California" on the piano accordion. Christian Thompson's Dhagunyilangu—Brother, 2012 continues his series of video pieces in which European opera singers perform in the Bidjara language (see RT97 for a review of the first work in this series, Gamu Mambu—Blood Song, 2010).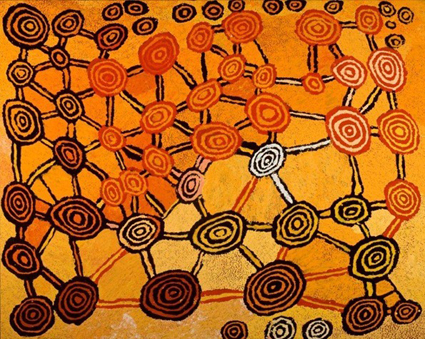 courtesy Johnny Yungut Tjupurrula, Papunya Tula Artists
Johnny Yungat Tjupurrula, Untitled (2010)
Lynn is also interested in finding different ways of connecting the work of Aboriginal artists with contemporary audiences and has included paintings by Yukultji Napangati, Ray James Tjangala and Johnny Yungut Tjupurrula. Each piece is painted to a verse from a traditional Aboriginal song cycle, but the resulting pictures offer quite different visual interpretations (Artguide</a).
For those of us who can't make a leisurely trip to the Yarra Valley (as appealing as it sounds), there is an extensive catalogue with a 20-track CD to really get the feel of the event.
TarraWarra Biennial 2012: Sonic Spheres, curator Victoria Lynn, TarraWarra Museum of Art, until Dec 9 2012; http://twma.com.au/exhibitions/event/tarrawarra-biennial-2012-sonic-spheres/
under_scored, random overtones
Billed as a micro-festival, UNDER_SCORED consists of three days of talks, workshops and performances by an impressive collection of exploratory musicians and composers, with an unusual emphasis on the flute (though perhaps not so surprising as the person behind the event, Janet Mackay, is a flautist). The first evening offers a talk and showcase concert by Netherlands-based duo Shackle—Anne La Berge on flute, Robert Van Heumen on laptop—who have developed a "digital cueing system which operates as a sometimes visible third member. Both prodding and reactive…" (press release). Another renowned flautist Kathleen Gallagher will present a concert with Mackay and electronic musician Lawrence English, as well teaching a workshop on improvisation. Also known for their massed flute performances (along with other single instrument orchestras) Super Critical Mass will also perform and conduct a workshop (see Aurora 2012 coverage and Liquid Architecture 2010). Other artists include Anna McMichael (violin), Robert Davidson (Double Bass/composer) and Benjamin Marks (trombone).
UNDER_SCORED, The Shed, Macarthur Avenue, Hamilton, Brisbane, Sept 14-16; http://www.randomovertones.com/under_scored.html
iD digital portrait award, national portrait gallery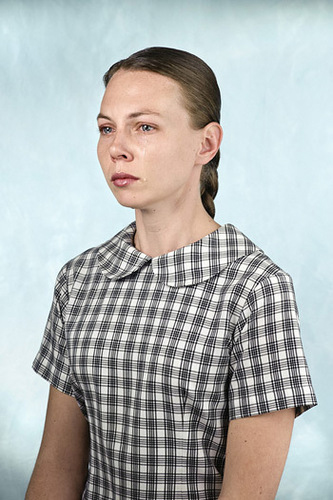 courtesy the artist
Laura Moore, Animation 1 from the series, Hereinbefore (2012)
Laura Moore has been announced as the winner of the inaugural iD Digital Portrait Award established by the National Portrait Gallery in Canberra. Created to extend the traditional notion of portraiture through engagement with digital and screen media, the award is open to artists aged 18-30. Moore's Animation 1, from the series Hereinbefore (2012), shows the artist as a schoolgirl in traditional school portrait pose. Over the 57-second animation made from still images, the girl begins to weep, fighting back sobs. Moore says of Animation 1, "As an autobiographical work, it is my reflection on the child I was and tells of the compassion I feel for the journey she will take" (website). Moore will receive $10,000 and a four-week residency at Perth Institute of Contemporary Arts (PICA). The four other finalists were Aaron James McGarry, Nina Mulhall, Clare Thackway and Bridget Walker. Their works are currently showing at the National Portrait Gallery and can also be viewed online.
iD Digital Portraiture Award, National Portrait Gallery, Canberra, until October 28 2012; http://www.portrait.gov.au/site/id-welcome.php
13 voids, aeaf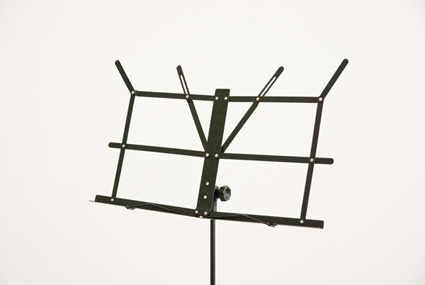 courtesy the artist
Mark Themann, detail, 13 Voids (2012)
If you're after a bit of conceptual minimalism then AEAF has just the thing with Mark Themann exhibiting 13 Voids. For 13 days the gallery will be left empty; however, in the foyer will be a music stand which holds a text, new each day, exploring philosophical scenarios of the remaining void. "The texts reference void as potentiality, which acknowledges that (paradoxically) the void is fertile and there is no such thing as 'nothing'" (press release). To compliment this nothingness, Riley O'Keeffe, who recently presented his work Nothing-Object Forever at CACSA (see Chris Reid's review in e-dition July 17) has turned curator and has asked Katie Barber to respond to his concept of the "liminal state of the object's transformation into art" (press release). Her work, Purpose-made Nothing-object, will be on display in the odradekaeaf window space.
AEAF, Adelaide, Aug 29 – Sept 9, http://aeaf.org.au/</a>
milk crate theatre: fearless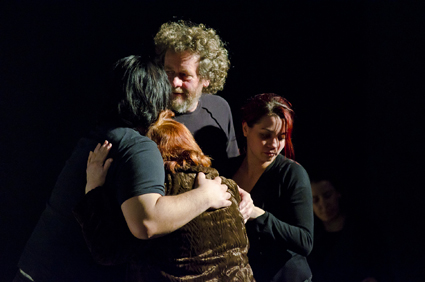 photo Patrick Boland
Fearless, Milk Crate Theatre
Formed in 2000 as a collaborative project between Darlinghurst Theatre Company, Wesley Mission's Edward Eagar Lodge and South Sydney Council, Milk Crate Theatre has since produced 14 theatre productions. With an ensemble of performers who have experienced homelessness or other kinds of marginalisation, the company aims "to allow Sydney-siders to see the world through different eyes" (press release).
The focus of Milk Crate Theatre's latest production is on the pain and complexities of loneliness in the lives of 10 marginalised people who find themselves "at a juncture…where they will reach redemption or relapse with unexpected results." Composer Daryl Wallis, singer Christa Hughes and writer-director Mirra Todd are the strong creative team who have worked with six collaborating Milk Crate Theatre performers to realise Fearless. Carriageworks' support for the company will doubtless introduce many more Sydney-siders to the work of the company, and to another reality, gauging their empathy and understanding in these testing times.
Milk Crate Theatre, Fearless, Carriageworks, Sydney, Sept 13-22, www.carriageworks.com.au
ccp declares: on the nature of things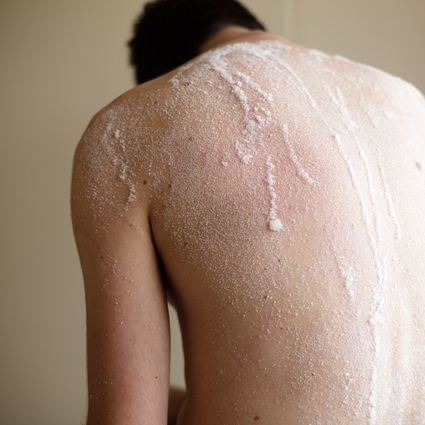 courtesy the artist
Yavuz Erkan Sugar, 2011
With an intriguing mix of established and emerging photographic and video artists, Kyla McFarlane has curated On the nature of things for Melbourne's Centre for Contemporary Photography (CCP). The exhibition is described as a "declarative" project—"the first in an occasional series of statement exhibitions for CCP that will take a position on developments in contemporary practice from across the country" (website). Contemplation of things and thingness can sometimes induce existential anxiety or, alternatively, a sense of phenomenological harmony, of being at one with things. Encouragingly, McFarlane is inspired by Lucretius' De rerum natura (on the nature of things; first century BC), a positive take on life, hostile to the interference of the gods and superstition, and unafraid of death.
Perhaps then the works in this exhibition will not simply turn our attention to the pleasures to be found in things, but alert us to the pleasurable ways in which we regard objects when they are transformed by media—"photographs and videos featuring our relationship to objects both precious and banal…carefully hand-printed photographs…photographs as performance documentation, as well as a photo-sculptural response to a collection of gelatin silver, glass plate photographic negatives of antique sculptures." But the image then is no mere reminder of a thing, or a hint of its essence, but has become a thing in itself. What then will this CCP Declaration tell us about the state of contemporary image-making? See Scott Wark's review of On the nature of things in RealTime 111.
CCP Declares: On the nature of things, curator Kyla McFarlane, artists Jane Brown, Ross Coulter, Yavuz Erkan, Andrew Hazewinkel, Amy Marjoram, Nasim Nasr, David Nixon, Jacky Redgate; CCP, Melbourne, Aug 8-Sept 16, www.ccp.org.au
opportunities
the right foot project, dirty feet
Independent dance company Dirty Feet have announced a contemporary dance workshop for people with and without a disability aged 12-26. The two-day workshop will be run by Sarah-Vyne Vassallo exploring both movement and collaborative devising skills and will conclude with a public showing of the work that emerges.
The Right Foot Project, Dirty Feet, Redfern Town Hall, Sydney, Sept 22 & 29. Workshops are free but registration is essential: contact sarah@dirtyfeet.com.au
RealTime issue #110 Aug-Sept 2012 pg. web
© RealTime ; for permission to reproduce apply to realtime@realtimearts.net