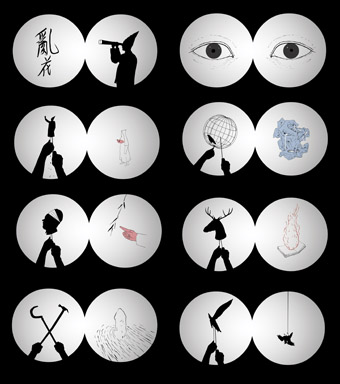 courtesy of the artist
Flowers of Chaos, 2009, Wu Junyong; exhibited as part of Mu: Screen, UTS Gallery
mu: screen, three generations of chinese video art
If you've been following RealTime+OnScreen's continuing account of Chinese feature films, documentary and the work of artist Wang Jianwei in RT96 (p41), you'll want to see MU:SCREEN, Three Generations of Chinese Video Art. This important show includes works by the pioneers of the form in China, Zhang Peili and Wang Gongxin. The other six artists represented in Beijing-based Marie Terrieux's program are proteges of the older artists and recent graduates of the first video departments, set up in Hanghou and Beijing art academies as late as 2003. MU:SCREEN, UTS Gallery. Level 4, 702 Harris St Ultimo, Sydney, see www.utsgallery.uts.edu.au for times.
rescue carriageworks now!
Jana Perkovic, writing about the development of an Australian cultural policy (p10), says of Performance Space: "A living incubator of innovation since the 1980s, having nurtured dozens of our most important performers, it has still not been recognised as a cultural flagship, let alone endowed with a permanent space of its own or given operational autonomy within CarriageWorks." This complaint resonates with growing concern about the artistic direction and management of CarriageWorks.
Headed "Rescue CarriageWorks Now—Lobby for a relevant CEO!" the following statement has been circulating via Facebook since the resignation of the centre's first CEO, Sue Hunt: "This group has been formed to solicit support in lobbying for strong contemporary arts sector based leadership to take the reins of CarriageWorks and steer it back to its original purpose of supporting, cultivating and presenting quality contemporary arts." The lobby leaders argue that "mainstream inspired leadership" has resulted in commercial and bureaucratic imperatives" and "a complete void in the appreciation of real sector needs…" rescuecarriageworks@hotmail.com
constellation: a durational chamber work
Melbourne composers and sound designers Madeleine Flynn and Tim Humphrey have collaborated with an intriguing spectrum of artists engaged with music and sound, commissioning works from Ros Bandt, Carolyn Connors, Rohan Drape, Robin Fox, Sebastian Harris, Anita Hustas, Neil Kelly, Graeme Leak, Kate Neal, Wang Zheng Ting and David Young. Each piece is a response to the artist's year of birth in the Chinese zodiac. Performances are cumulative: on the first day one piece, working up to all of them on the last day. The compositions gradually become part of a greater work with many dimensions: objects, scores, instructions, installations and video.
The artists describe the gallery space as "set like an emptied chamber orchestra with desks and a small grand piano. Each orchestral desk has a chair and music stand representing a composer. When seated at the desks, visitors can access a recorded version of the work that each composer has written." The compositions are scheduled to be performed live by Flynn and Humphrey "on piano, prepared piano, flugel, laptops, modified midi wind controller, toy piano and windup toy rabbit…" All performances are free of charge. Constellation is produced in association with Red Gallery, New Music Network, Arts Victoria and Liquid Architecture. For information on the artists and their creations visit http://madeleineandtim.net. Constellations, Red Gallery, 157 St Georges Rd, Fitzroy North, Melbourne, July 1-19, www.redgallery.com.au; www.liquidarchitecture.org.au
the rabble, cageling
The Rabble return to CarriageWorks for their third season there since 2006 to perform Cageling, an impressionistic, surreal even, response to the nightmarish world of the oppression of Spanish women poetically conjured in Lorca's play The House of Bernarda Alba. In an interesting move, Melbourne actor (and director) Daniel Schlusser is cast as Bernada, the tyrannical mother. The show, which premiered to a spectrum of strong responses in Melbourne in May, has been devised, designed and directed by Emma Valente and Kate Davis. The Rabble, Cageling, Carriageworks, Sydney, June 24-July 3
RealTime issue #97 June-July 2010 pg. 14
© RealTime ; for permission to reproduce apply to realtime@realtimearts.net