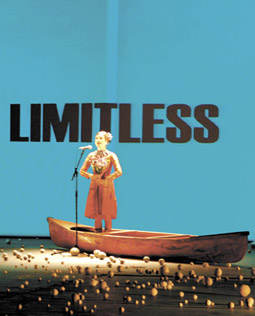 photo Tilly Morris
Willoh S Weiland, Yelling at the Stars
new aphids artistic director: willoh s weiland
Exciting news from Melbourne: Willoh S Weiland has been appointed as the new artistic director of Aphids. As we were putting this online edition together, Wieland was flying back to Australia. We look forward to catching up with her once she's settled into the job of guiding one of the country's most innovative outfits, renowned for its idiosyncratic hybrid creations and international collaborations.
A young and energetic artist, Weiland looks made for Aphids. Her projects as artist, writer and curator over recent years have been strikingly individual. The ongoing art-science project Yelling at Stars (RT 88, p27) was presented at the Sidney Myer Music Bowl as the closing event of the 2008 Next Wave Festival and then in Glasgow at Less Remote, an art/science symposium running parallel to the 59th International Astronautical Congress. Her 2009 Synapse residency was at the Centre for Astrophysics and Supercomputing, Swinburne University of Technology, where she developed Void Love (www.voidlove.tv), "a soap opera about astrophysics" starring Kamahl. Weiland is involved in ongoing collaborations with Spat & Loogie and, as part of Deadpan, with video artist Martyn Coutts—including an Asialink residency in Beijing and NES artist residency in Iceland in 2010.
David Young, the outgoing artistic director and co-founder of Aphids (and now director of Chamber Made Opera; RT 95, p50) sees Weiland as "hugely talented and a perfect fit with the Aphids spirit and ethos." He thinks that with the current Aphids team, "I really cannot imagine what Aphids will become under her watch—and that's exactly what I am most excited about." RT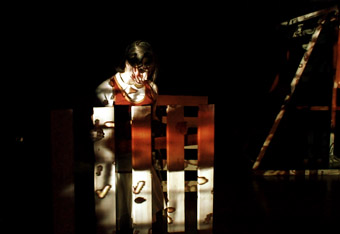 Pomona Road, photo Katrina Lazaroff
katrina lazaroff's pomona road, inspace
Major bushfires bring increased pain each year and revive memories of earlier devastating fires cruelly etched in the psyches of many Australian families. Choreographer Katrina Lazaroff's family is one of these: her first full-length dance work, Pomona Road, reflects on the enduring physical and emotional consequences of the Ash Wednesday bushfire in 1980, but in the end, says Lazaroff, it's a dance theatre work about family.
Lazaroff is a dancer, choreographer, rehearsal director and dance educator who graduated with an Honours in Dance from WAAPA (Western Australian Academy of Performing Arts) in 2001, performed with Buzz Dance Theatre in Perth in 2001, and in 2006 and 2008 with Leigh Warren & Dancers worked as rehearsal director and assistant to the choreographer. She has been Artistic Director of the Youth Dance Festival 2008 (Ausdance ACT), choreographed for Fresh Bred—SA Youth Dance Ensemble, and worked with Restless Dance Company as a choreographic mentor on Debut 1 & 2. She is currently working as a choreographer and performer with Adelaide's Patch Theatre Company and teaches company class for Australian Dance Theatre. For Lazaroff, the hour-long Pomona Road is "a huge work", an opportunity to create a totality that draws on her artistic experience and family life and allows her to embrace a wide range of means with which to realise her vision.
In Pomona Road Lazaroff employs dance, theatre and visual and audio design to evoke the enduring suffering, the rebuildling of lives and a sense of home. Unusually for a principally dance work, she also incorporates documentary material—recorded interviews from family and community members. Not surprisingly then the show's press release declares it "new Australian documentary dance." Certainly Lucy Guerin's Structure and Sadness is rooted in the reality of the 1983 collapse of Melbourne's Westgate Bridge, but it's not a documentary work per se. Bangarra Dance Theatre, on the other hand, has works in its repertoire based on painful social realities, but the label 'documentary' is not apt.
Lazaroff tells me that Pomona Road—in evolution since 2006 and with three stages of development—was never intended as a comment specifically on the social and emotional impact of bushfires. Her first impulse was to explore family, "where we come from." Stage one addressed her relationship with her sister ("sibling rivalry, kooky and a bit sinister"), and stage two, father-son interaction (drawing on her own family and the experience of her dancers). It was while working on stage three and addressing the whole family that she discovered that the fire experience provided a meaningful framework for the exploration of family life. The Ash Wednesday starting point offered the beginnings "of a journey and a focus on loss—of home, place, identity. And the pain of starting again—the parents tackling it, the kids bumping along." By 2009, says Lazaroff, the fire scenario had taken over.
Lazaroff decided that she wanted to make a dance work that was documentary in character, capturing the feelings of loss to fire. To this end she interviewed her parents about Ash Wednesday 1980 and victims of the subsequent 1983 Ash Wednesday. She thinks that "feelings and relationships can be sensed" through these voices which the audience hear—sometimes on their own, sometimes in tandem with the dance. The dancers, playing members of a family, also speak, but not in a conventionally scripted fashion, their utterances a form of vocal movement—family bickering, a song, familiar expressions. Lazaroff says that in stage three of the work's development she learned to give space to the recorded voiceovers, "to let them come first, and provide continuity."
Asked about her choreographic style, Lazaroff says it's rooted in the contemporay dance which has been her life. However, the dancers create "recognisable characters whose gestures and character traits fuse fluidly with the dance language."
Kerry Reid's set for Pomona Road comprises simple timber structures (originally made by Lazaroff's partner from materials from her mother's verandah for the stage three development, but now re-made and evocative of her father and his fence contracting business) and large hanging sheets of white paper that receive the images from two powerful projectors washing the whole stage with impressionistic, 'textural images of bush and fire." With Nick Mollison's lighting and projections, Lazaroff hopes that substantial depth of field will be created. Lazaroff describes the sound design for Pomona Road as "highly collaborative, with a lot of give and take" in its making with Sascha Budimski's score comprising "sound effects, hums, drones, voiceovers, rhythm beats and Gerry Rafferty's Baker Street", the 1978 hit which her father played frequently.
I ask Lazaroff what creating Pomona Road has done for her. "It's been a moving experience, looking back into family history and seeing that there were many more things that happened to us than I realised. As an artist I feel it's set me free." inSPACE Program, Pomona Road, Space Theatre, Adelaide Festival Centre, April 21-24. Pomona Road was part of inSPACE:development in 2009.
jo lloyd: 24hrs
God knows what all the fast turnaround short film and short play festivals are doing to our psyches as artists and audiences—blessed be the slow food movement—and now dance has joined the rush! But what an intriguing race it might be in the Jo Lloyd-curated 24HRS at Dancehouse. Four choreographers will each create a new work over 24 hours—one for each Friday over four weeks. Just to add to the inevitable delirium of commencing work on a Thursday night at 9pm, "the creative process will be twittered and streamed online and the teams must be ready to present the work to a live audience by 8pm the next night." There goes the privacy associated with the slow boil of the creative process. The stellar line-up of choreographic speed freaks is Natalie Cursio, Shelley Lasica, Phillip Adams and Luke George. 24HRS, performances April 30 (Cursio), May 7 (Lasica), 14 (Adams), 21 (George), Dancehouse, Melbourne; www.twitter.com/24HOURS; www.livestream.com/24HOURS
tony yap, rasa sayang
Rasa Sayang is a new interdisciplinary performance work by leading Melbourne dancer Tony Yap with musician-composers Tim Humphrey and Madeleine Flynn, visual artist Naomi Ota and creative collaborator Ben Rogan. The work is based on research Yap conducted while on a Fellowship from the Australia Council Dance Board into Indonesian and Malaysian shamanistic and trance dance traditions. Sayang, meaning 'love' in Yap's native Malaysian, is the name of his mother, the inspiration for the work which forms part of his Buddha Body Series, an investigation into the positive eastern idea of emptiness. The first in the series, Melangkori ('melancholy') was shown in Melbourne in 2009, and the film version has screened in festivals around the world. Since 2008 the Tony Yap Company has performed in Indonesia, China, Vietnam, Japan, Malaysia and Korea. The Rasa Sayang installation is open free of charge 6pm-7.30pm each night, when audience members are invited to witness the preparations and pre-performance rituals of the artists. Fortyfivedownstairs, 8pm April 22-25; fortyfivedownstairs.com
craig walsh: digital odyssey
Sydney's MCA is collaborating with leading Australian media artist Craig Walsh on Digital Odyssey, an epic 2010-11 tour to present digital artworks in response to regional environments and communities. Walsh "is travelling in a self-contained, digitally-equipped motor home which is also his mobile living and working environment, designed and fitted with all the necessary technical and AV equipment." Walsh's astonishing projections have filled shop windows with water, fish and floating furniture and the Art Gallery of NSW foyer ceiling with giant cockroaches, while elsewhere he has given a tree a human face. Digital Odyssey allows him to create site specific public artworks in collaboration with communities across Australia. Watch out for Walsh at Murray Bridge, SA, to April 11; Alice Springs, NT, April 26-May 16; Winton, QLD, May 31-June 20; Cairns, QLD, June 28–July 18; Mackay, QLD, Aug 16-Sept 12; Gladstone, QLD, Sept 20-Oct 10; Gerringong, NSW, Nov 1-30; Ballarat, VIC, Dec 6-Jan 6; www.digitalodyssey.com.au
RealTime issue #96 April-May 2010 pg. 14
© RealTime ; for permission to reproduce apply to realtime@realtimearts.net