screengrab, james cook university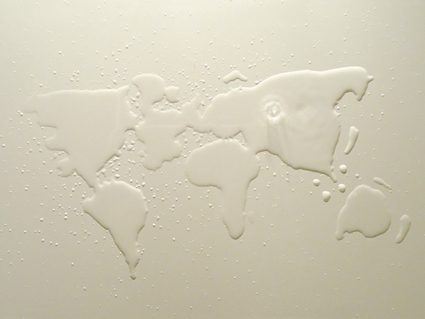 courtesy the artists
Fluid Network, Rapadura Studio, Winner Screengrab 2010
Now in its fourth year James Cook University's Screengrab New Media Art Award is open for entries that address the theme of control. All screen-based media are eligible including multi-channel video, digital illustration, audio sculpture, photography, generative media, 2D & 3D animation. This year's award aims to explore the way in which technology is facilitating change as evidenced by recent political uprisings while at the same time allowing for even more surreptitious levels of control through "surveillance networks, social media, data mining algorithms, privacy interventions, sophisticated image gathering techniques and drone technologies" (website). A selection of works will be exhibited at James Cook University in August with the winning work awarded $5,000. For previous Screengrab exhibitions and awards see RT93 and RT101.
James Cook University, Screengrab New Media Art Award, deadline for applications July 2; exhibition opens Aug 2; http://www.jcu.edu.au/soca/JCU_099817.html
arina.org, nava & crawl inc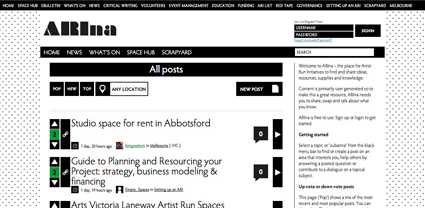 Arina.org
NAVA and Crawl Inc have just launched a new online hub for information about all things ARI. While Crawl is a comprehensive list of ARIs and their activities, ARIna.org is a space for sharing ideas about the actual running of these artist run intiatives. Anyone can contribute and posts can be bumped up and down the list by other users according to interest and perceived importance (like Digg). You'll find posts ranging from calls for proposals and studios for rent to guides to the intricacies of public liability, working with local councils and governance issues. http://arina.org.au/
dance film masterclass, aftrs open & form dance projects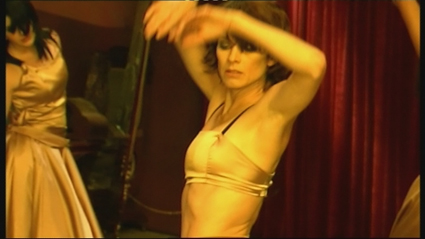 photo Simon Chapman © 2006 Physical TV
Linda Ridgway, Thursday's Fictions
Western Sydney Dance organisation FORM has teamed up with the AFTRS Open program to present a dance film masterclass. The weekend will be run by Dr Richard James Allen, co-director (with Karen Pearlman) of the Physical TV Company, responsible for works such as the feature Thursday's Fiction (see RT80) and Entanglement Theory (see RT99). The masterclass, which is open to choreographers, dancers and filmmakers, will explore the history of dance films along with particular sub-genres and will also allow for practical exercises in the AFTRS studio with dancers. Form is also
AFTRS Open & FORM Dance Projects, Dance Film Masterclass with Dr Richard James Allen, AFTRS, Sydney, July 28-29, 9-5pm, $495, $445.50 early bird booking by June 30; http://form.org.au/2012/03/dance-film-project/. FORM Dance Projects is offering one scholarship to a masterclass participant who is an emerging independent choreographer or performer. For more information email director@form.org.au
speaking in tongues, yppa national symposium
Young People and the Arts Australia (YPAA) will be presenting their national symposium at the Casula Powerhouse in July. Speaking in Tongues seeks to establish a common language around the multi-faceted manifestations of youth arts and the arts in general. The symposium will bring together a range of keynote speakers such as Sue Giles, artistic director of Polyglot Theatre; Baba Israel (in telepresent form) from Contact Manchester, a leading UK youth arts organisation; Colin Pidd from btli international, a global consultancy firm teaching strategy implementation and leadership development; and Suzanne Lebeau, playwright and theatre maker from Quebec's Le Carrousel who will also be running a masterclass.
Other hightlights will include the unveiling of the findings from TheatreSpace, a four-year research project looking at young people's responses to professionally-funded theatre in Melbourne, Sydney and Brisbane. Also on exhibition will be Ruth Sancho's ambitious TRIP – T(L)ICS, Digital Interactive Poetry Installation exploring how language shapes our world and identity by focusing on poetry in Spanish, English, Catalan, Kari'ña (Venezuela), Mapudungun (Chile), Nahuatl (Mexico), Guaraní (Argentina, Brazil, Bolivia, and Paraguay), Maltés (Malta) and Yanyuwa (Northern Territory).
YPAA National Symposium, Speaking in Tongues – How do we translate the collective language of the Arts?; Casula Powerhouse Arts Centre, July 11-13; http://ypaa.net/program-2012/national-symposium/, earlybird bookings by May 23
because we care, colin, simon and i
In the time that New Zealand dancer Simon Ellis spent in Australia he made a quiet but distinctive impact on the dance scene. His 2006 performance Inert was for an audience of two strapped into reclining beds to experience the intimate dance and video work with a lessened sense of gravity (see RT73). About Ellis' 2003 performance Indelible Jonathan Marshall wrote: "Ellis produces something closer to a mnemonic auto-da-fé…With only the barest temporal and emotional rises, Ellis creates a sense of an increasing trajectory of shattering and division." (RT54).
Now based in the UK Ellis has been collaborating with Colin Poole as the duo Colin, Simon and I. They've recently been commissioned by The Place, London to create the work Because We Care, which explores the ways men relate, in particular exploring their own collaborative relationship. For a preview see their video promo.
Colin, Simon and I, Because We Care, The Place London, June 8 & 9; http://www.colinsimonandi.com/
congratulations
The first batch of Creative Australia Fellows has been announced which sees Gaelle Mellis, Mic Gruchy, Guy Ben-Ary, Antony Hamilton and Cat Jones awarded the Established Artist Fellowships receiving $100,000 over one year and Matthew Prest, Lauren Brincat, Gian Slater, Lee Serle, Annabel Smith and Michaela Gleave awarded Emerging Artist Fellowships of $60,000 over two years. http://www.australiacouncil.gov.au/grants/creative_australia_artists_grants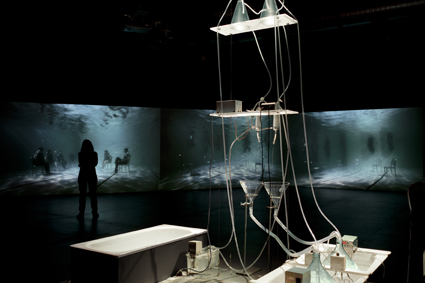 photo courtesy the artists
Peta Clancy and Helen Pynor, The Body is a Big Place, (2011), installation view, 5-channel video projection, heart perfusion device
The prestigious Prix Ars awards, part of the Austrian-based media arts festival Ars Electronica, have also been announced with three Australian groups receiving attention. Van Sowerwine and Isabelle Knowles (working with Matt Gingold) were given an Award of Distinction in the Interactive Art category for It's a jungle in here (reviewed in RT108); while Peta Clancy & Helen Pynor's The Body is a Big Place (reviewed in RT107) and Prue Lang's sustainable dance performance Un réseau translucide both received Honorary Mentions in the Hybrid Art Category. http://www.aec.at/prix/en/gewinner/
RealTime issue #108 April-May 2012 pg. web
© RealTime ; for permission to reproduce apply to realtime@realtimearts.net