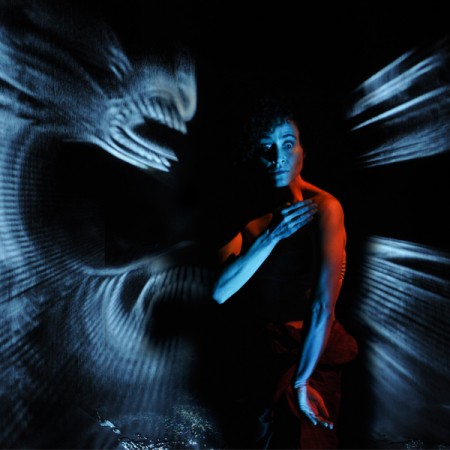 photo Heidrun Löhr
Victoria Hunt, Copper Promises: Hinemihi Haka (2012)
Overlapping with Local Positioning Systems, the Performance Space program presented with the Museum of Contemporary Art, comes their first season for 2012 at Carriageworks, Dimension Crossing.
Inhabiting the foyer is Robyn Backen's Whisper Pitch. It's a curved brick structure, a building within a building, that draws on the artist's investigations into architectural acoustics and parabolic forms to explore the idea of a whispering wall—a place for secret communications amidst the reverberant hubbub. (Until May 19)
Audiences access Michaela Gleave's Our Frozen Moment through a makeshift cloakroom at the back of Bay 19 where they are invited to don raincoats and gumboots. (In Sydney's current weather they probably arrived wearing them!) In the centre of the gallery space is a kind of stage, on which the visitor may frolic in the light misty rain. Flashes of light illuminate the droplets like tiny stars, dancing ever so briefly before your eyes—a new micro-universe. (Until May 19)
The performance program opened with Yumi Umiumare's EnTranced (April 19-21). Well titled, the work was totally entrancing, as Umiumare, a mistress of transformation, danced through a series of surreal in-between worlds (see review in RT109).
Following this is the long awaited Copper Promises: Hinemihi by Victoria Hunt. Over the last few years Hunt has been on a very personal odyssey to explore her Maori heritage. In many ways her journey parallels that of the Hinemihi, an ancestral ceremonial space that was bought from its traditional people and transferred to England—but for her people the Hinemihi is more than a structure, it is the female ancestor herself. Hunt, a mesmerising performer trained in BodyWeather, has been assisted by her extended family and guest artists (James Brown, Densil Cabrere, Annemaree Dalziel, Hedge, Horomona Horo, Clytie Smith, Chris Wilson and Fiona Winning) to create this performance (also to be reviewed in RT109). May 4 8pm, May 5 6pm, May 8-12 8pm, post show artist talk May 11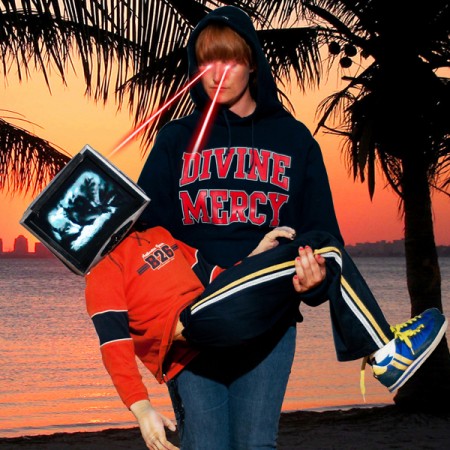 photo Bryony Jackson, WhoaaMariaa7, Willoh S.Weiland
Blood Policy Computer Boy (2012)
The final show of the season comes from Blood Policy in collaboration with Aphids. Computer Boy is an exploration of the effect that the virtual world is having on younger generations and is created within a 3D virtual environment (based on gaming technologies such as Grand Theft Auto) and also involves puppetry (a kind of Pinocchio with a 12-inch LCD head) and machinima animation. Made by Bryony Anderson, Martyn Coutts, Sam Routledge and Willoh S Weiland with music by DJ TR!P, it looks intriguing. Game on! May 23-26, 8pm, May 26 2pm
Performance Space fans might want to become members. For $100 you get access to nine shows for free as well as discounted tickets for a friend and off-site shows. http://www.performancespace.com.au/2010/membership/
Dimension Crossing, Performance Space, Carriageworks, April 19- May 26, http://www.performancespace.com.au/
RealTime issue #108 April-May 2012 pg. web
© RealTime ; for permission to reproduce apply to realtime@realtimearts.net