lady electronica showcase, judith wright centre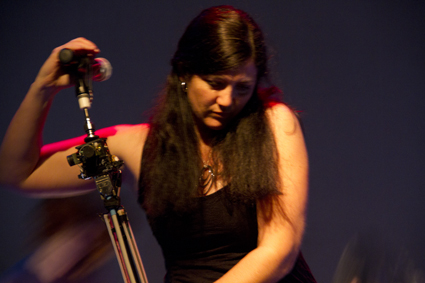 photo Wade Marynowsky
Donna Hewitt with eMic, Lady Electronica
Lady Electronica is a coalition of Queensland-based female artists working in the broad area of electronic music production embracing a range of genres from pop to ambient electronica to experimental instrument building and new interfaces. Four dynamic women "in command of technology" (website) will present a showcase of their work at the Judith Wright Centre. Anise, also known as Carly Dickenson, will launch her new single featuring vocals and progressive beats, utilising specially designed MIDI-gloves to activate a range of effects and samples. Rose Carrousel, aka Heidi Millington, will perform her take on folktronica and will premiere her NaturTron, a light-sound filtering device. Donna Hewitt continues the explorations of her eMic, the interface she has been developing over the last 10 years, allowing the vocalist to loop and effect her voice using sensors and controls on a specially designed microphone stand. Hewitt has recently been collaborating with dancers and for this performance will be joined by Lizzie and Zaimon Vilmanis. Finally Michelle Xen, who works across music and visual art, will also be launching her debut EP and multiplatform project SYNAESTHESIAC. The evening will be accompanied by audiovisual wonders from Wade Marynowsky who is presumably an honorary lady for the evening.
Ladytronica Showcase, Judith Wright Centre, Nov 9 & 10; http://www.judithwrightcentre.com/02_cal/details.asp?ID=1134
cloudy sensoria, bundoora homestead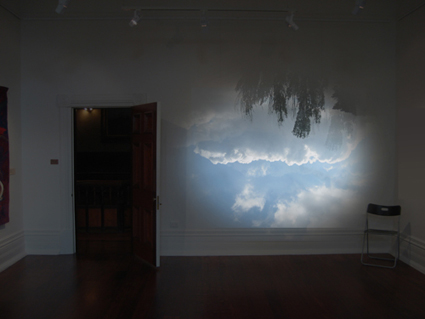 courtesy the artist
Chris Cottrell, Study for Cloud Sound 2012
Heritage sites in Australia are increasingly becoming hotbeds of creativity and Bundoora Homestead is no exception. Located 16kms north of Melbourne's CBD the homestead was built in 1899 in Federation Queen Anne style. It was originally home to an aristocratic racing family but in 1920 was sold and became an institution for traumatised and disfigured returned service men. After WWII it became a general "mental repatriation" facility where Dr John Cade made the groundbreaking discovery of lithium, the first effective medication for mental illness. The building remained a psychiatric facility until 1993; the main house was restored to become a cultural centre in 2001.
The current exhibition, Cloudy Sensoria, curated by sound artist Cara-Anne Simpson (see RT Studio) and Malte Wagenfeld (part of RMIT's Urban Interior research group) taps into the site's charged history. The works in the exhibition use light, sound and "qualities of smell, the dispersal of air in space" to challenge the gallery visitor to go beyond the idea of 'seeing' as a visual experience, in order to take in the full perceptual spectrum. Works include Cloud Sound by New Zealand artist Chris Cottrell using a camera obscura to project the sky from outside the homestead onto a wall in a darkened room. Accompanying fragments of sound and data gathered from the surrounding site are combined to form an aural cloud. Co-curator Malte Walgenfeld whose speciality is the "Aesthetics of Air," has created an odiferous trail around the homestead in his work Scent Spheres. The gallery visitor may stumble upon a variety of smells associated with the history of the site: "a waft of fresh-cut hay conjures its life as a glamorous horse stud; a pungent whiff of Cresolene disinfectant reminds of its time as a repatriation hospital" (artist statement). Cara-Anne Simpson's work requires you to put your head up one of the homestead's many chimneys to experience her visual collage of the then-and-now view of the property along with an audio record of the space. The exhibition also features work by Jason Parmington and Georgina Cue both of whom use architecture, real and simulated, to explore the resonances of the house. There will also be a talk by the curators, Sight…Sound…Smell, which will explore the "intangible nature of air, sensation and spectres" (website).
Cloudy Sensoria, co-curators and artists Cara-Ann Simpson, Malte Wagenfeld, artists Chris Cottrell, Georgina Cue, Jason Parmington, Bundoora Homestead, Oct 19-Dec 2; curators talk Thurs Nov 22, 2pm; http://www.bundoorahomestead.com/exhibition/cloudy-sensoria/
hail, amiel courtin-wilson, national release & exhibition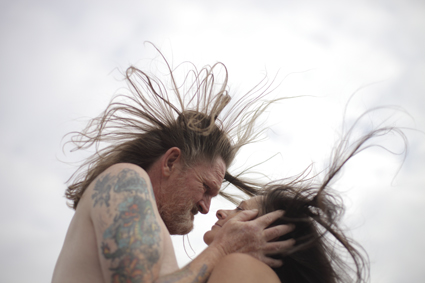 photo Germain McMicking
Daniel P Johnson, Leeanne Letch, Hail, Amiel Courtin-Wilson
Amiel Courtin-Wilson is perhaps best known for his documentary on Jack Charles titled Bastardy (review RT91). Hail follows a similar development process evolving out of a deep personal relationship with the protagonist, in this case Daniel P Johnson, but here documentary slips over into fiction. Hail draws on real life aspects of Johnsons's life as he tries to go straight after being released from prison, but after an initial period of hope, inspired by love, things start to turn bad, ending messily. In a review of Hail at its Adelaide Film Festival premier Keith Gallasch wrote "Hail is a drama feature that deftly manages to fuse documentary immediacy (fluid hand-held camera work, raw dialogue) with carefully constructed scenography built around lyrical editing and richly textured and adroitly framed widescreen cinematography (Germain McMicking). It's a big screen, immersive experience." (RT102).
Hail won the Age Critics Award for Best Australian Feature at the Melbourne International Film Festival. The film has been screened at a range of international festivals such as the Venice Biennale and Sundance. It has had a limited national cinema release, and is currently still playing at the Nova Cinema, Melbourne and MONA Cinema in Hobart (but be quick!). Also just opened at The Brunswick Street Bookstore is an accompanying exhibition of evocative production stills by cinematographer Germain McMicking and photographer Glendyn Ivin.
For details on selected screenings see http://www.hailmovie.com/; Hail exhibition, The Brunswick Street Bookstore, 305 Brunswick Street, Fitzroy; http://germainmcmicking.com/; http://hoaxville.com/
accord with air: tjentiste, kusum normoyle

courtesy the artist
Kusum Normoyle, Accord with Air, Accord with Air: Tjentiste (2011-2012)
In an interview earlier this year for RT Studio Kusum Normoyle discussed ideas for the use of her performance documentation: "at the moment I feel like the presentation of documentation of the work is not really enough as an active or political act in the gallery, for example, and I'm becoming interested in exploring that space in perhaps a synthetic or theatrical way. Making adjustments to the video through effects or through layers that moderate the environment and turn it into a different place. Maybe make a building sing, or trying to unpack what sort of possible energetic things are going on in the environment. Maybe the building can sing, maybe it can vibrate—it is not as it seems."
Her exhibition, Accord with Air: Tjentiste (2011-2012) coming up at Peloton exemplifies this development in her work as Normoyle explores her sonic and spatial relationship with the astounding Spomenik of Tjentiste, one of a number of imposing monuments erected across the former Yugoslavia commissioned by Tito to commemorate battles during World War II. Kusum visted the isolated site in 2011 and conducted one of her "screaming in the everyday" performances alone with the monument. She then manipulated the footage to enhance the audio and visual synergy of the space and the moment to vivifying effect.
Peloton, Kusum Normoyle, Accord with Air: Tjentiste (2011-2012), November 8-Dec 1; http://peloton.net.au/e/accord-with-air–tjentiste
liverpool biennale 2012: uninvited guest, fact liverpool, uk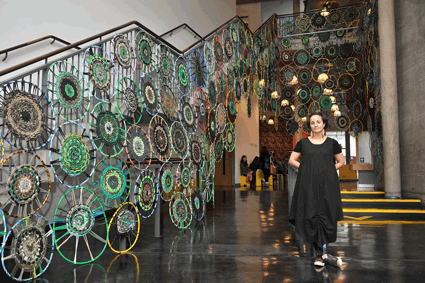 photos Brian Slater
Jemima Wyman, Collective Coverings, Communal Skin, Uninvited Guests, FACT
There's still time for those in the UK to catch the 2012 Liverpool Biennale. Its theme "the uninvited guest" explores the idea of hospitality in a world where technology, immigration, violence and war are forcing "cultures of hospitality [to] confront one another as never before" (website). The Biennale involves over 60 artists across 19 venues including FACT, where Australian artist Jemima Wyman has been working (featured in our 2009 Induce coverage in Cairns). Wyman has been conducting workshops with local participants to create objects made from woven strips of camouflage fabric recycled from military and hunting wear which then redecorate the FACT atrium. Wyman says she is exploring the political power of the pattern, taking something that symbolises conflict and reconfiguring it to become soft and comforting. Through the communal nature of the construction process she is also exploring "role of fabric as social camouflage… a communal skin" (website).
Also at FACT are a series of works by Akram Zaatari (featured in dLux Media Arts D>art06, see interview). Zaatari often utilises found material such as his series of photographs of body builders which he has reproduced from damaged negatives taken by Lebanese photographer Hashem el Madani in 1948, the resulting images depicting both virility and decay. The centrepiece is Dance to the End of Love (2011), a four-screen collage of seemingly banal YouTube clips uploaded by people from Egypt, Yemen, Libya, Saudi-Arabia and Oman on the eve of the Arab Uprising. Together the fragments illustrate what we are told is a "symphony in five movements about the loneliness of the oppressed, about hundreds of thousands crushed and forgotten in their home countries, who choose to use their computer screens as sites to live out their collective, heroic dreams" (website).
Liverpool Biennale 2012, Uninvited Guest, Fact Liverpool, UK, Sept 15-Nov 25; http://www.fact.co.uk/projects/liverpool-biennial-2012-the-unexpected-guest/
things we'd like to see: rain room
RT managing editor Virginia Baxter spied this little gem. Random International's Rain Room at the Barbican is a 100 square meter installation of falling water responsive to visitor movement—basically it stops raining around you—for a brief moment you control the weather; you are a god. For those in the UK go and have a play for us.
Random International: Rain Room Oct 4 – March 3, 2013, The Curve, The Barbicon, London UK; http://www.barbican.org.uk/artgallery/event-detail.asp?ID=13723
RealTime issue #111 Oct-Nov 2012 pg. web
© RealTime ; for permission to reproduce apply to realtime@realtimearts.net