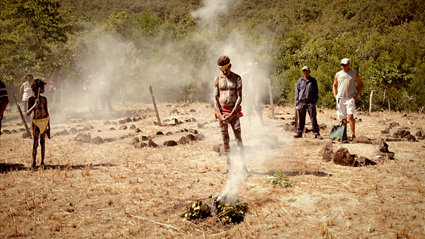 Fantome Island
the human rights arts & film festival
Offering 19 feature films, forums and an exhibition, the Human Rights Arts & Film Festival has no shortage of challenging and thought provoking highlights. The opening night film, Under African Skies, is a documentary by US director Joe Berlinger looking at Paul Simon's controversial decision to break the sanctions against South Africa to make his greatest selling album, Gracelands. Equally controversial is Beer is Cheaper Than Therapy by Dutch director Simone de Vries, exploring the lives of US soldiers returned from active duty and living in Fort Hood, where the suicide rate is twice the national average.
The Australian feature by Sean Gilligan, Fantome Island, tells the story of Joe Eggmolesse who, at the age of seven, was removed from his family and sent to a leprosarium on an island off the Queensland Coast. The film sees Eggmolesse return to the site and through archive footage exposes the systematic racist treatment and destructive policy of eugenics that was in place at the time (see Danni Zuvela's review in RT106).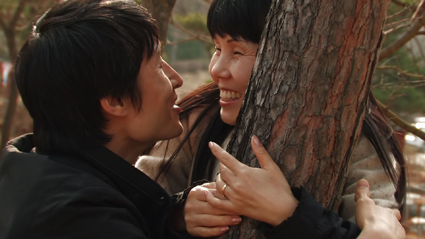 Planet of Snail
Other films deal with issues of child boxing in Thailand, developing a professional surfing event in Papua New Guinea, the integration of Roma children in to Romanian schools and the plight of the low lying Maldives. There are also stories with happier outcomes such as Planet of Snail from South Korean director Seung-jun Yi, a love story between Soon-Ho and Young-Chan who has been deaf and blind since childhood. The couple communicate and explore the world through touch. There's also Prime Time Soap, a feature which takes the form of a Brazilian telenovela where political activism and disco meet. And then there's Wrinkles by Spanish director Ingacio Ferreras, an animation based on the comic Paco Roca, depicting the not so benign adventures of two men in a nursing home.
For the Melbourne leg of the festival, there is a series of free forums, including one on the power of art to educate and agitate and the dangers this sometimes brings to the artist; a discussion on the ethics of travel from a humanitarian and ecological perspective; and another on the role of street art as tool for activism. Many of the screenings include a discussion session.
There is also an exhibition titled Echoes Of Others, Illuminating the Gaps Amid Translation which explores how technology and global communication (which is not shared by all) effects human rights issues. While the majority of the action happens in Melbourne, small selections of films will tour Canberra, Adelaide, Sydney, Brisbane, Alice Springs, Byron Bay and Perth over the next two months.
The Human Rights Arts and Film Festival, director Matthew Benetti, The Forum Theatre, ACMI and Abbotsford Convent, May 15- 27; see website for national tour dates, www.hraff.org.au
the seizure, the hayloft project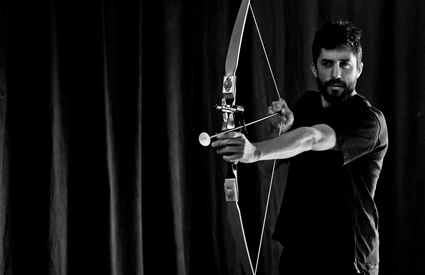 photo Lachlan Woods
Christopher Brown, The Seizure, The Hayloft Project
Following their successful Sydney Festival season of the quite staggering Thyestes, The Hayloft Project has been in the studio preparing their next work, The Seizure. Continuing their preoccupation with the classics, director and writer Benedict Hardie has adapted Sophocles' Philoctetes, the story of the Greek archer who is left for 10 years, presumably to die of a hideous wound, on the island of Lemnos while the Greeks continue on their voyage to sack Troy. However, with the inevitable Ancient Greek twist, it's revealed that the war cannot be won without Philoctetes' bow and arrow so he is returned to the war to play his part in the victory. Just how much of this storyline and its convolutions survive the adaptation is yet to be revealed. The company says the work is "an unsentimental interrogation of trauma, the costs of war and the pursuit of justice" (website). The cast features Christopher Brown, HaiHa Le, Brian Lipson and Naomi Rukavina who have all been developing their archery skills for the performance. An intriguing trailer for the piece can be found here.
The Hayloft Project, The Seizure, Studio 246, Brunswick, May 3 – 19, http://www.hayloftproject.com
boo australia, tim welfare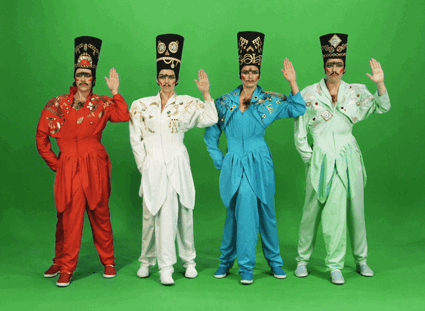 The King Pins, Polyphonic Ring Cycle (2009), courtesy the artists; Lauren Brincat, Drum Roll (2006), courtesy the artist and Anna Schwartz Gallery, Sydney; Anna Davis & Jason Gee, Biohead (2008), courtesy the artists
Curator and media artist Tim Welfare gets around the globe. Back in 2006 he curated The Middle Eastern Video Project for Dlux Media Arts' D>Art.06 drawing on the years he had spent in Beirut, Lebanon (see RT72 and RT73, and our RT Traveller on Beirut). Recently he's been living in Santiago, Chile and has been invited by the Centro Cultural Matucana 100 Arts Centre to curate an exhibition of Australian video art. Welfare was bemused by the fascination Chileans seem to have with Australia and how curiously Australia is represented: "Old images of Australians with kangaroos as pets now sit alongside documentary images from 70s exploitation films, long retired musicians (or [those who] should have retired) and street fashion that shouts out words of the ugly and patriotic Australia" (catalogue essay). Welfare wanted to redress this "Brand Australia" by showing a collection of video works that explore, often playfully and irreverently, the many voices that actually make up Australia. In particular he focuses on working methods that emulate the ways Australian culture has developed. He writes, "We took our cue from others. We take. Pinch. Emulate. Plunder. Quote. Appropriate. Remix." The exhibition features work by some of the heavyweights of Australian video art: Ian Andrews, Emile Zile, The Kingpins, Anna Davis + Jason Gee, Philip Brophy, Denis Beaubois, Alex Kershaw, Lauren Brincat and Tony Schwensen.
Boo Australia, curator Tim Welfare, Galería Concreta, Centro Cultural Matucana 100, Santiago, Chile, April 24-May 27 2012; http://www.m100.cl/
guerrilla girls, vca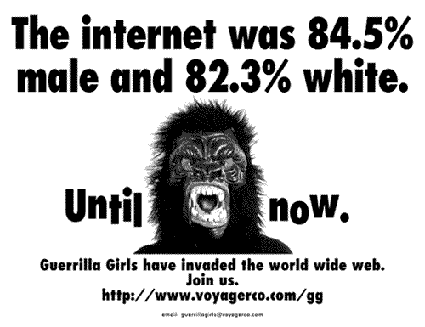 © Guerilla Girls
Guerilla Girls; b&w poster – Guerrilla Girls Proclaim Internet Too Pale, Too Male!, 1995; colour – Free Women of Zurich, 2011
When I 'got' the internet back in 1995, one of the first sites I went looking for was the Guerilla Girls, such was their fame and sense of intrigue at the time. The art activist group was attracting attention and ire for their no-back down feminist agenda and cutting wit, producing sticker, poster and billboard campaigns bearing messages about women's rights and gender and racial inequality, particularly in the art world. Still going strong, their posters are now slickly photoshopped but their messages are still relevant, as their 2011 Free Women of Zurich poster attests. Two of the Guerilla Girls, Frida Kahlo and Kathe Kollwitz, are currently in Australia to run workshops and seminars with students from the Victorian College of the Arts. There will also be a talk that is open to the public. GP
Victorian College of the Arts, University of Melbourne, Guerrilla Girls, Public Talk, May 16, 6pm, Federation Hall, Grant Street, Southbank; http://www.vcam.unimelb.edu.au/events?id=356, http://www.guerrillagirls.com/ (Update: Tickets to this event have SOLD OUT. You could chance your luck on the door and arrive by 5.45pm to place your name on a waiting list, as uncollected tickets will be released at 5.55pm)
a hoax, la boite
Commencing its premier season at La Boite in Brisbane is a new play by Rick Viede, The Hoax (to be reviewed in RT109). The play won last year's Griffin Award for outstanding new Australian writing, a competition open to both established and emerging playwrights. The play will also have a season at Griffin, Sydney in July. The Hoax tells the story of a young Indigenous girl who receives public acclaim for a novel based on her life, however it's later revealed to be a fiction written by a white, male social worker, with devastating consequences. Viede's story is a not uncommon one, paralleling the Helen Demidenko/Darville debacle of the 90s in Australia, more recently American bestselling writer James Frey's faking of his memoir, A Million Little Pieces (fully revealed when the author was challenged by Oprah Winfrey) and another American, Laura Albert, with her invention of the addicted, transgender prostitute JT LeRoy. Viede writes "When you scratch the surface of these kinds of hoaxes, they're really complicated studies of psychosis, desire, ambition, lack of self-esteem" (press release).
A Hoax, writer Ricky Viede, director Lee Lewis, La Boite, Brisbane, May 5- 26; http://www.laboite.com.au; Griffin Theatre, Sydney, July 20-Sept 1; http://www.griffintheatre.com.au/
cue function, hellosquare
Established in 2004, Canberra-based record label hellosQuare offers an impressive catalogue of 49 CD and CD-R releases ranging from label founder Shoeb Ahmad's own output both solo and with his duo Spartak (see earbash) to Perth new music ensemble Decibel (see earbash) and Melbourne improv outfit Candelsnuffer. The hellosQuare team will be in residence at Canberra Contemporary Artspace over the next few weeks, where they will not only be presenting concerts by Spartak, Ollie Brown (Icarus), Shopgirl, Deafcat and Merewomen, but also an exhibition of visual works complementing the ethos and aesthetics of the label featuring Luke Penders, Elena Papanikolakis, Dylan Martorell, Helani Laisk, Robbie Karmel and Kate Ahmad.
CUE FUNKTION, hellosQuare exhibition and residency, Canberra Contemporary Arts Space, May 10-20; http://www.hellosquarerecordings.com/; http://www.ccas.com.au/
RealTime issue #108 April-May 2012 pg. web
© RealTime ; for permission to reproduce apply to realtime@realtimearts.net