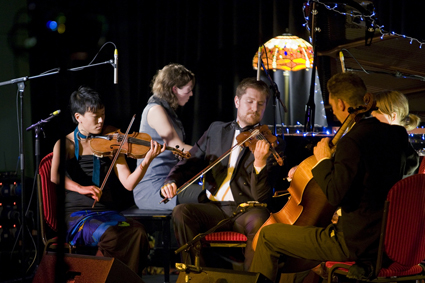 photo courtesy of the artists
Sunwrae String Quartet
new music to your ears
There's a busy two months ahead for new music lovers. First, Mike Majkowski (Earbash and RT97) and Decibel (RT94, RT97) join forces for concerts in Canberra and Sydney. Decibel will also be performing at PICA in the second of three concerts there with new works by ensemble members Lindsay Vickery and Cat Hope as well as by Chris de Groot, Thomas Meadowcroft and John Cage as well as an arrangement of Scott Walker's Benito's Dream (you can hear some of Decibel's work in our Sound Capsule and keep an eye out for Chris Reid's review of their CD in our next e-dition). The Sunwrae String Quartet is also on tour (and will be reviewed in RT103), with concerts in each capital city, a guest appearance at the Camden Heaven Music Festival in Port Macquarie and a trip to Vietnam. Finally, Canberra is again hosting its adventurous International Music Festival (see our 2010 review). Decibel and Mike Majkowski, Canberra, May 14, www.thestreet.org.au and Sydney, May 15, www.cityrecitalhall.com; Decibel, Concert 2, PICA, June 20, www.decibel.waapamusic.com; Sunwrae String Quartet, Eavesdropping Tour, May 5-June 9, www.sunwrae.com; Canberra International Music Festival, May 11-22, www.cimf.org.au
music theatre at home
Chambermade Opera continues its series of intensely intimate operas (The Itch, Another Lament and Target, with Dwelling Structure, subtitled "An Opera in 8 Time Use Episodes." Citing poet Emily Dickinson, CMO suggests "you will dwell in possibility, a doorless house??," in what promises to be a highly unusual work created by sound artists Madeleine Flynn and Tim Humphrey with writer Cynthia Troup and "visual assemblage by Neil Thomas, and neighbourly interruptions by The Suitcase Royale." Chambermade Opera, Dwelling Structure, May 26-28, www.chambermadeopera.com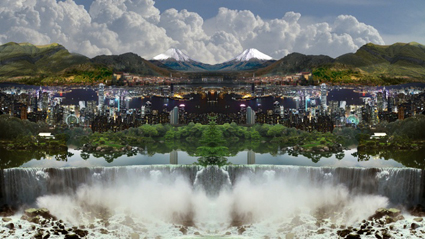 image courtesy of the artist
Kit Wise, Xanadu 2009, HD video installation, silent 6:00, mirrored glass, Digital production Darin Bendall, an Experimenta Commission
old new media
From new music to new media…if you missed it in Melbourne last year, you can catch Experimenta: Utopia Now on tour at the Mornington Peninsula Regional Gallery. The show features the work of Patrick Bernatchez (Canada), Michael Burton (UK), Cao Fei (China), Christopher Fulham (Australia), Christian Jankowski (Germany), Laurent Mignonneau & Christa Sommerer (France/Austria), Scenocosme (France), Kit Wise (Australia) and dynamic Melbourne duo, Van Sowerwine & Isobel Knowles, all of whom investigate the double meaning of utopia as the "good place" and/or "no place." In her RealTime review last year, Saige Walton said the "selected works ranged from joyous and humourous to desolate and unnerving" (RT96). There's more media art to be seen at the Brisbane's Gallery of Modern Art. Drawing from its collection, the gallery's latest exhibition, Physical Video, explores the use of the body in video art, featuring work from the early 1970s through to the present day. Artists include Bruce Nauman (US), Jun Nguyen-Hatsushiba (Japan/US/Vietnam, RT46, RT50), Dennis Oppenheim (US), James Oram (New Zealand) and Mike Parr (Australia, RT102) among others. Experimenta: Utopia Now, Mornington Peninsula Regional Gallery, May 12-June 19; www.experimenta.org; Physical Video, GoMA, Brisbane, May 14-Sept 4 2011; www.qag.qld.gov.au
the winner: douglas sirk box set
Our thanks to all the entrants in our competition who informed us how the Madman Douglas Sirk box set would improve their lives. The winner was Melbourne choreographer Phillip Adams, who wrote:
"For those of you who know me, I am strictly a 50s man. From Featherston chairs to Palm Springs chic and my car—a 1959 Merc. The delights and the details in the designs of Sirk's films in the box set would keep me enthralled hour after hour. The inspiration from the set decorations alone would be like a home magazine filled with retro gems: styles, suits, gloves, backdrops, kitsch all rolled into one. Well, I might even go as far as having Written on Wind playing nonstop as my bedhead artwork. Sirk is a man after my own heart."
The 9-DVD box set of the great films of the 1950s master of aesthetically and socially incisive Hollywood melodramas, Douglas Sirk, was generously provided by Madman Entertainment.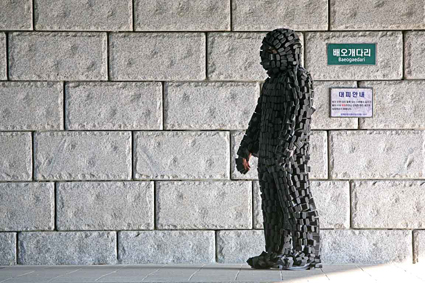 photo courtesy of the artist
Ash Keating, Label Land (2009), Human Rights Arts and Film Festival
the politics and poetics of human rights
It's 50 years since the United Nations Refugee Convention was established, which makes the Human Rights Arts and Film Festival particularly relevant this year. The festival starts in Melbourne with a program that includes film, visual art, poetry, theatre and public forums. The films will be shown at ACMI in a week-long program of documentaries, animations and shorts. The Asylum Seeker Resource Centre is presenting Not Only My Story, a play in which refugees collaborate with artists such as Yumi Umiumare (RT39, RT71, RT94). There is also artwork by Ash Keating (RT77, RT86, RT91). Smaller versions of the film program will tour Canberra, Alice Springs, Brisbane, Sydney, Byron Bay, Adelaide and Perth. Human Rights Arts and Film Festival, Melbourne May 12-22, national tour May 26-June 12, www.hraff.org.au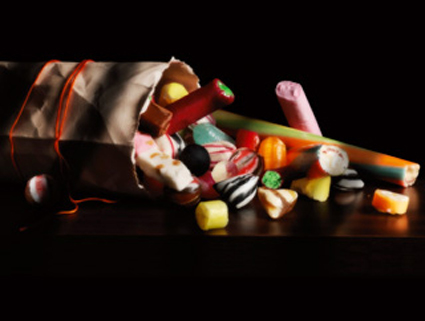 photo courtesy of the artist
Robyn Stacey, Tall Tales and True, Stills Gallery
head out to head on
Head On Photography Festival is now in its second year. There are over 130 indoor and outdoor exhibitions, events, seminars and workshops across Sydney over seven days. Of particular interest is Robyn Stacey's show Tall Tails and True at Stills Gallery, Paddington, as well as the group exhibition at Roslyn Oxley9 featuring Destiny Deacon (RT66), Bill Henson, Tracey Moffatt (RT102), Julie Rrap, Patricia Piccinini (RT43), TV Moore (RT57), Isaac Julien (RT42, RT97) and Anne Zahalka. There are also two interesting tours on offer: one to a camera obscura in Centennial Park and another of the Powerhouse Museum's basement, which houses a considerable collection of 19th century cameras and photographs. Head On Photo Festival, May 5-June 11, www.headon.com.au
RealTime issue #102 April-May 2011 pg.
© RealTime ; for permission to reproduce apply to realtime@realtimearts.net