australians win rolex arts awards
Congratulations to composer Ben Frost and dancer Lee Serle on being chosen for a year of mentoring in the Rolex Arts Initiative. Each year the program awards six mentorships to outstanding emerging artists working in dance, film, literature, music, theatre and visual art. This year, rather remarkably, two of the six awards were given to Australians. In the music category, Frost, a 30-year-old composer, producer and musician originally from Melbourne but now based in Reykjavik, will be mentored by the composer Brian Eno. You might have heard Frost's music in the Chunky Move productions Glow, Black Marrow and Mortal Engine, or his album Steel Wound. In the dance category, Lee Serle, who is 28, will be mentored by renowned American choreographer Trisha Brown. He graduated from the VCA in 2003 and has appeared with Lucy Guerin Inc and in Chunky Move's Mortal Engine, I Want to Dance Better at Parties, Two Faced Bastard and I Like This. His choreographic credits include A Little Murky and I'm in Love.
Given the pair's connection with Chunky Move, artistic director Gideon Obarzanek is understandably delighted. Though Frost and Serle are Australia's third and fourth Rolex protégées, they are the first from the live arts categories as well as the first Victorians. The previous Australian winners were both novelists from New South Wales: Julia Leigh, mentored by Toni Morrison in 2002-03 and Tara June Winch by Wole Soyinka in 2008-09. Frost and Serle will each be mentored across a year and in addition will receive US$25,000 and be eligible for a further US$25,000 to create a project in the subsequent year. Rolex Mentor & Protégé Arts Initiative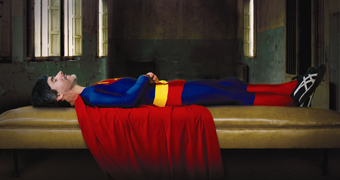 photo RODEO
Paolo Castro, Superheroes
everyday heroes & superheroes
Everyone loves a hero, flawed or otherwise. If you prefer them humble and homemade, then you're bound to be pleased by NightTime State Wide: Everyday Hero. Like previous NightTime programs (see RT78 and RT91). Everyday Hero is an evening of short, live artworks curated by Lara Thoms and, this time, Jess Olivieri. Created by emerging and established Sydney artists such as John A Douglas, Renny Kodgers, Julie-Anne Long, Jason Pitt with Jade Dewi, Natalie Randall, Justin Shoulder, Anna Tregloan with Rita Kalnejais, and David Franzke and Alice Williams, the evening explores a range of everyday heroes: stay-at-home mums, unconventional fathers, child starlets, and even yourself (you get to try on a superhero costume). If you missed them in June at Performance Space, then you can see these heroes in action at Tamworth Regional Gallery (July 31), Lake Macquarie City Art Gallery (October 16), and Orange Regional Gallery (September 4).
Further south, in Adelaide and then Melbourne, theatre company Stone/Castro is going one better with their new show Superheroes. It begins with six characters in a rest home on the road to recovery and perhaps the road to salvation, or maybe domination, depending on which way they turn. Their battle for supremacy in this new, rather unlikely, territory serves as a microcosm for a larger "reflection on the complexity of globalisation, the future, violence, and war" (Press Release). Director Paul Castro, originally from Portugal but now based in Adelaide, is building a solid reputation on the back of productions such as Regina vs Contemporary Art (see RT89) and with No Strings Attached Theatre of Disability's Tom the Loneliest (see RT88). NightTime Statewide: Everyday Hero, Performance Space and Hazelhurst Regional Art Gallery, curated by Jess Olivieri and Lara Thoms, Tamworth Regional Gallery, July 31, Lake Macquarie City Art Gallery, Oct 16), Orange Regional Gallery, Sept 4. http://www.performancespace.com.au. Stone/Castro, Superheroes, Space Theatre, Adelaide Festival Centre, Adelaide, July 20-24, www.adelaidefestivalcentre.com.au; Arts House, Melbourne Aug 11-15; http://www.melbourne.vic.gov.au/ArtsHouse
wollongong starfuckers
From heroes to stars …Wollongong isn't a place you'd typically expect to find Starfuckers but then Malcolm Whittaker and Laura Caesar aren't your typical stars: Whittaker is performance artist and collaborator with Team MESS (see RT90), and his partner Caesar is a primary school teacher and "arts and craft enthusiast." Starfuckers is a durational performance of four hours (you come and go as you choose) which "deconstructs and (literally) reconstructs a ridiculously long list of lovers into an increasingly tangled scene of arts and crafts and diary dialogue." It's about how we represent relationships culturally, how we respond to those representations personally, and how those responses in turn shape our interpersonal relations. Presented by the new entrepreneurial arm of the Merringong Theatre Company, the Independent Producers Program, Starfuckers plays for two nights only. Bob Peet Studio, Illawarra Performing Arts Centre, Wollongong, July 23-24; http://merrigong.com.au/shows/stars.html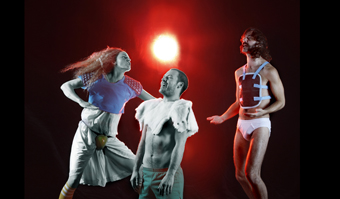 photo Jeff Busby
Kristy Ayre, Timothy Harvey, Luke George, NOW NOW NOW
luke george: dancing in the moment
In Luke George's NOW NOW NOW at Melbourne's Dancehouse, the choreographer and two fellow dancers will attempt to address a paradox shared by performers and audiences: "We seek to be in the moment, yet through the pursuit of this, we move further and further away from it." George began his career with Launceston's Stompin (where he was also artistic director 2002-08), trained at the VCA and has worked with Phillip Adams' Balletlab, Jo Lloyd, Chunky Move, Itoh Kim, Miguel Gutierrez and Deborah Hay. He has choreographed for Stompin, Back to Back and Arena theatre companies, and his independent work LIFESIZE (seen at Dance Massive in 2009) was short listed for an Australian Dance Award. In NOW NOW NOW he will be joined by dancers Kristy Ayre and Timothy Harvey with design by Bluebottle 3 and dramaturgy by Martyn Coutts. George writes, "My aim is to magnify audience/performer relationship and question the 'realness' of performance and how we are in the world. In NOW NOW NOW the performers are not characters representing a greater humanity or society—we are ourselves and this performance is a genuine attempt at the question, 'can we be in the moment?' and we invite an audience to experience that with us." You can read Sophie Travers' interview with Luke George about his career and vision in RealTime 98, August-September. NOW NOW NOW, Dancehouse, Melbourne, July 28-Aug 1; www.dancehouse.com.au
fact, uk: the reoriented gaze
Liverpool's Foundation for Art and Creative Technology (FACT) is currently staging an exhibition titled Persistence of Vision. Featuring eight contemporary artists, including AVPD (Denmark), Julian von Bismarck (Germany), Julien Maire (France) Mizuki Watanabe (Japan) and Melik Ohanian (France), the show investigates "the relationship between vision, memory and media." (Intriguingly, the exhibition appears to anticipate the theme for next year's Performance Studies International conference, which is called Camillo 2.0: Technology, Memory, Experience. Camillo 2.0: Technology, Memory, Experience, Performance Studies International #17, Utrecht, the Netherlands, May 25-29 2011; http://psi17.org/) In one installation, In-Between Gaze (2010), Mizuki projects an out of focus image onto a wall. When the viewer uses a magnifying glass to bring the image into focus, a live video showing the viewer holding the magnifying glass appears in the focused part of the projection. In this way, "viewers not only see themselves, but also see themselves seeing." The work by AVPD is similarly playful: "a disorienting installation using mirrors and corridors to explore the role of memory in our visual perception and orientation in a given space." Persistence of Vision, FACT, Liverpool, UK, June 18-Sept 5; http://www.fact.co.uk/about/exhibitions/2010/persistence-of-vision
situating abramovic at artspace
Amelia Jones, author of Body Art/Performing the Subject (1998), Irrational Modernism: A Neurasthenic History of New York Dada (2004) and Self Image: Technology, Representation, and the Contemporary Subject (2006) among other books, comes to Artspace on July 13 to speak on "Performance as Improvisation: Aesthetics, Live Art, and the Problem of History." The presentation will investigate "what happens when performance gets put in the frame of aesthetics." More specifically, it examines Marina Abramovic's Seven Easy Pieces (2005; http://www.seveneasypieces.com), where the artist re-enacted six 1970s performance art works (on the seventh day she rested) at the Guggenheim Museum in New York. Jones uses this performance as a "pivot" point in order to "argue that making 'performance' as 'art' is a category confusion that produces a range of contradictions, opening up a gap between aesthetics and the vicissitudes of the improvisational or the live event." No doubt there are additional layers to the argument in view of the recent Marina Abramovic retrospective at MoMA, where numerous performers "re-performed" some of her early works (you couldn't see it live, see it online at the exhibition website; http://www.moma.org/interactives/exhibitions/2010/marinaabramovic/index.html). No bookings will be taken for this event and places are limited, so get to Artspace early to avoid disappointment. Amelia Jones, "Performance as Improvisation: Aesthetics, Live Art, and the Problem of History," Artspace, July 13, 6.30pm, http://www.artspace.org.au/public_lectures
RealTime issue #97 June-July 2010 pg. web
© RealTime ; for permission to reproduce apply to realtime@realtimearts.net