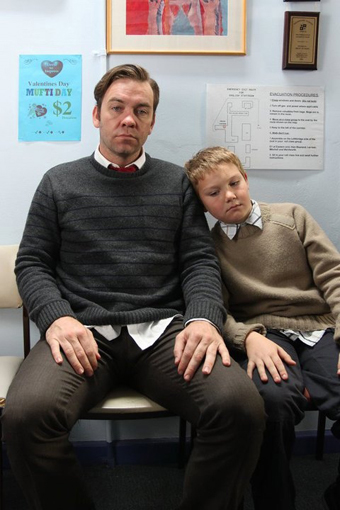 Brendan Cowell and Charlie Fraser, Bee Sting
we like short shorts
It may be the season for wearing shorts, but it's also the season for watching them. More specifically, it's time for the International Short Film Festival Flickerfest, which has just finished screening in Bondi and is now set to tour the country. This year Flickerfest will travel to more than 30 locations, including regional centres such as Alice Springs, Katherine, Noosa, Narrabri, Cygnet and Wyalkatchem. The program varies from venue to venue, so while some will focus on the Best of International Shorts, others will feature Flicker Kids and the Best of Comedy. However, most venues will be screening the Best of Australian Shorts program, which includes the animation The Lost Thing (winner of the AFI Award for Best Short Animation 2010), directed by Andrew Ruheman and Shaun Tan, as well as Bee Sting (starring Brendan Cowell and Matilda Brown) and The Telegram Man (starring Jack Thompson as "the man who must deliver the worst kind of news during the long years of World War II"). For more information see the Flickerfest website. Flickerfest Tour, various venues, Jan 21-March 27; www.flickerfest.com.au
movement at the station
Sydney's CarriageWorks has just announced Lisa Havilah as its new CEO, commencing February 2011. Havilah is currently the Director of Campbelltown Arts Centre, where she has pioneered a program of inclusive and experimental contemporary art, much of which has been reviewed in RealTime. To get a sense of her breadth of vision see our reviews of Chiara Guidi, the River Project, What I Think About When I Think About Dancing and News from Islands. Havilah says, "I am proud of what we have achieved and the people I have worked with at Campbelltown Arts Centre, and excited to join CarriageWorks at such an important time in the organisation's development. CarriageWorks holds a vital place in the cultural fabric of Sydney, and is home to an extraordinary group of resident companies. I look forward to building on the many achievements that CarriageWorks has already delivered" (press release).
In the meantime, one of CarriageWorks' resident companies, Performance Space, has announced that Jeff Khan as its new Associate Director with responsibility for dance and performance. Khan is a "curator and writer with a particular interest in interdisciplinary projects and site-specific and socially-engaged practices" (press release; see also our interview RT96). From 2006 to 2010 he was the Artistic Director of Next Wave (RT98). He is currently a member of the Australia Council's Dance Board and has held previous positions and guest curatorships at the MCA, Gertrude Contemporary and PICA. Exciting times in Redfern!
cold edge, hot summer
Writer and spoken word performer (and contributor to RealTime) Urszula Dawkins brings tales of sub-zero Svalbard to Midsumma Melbourne and cia studios in Perth, following her 2010 participation in The Arctic Circle creative residency—an ocean voyage around the high-Arctic, a few hundred miles from the North Pole (see RT100). She writes: "The romantic landscape gives way to the treachery of a nature that needs neither art nor art-makers, and the quest for 'place' is blasted away in horizontal snow-drifts, leaving only desire and the return to home…Polar bears, northern lights, glittering glaciers and an ice-class sailing ship sit side by side with the end of the sublime." The program also features film and video pieces by Arctic Circle participants Katja Aglert (Sweden), Janet Biggs (US), Rebeca Mendéz (US/Mexico) and Laurie Palmer (US). Cold Edge: The Arctic Circle, Hares & Hyenas Bookshop & Café, Jan 25; www.midsumma.org.au; cia studios, Feb 3 www.ciastudios.com.au (please RSVP kate@pvicollective.com)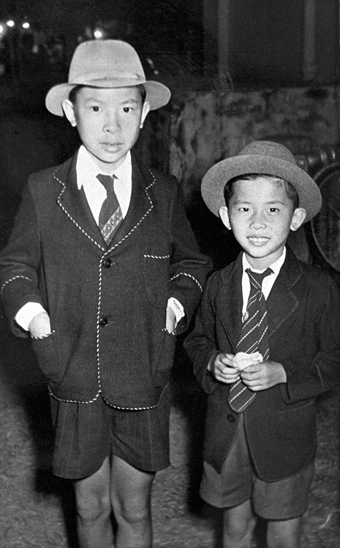 photo courtesy of the artist
Alan and William Yang
australian-asian art connections
The Chinese Year of the Rabbit begins on February 3 and to celebrate the 4A Centre for Contemporary Asian Art is mounting Cinema Alley. For one night only, an open-air cinema at the heart of Chinatown will screen five short video works by contemporary Chinese artists Chen Chieh-Jen, Jun Yang, Ou Ning and Cao Fei (reviewed in RT96), Wang Qingsong (RT100) and Yuan Goang-ming. Their work explores "perceptions of cities, their transformation, experiences of alienation and the effects that history and tradition place on the individual" (website).
Elsewhere, Performance 4A is producing the COOLie Asian Australian Performance Event, to be held Downstairs at Belvoir St Theatre for two weeks, February 1-13. The first season, Stories East & West, sold out Belvoir's Upstairs theatre last May. It featured Asian Australian artists exploring relationships with their ancestors and cultures and examining how these impact on their lives today. The new show features Chinese-Australian photographer, storyteller William Yang (RT96; RT47) and indigenous elder, researcher and historian Noeline Briggs-Smith swapping stories about their lives. The following work, About Fact, is billed as a "contemporary variety show" combining music, dance, comedy, monologue and song and featuring Asian-Australian artists Paul Cordeiro, Lena Cruz, Les Gock, Oliver Phommavanh, Suara Indonesia Dance Group and Jennifer Wong.
Artspace, in association with the Sydney Festival, is hosting Singaporean artist and filmmaker Ho Tzu Nyen in an exhibition featuring three major video works—NEWTON (2009), ZARATHUSTRA: A FILM FOR EVERYONE AND NO-ONE (2009/2010) and the centrepiece 42-minute EARTH (2009/2010), a 'videographic' remix in three long takes of 17th and 18th century Italian and French paintings in which the human body is penetrated, fragmented and re-arranged. On January 24 and 25 there is also a Live Sound Score Performance by composer and multi-instrumentalist Oren Ambarchi. Cinema Alley, 4A Contemporary Asian Art, Feb 11; www.4a.com.au; COOLie Asian Australian Performance Event, Belvoir St, Feb 1-13; www.belvoir.com.au; Ho Tzu Nyen, Earth, curator Blair French, Artspace, Jan 20-Feb 20, Live Sound Score Performance Jan 24-25; www.artspace.org.au
colbert and censorship
Here at RealTime we've been idly holidaying online, roaming the world wide web and catching up with the wickedly incisive Stephen Colbert who, on December 8 in his Tip of the Hat, Wag of the Finger segment, praised censorious Republican Senator Erik Cantor (the incoming House Majority Leader) with a damning serve of artspeak. Cantor had declared that the Smithsonian National Portrait Museum's exhibiting of a video installation, Fire in My Belly, in which ants briefly crawl over a crucifix, was an insult to Christians, not least because it was being displayed over the Xmas period. The slight therefore warranted a threat to defund the Smithsonian. Colbert applauded the Jewish politician's sensitive support for beleaguered Christians. "This defunding threat isn't some cheap exercise in mindless censorship," he argued. "It's an anti-paradigmatic revolutionary work of conceptual art banning…Cantor's art is about the art that isn't there, making the inaccessible literally inaccessible."
On Fox News, Cantor said, "When a museum receives taxpayer money, the taxpayers have a right to expect that the museum will uphold common standards of decency. The museum should pull the exhibit and be prepared for serious questions come budget time." The Smithsonian subsequently removed the video, the 1987 work Fire in My Belly (David Wojnarowicz, Diamanda Galas) from Hide/Seek: Difference and Desire in American Portraiture (Oct 30, 2010-Feb 13, 2011).
You can read more about the video, the conservative advocacy group the Media Research Center, and protests against the withdrawal of the work at Half Wisdom, Half Wit. You can watch Colbert's Tip of the Hat, Wag of the Finger Art Report and see the rest of this episode of The Colbert Report featuring Steve Martin and some leading artists , including Frank Stella and Andreas Serrano in a droll assessment of the financial evaluation of art. Also available is an extended version.
RealTime issue #100 Dec-Jan 2010 pg. web
© RealTime ; for permission to reproduce apply to realtime@realtimearts.net