realtime in 2012
Happy New Year from the RealTime Team! 2012 brings exciting developments for RealTime online, as we hope it does for you too. Over the next few months look out for new features including:
• artv: video interviews and mini documentaries with Australia's most interesting emerging and established artists
• realtime traveller: micro-guides for the arts traveller to the world's most intriguing cities
• studio: exploring works on the boil with more audiovisual content
• sound capsule: bi-monthly selections of new audio for curious ears
• that art word: RealTime editors' blog (coming soon)
• more in the loop to keep you in the know
• more giveaways to say thanks
We'll also be sharing RealTime's vast back catalogue of over 3,000 articles through archive selections online and through Facebook updates. So if you haven't already, join our e-dition list and become a fan of our RealTime FB page and don't miss a trick!
all action in the west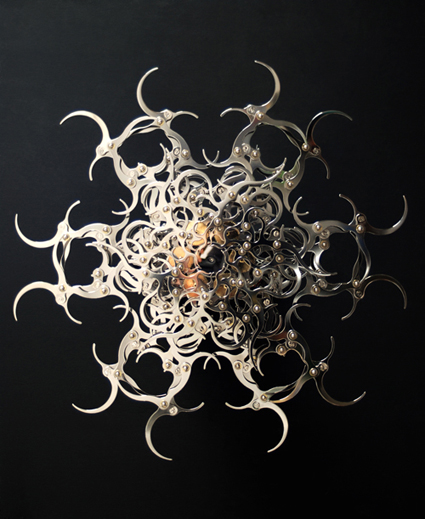 courtesy the artist
U-Ram Choe, Cakra-2552-a, 2008, metallic material, machinery, electronic devices (CPU board, motor)
As our interview with Perth International Arts Festival director Jonathan Holloway attests, there are already plenty of reasons to head to Perth in February and here are a few more.
At the John Curtin Gallery, as part of the visual arts program of PIAF, Korean artist U-Ram Choe will exhibit his miraculous kinetic sculptures. Extrapolated from biological organisms combined with science-fiction dreaming, Choe creates exquisite hybrid creatures made from stainless steel, LEDs, tiny motors and acrylic bones, each with their own scientific name and evolutionary histories. With some responding to the viewers' body heat and movement the artist presents a garden of futuristic flora and fauna. Choe says of the cycle of technology "They are born, they live their lives, some day they break down or get worn out, and then eventually die. And after they die, they get dismantled and some parts get recycled or reborn so to speak." While this is the first exhibition of Choe's work in Australia, he has exhibited widely across Asia, as well as internationally. U-Ram Choe, John Curtin Gallery, Curtin University, Feb 3-March 2 2012; www.johncurtingallery.curtin.edu.au; See video Interview with U-Ram Choe by The Creators Project Video
After last year's taste-test, 2012 sees the first full Fringe World Program, the official Perth fringe festival, run by the irrepressible Marcus Canning and the Artrage team. Over 150 events will take place around the city with venue hubs including Perth's own Spiegeltent (every city's gotta have one), The Orchard outdoor garden, The Old Treasury Building (opening its doors for the first time in 15 years and requiring audiences to sign an indemnity waiver) and various venues in the Cultural Precinct. With so much on, it's hard to pick favourites but the Proximity festival definitely caught our eye.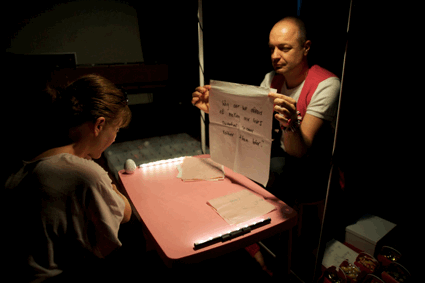 courtesy the artists
Proximity, How Sweet is Your Life, THE UNION Of People Against Very Small Injustices, Slow Food Sunday
Curated by James Berlyn and Sarah Rowbottam, with a little bit of 'provocation' from PVI's Kelly McClusky, Proximity claims to be Australia's first micro festival of one-on-one art. In some impressive programming manipulations it will present 12 performers to 12 audience members in 12 different spaces of the Blue Room, each 12 minutes in duration, 12 times a day for 4 consecutive Sundays. If the maths eludes you, it means only 144 people can see the works, which will comprise intimate experiences drawing on "touch, smell, sound and physical proximity" (media release). Audience experiences might include a private tap dance, a tandem bike ride or a strip poker game. Or you may elect to join THE UNION Of People Against Very Small Injustices, discover how sweet you life is or help prepare a slow food banquet (within the allotted 12 minutes). Proximity may be just the antidote for those overwhelmed by the large-scale spectaculars offered in Perth at the same time. Fringe World, Jan 26-Feb 19, various venues, Perth, http://www.fringeworld.com.au; Proximity, curators James Berlyn, Sarah Rowbottam, provocateur Kelli McCluskey, artists Claudia Alessi, James Berlyn, Janet Carter, Renae Coles, Russya Connor, Jackson Eaton, Jen Jamieson, Nikki Jones, Janette McGinty, Sarah Nelson, Sarah Rowbottam, Hellen Russo; The Blue Room, Perth, Jan 29-Feb 19; http://proximityfestival.com
a world of theatre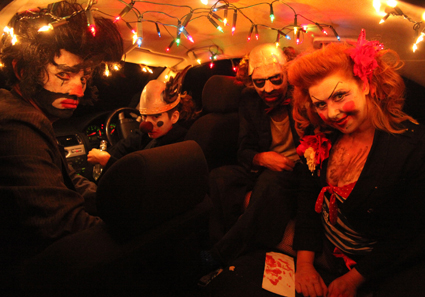 photo courtesy World Theatre Festival
Il Pixel Ross, And the Birds Fell from the Sky
The first World Theatre Festival seemed to appear out of the blue in 2011 (see interview and review) but with a second incarnation imminent it's looking to become a key event on the Australian cultural calendar. The 2012 program promises a generous selection of home grown and international works, both as polished presentations and works in progress. Highlights include the Belarus Free Theatre (much acclaimed at the 2009 Sydney Festival see RT89) billed as "the world's most political theatre company" whose work is so underground that audiences in their home country can only find out about it through word of mouth and text messages. Their latest show, Discover Love, is based on the true story of Irina Krasovskaya whose husband was kidnapped and murdered for his involvement in the democratic movement.
From the UK, Il Pixel Rosso present And the Birds Fell from the Sky, where each audience member is fitted with video goggles in order to become the main character, Faruk the clown, in a range of interactive and augmented adventures. Australian works on the bill include Team Mess' This is It (see reviews of the show at Artshouse & PICA); and Bunny by Roarawar Feartata, "a cruel and unusual love story about men" (website), a hit of the Melbourne Fringe Festival. Returning after a sell-out run in the Scratch Season last year is Elephant Gun by Brisbane-based companies the Escapists and Breadbeard Collective, using the whole of the Powerhouse as its stage. Also looking impressive is the collaboration between Brisbane-based Topology and Abhinaya Theatre Company from India presenting The Lady from the Sea, based on the Ibsen play. The Scratch season will also continue featuring works in rehearsal and development by groups such as ERTH, Backbone Youth Theatre and Kelly Ryall & Martyn Coutts. The program is completed by a range of talks and masterclasses with some of the visiting companies. World Theatre Festival, Brisbane Powerhouse, Feb 16-26; www.worldtheatrefestival.com
new indigenous celebrations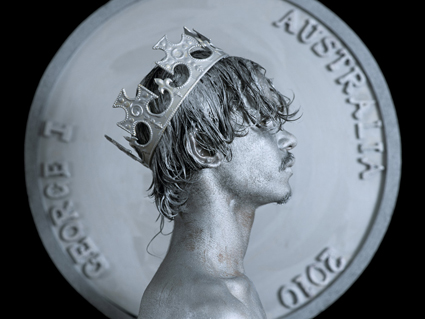 courtesy the artist and Nellie Castan Gallery
Darren Siwes, SILVER BOY (2008)
From February 10 to12 Melbourne will host its first Indigenous Arts Festival. It will include a range of concerts in Federation Square and a selection of shorts and feature films in Blak Nite Cinema such as The Tall Man (see RT102), Toomelah (see RT104) and Here I Am (see RT103). The theatre and dance program will feature Ilbijerri Theatre Company's, Coranderrk—We will show the Country (to be reviewed in RT107) and a new dance work, Lu'arn, by IDJA Dance Theatre exploring the Boon Wurrung story of the journey of a boy to adulthood as told by Aunty Carolyn Brigg.
Overlapping with the festival will be the National Indigenous Photo-Media Forum at ACMI which will include three-days of talks, presentations and workshops exploring current issues in photomedia from Indigenous perspectives, including photography in the digital age, copyright issues, storytelling and professional development. The keynote speech will be delivered by Marcia Langton; other presenters include leading artists and curators such as r e a, Jenny Fraser, Darren Siwes, Reko Rennie, Beck Cole and Djon Mundine. Melbourne Indigenous Arts Festival, various venues; Feb 10-12, www.thatsmelbourne.com.au/Whatson/iaf/Pages/iaf.aspx; National Indigenous Photo-Media Forum, ACMI, Feb 8-10, registrations close Feb 3; www.acmi.net.au/melb-indigenous-arts-fest.aspx
music theatre in the raw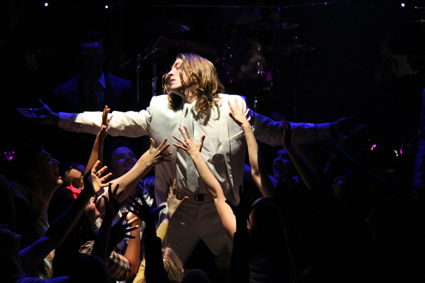 photo courtesy University of Melbourne
DreamSong
Now in its second manifestation is the Arts Centre Melbourne's Carnegie 18 program providing creative development for three new music theatre works. Pushing the form beyond expectations last year's offerings included an operetta about netball and a soft-metal musical (see review in RT102). This year presents The New Black, by Stephen Helper, Leeroy Bilney and members of the Aboriginal Centre for Performing Arts, with a score by Marcus Cowora, exploring justice identity and ambition through the story of a young Indigenous lawyer. Cautionary Tales for Children by Claudia O'Doherty and Arena Theatre presents a satirical cabaret based on the poems for children by Hilaire Belloc. Finally, DreamSong written by Hugo Chiarella, composed by Robert Tripolino and directed by Michael Gurr, is a satirical romp through the machinations of evangelical corporations, the Global Financial Crisis and the Second Coming. Arts Centre Melbourne presents New Music Theatre Series: Carnegie 18, Fairfax Studio; Feb 1-7; www.artscentremelbourne.com.au
china rocks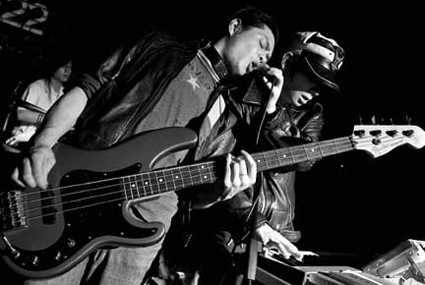 photo Matthew Niederhauser
AV Okubo
While there's been a recent focus on the increased activity and excitement in visual arts in China through a range of exhibitions, as well as the wonderful White Rabbit Gallery in Sydney, not so much has been heard here yet (literally) of Chinese contemporary music, but Sound Kapital, coming up for one night only at Carriageworks, is going some way towards rectifying this by featuring three of Beijing's leading artists. Nova Heart is billed as the "Queen of Beijing Rock" and offers sweet pop vocals and atmospheric beats while AV Okubo has a more punk rock feel drawing on retro tropes like kung-fu movies, manga and triad gangsters. Xiao He is said to be "one of the most creative and influential leaders of the Beijing music scene" (press release) involved in music but also theatre and cinema and offers the most experimental approach of the three. He calls his music "free folk" drawing on improvisation, traditional styles and electronics. Accompanying the artists will be projections by Matthew Niederhauser, a photographer who's been documenting the underground music scene in Beijing and has compiled the book titled Sound Kapital. Nederhauser will also be presenting a free artist talk before the show. Sound Kapital is co-presented by Creative Asia, a new organisation headed by Hannah Skrzynski, a recent Myer Creative Fellowship recipient, "dedicated to building cross cultural artistic collaborations between Australia and Asia" (website). Sound Kapital, AV Okubo, Nova Heart, Xiao He and Matthew Niederhauser, presented by Carriageworks & Creative Asia and part of the 2012 City of Sydney Chinese New Year Festival, Feb 3; http://www.carriageworks.com.au/; http://creativeasia.wordpress.com/
sculpture in the rainforest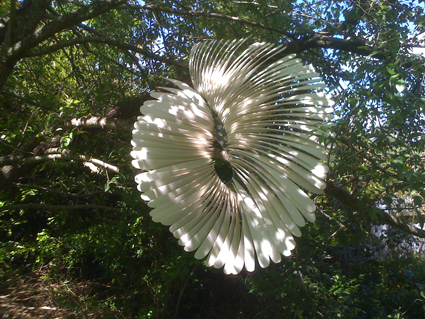 courtesy the artist
Steven Short
Drawing on the successful Sculpture by the Sea model is Sculpture at Scenic World presenting 26 artworks in the Jamison Valley of the Blue Mountains World Heritage Area, viewable from the Scenic Walkway trail. All the works have been made exclusively for the site which is Australia's only remaining example of a Jurassic forrest, with artists including Ole Nielson (NSW), Heidi Kenyon (SA), Todd Fuller (NSW) Nigel Harrison (NSW), Dale Miles (NSW), Deirdre Robb (Belfast), Steven Short (NSW), and the winning sculpture will receive a $20,000 prize. There's also an accompanying series of artists' talks and lectures including a discussion on Figurative Versus Abstraction (The great joy of inclusiveness) by Terrance Plowright (Blue Mountains) and an art historical introduction to sculpture by the exhibition manager Lizzy Marshall. Sculpture at Scenic World is planned to become an annual event. Sculpture at Scenic World, Blue Mountains, Feb 16-11 March 11, www.scenicworld.com.au/sculpture
opportunities
The 19th International Symposium on Electronic Art (ISEA) taking place in Sydney in June 2013, under the stewardship of Marcus Westbury, has opened the first round of its call for submissions. The festival is themed Electronic Art—Resistance is Futile, exploring how digital technology is now at the heart of our culture with Westbury stating "Digital electronic art is our source of innovation, the new norm… The urban spaces of Sydney will provide the scene for thinking through the consequences of digital life, creative industries, and contemporary electronic art practice" (website). The first round (due Feb 6) is for large-scale projects that may be developed in association with ISEA2013 and dependent on current funding rounds. Subsequent deadlines are April 6 and June 8 for smaller scale projects and papers. For more info see www.isea2013.org/proposals
The City of Sydney has also opened its call for proposal for 2012 Art & About seeking artists, curators and organisations for multidisciplinary projects and installations with a deadline of Tues March 6, 11 am. The Call for Laneway Art & City Spaces is also still open until Feb 28; and their general City Grants Projects will open for application on Feb 13 including Cultural, Heritage, Community and Environmental programs. For more info http://www.cityofsydney.nsw.gov.au/cityart/news/
Sydney-based ARI Serial Space is calling for proposals for their Time Machine project, taking place July 16-29. They are seeking work that fits into four main streams: Sound & Vision, Performance, Lab and Talk, but in true Serial Space anti-authoritarian style they welcome activities that defy these categories. Leading up to the event they are also offering residencies and commissions. Applications are due Feb 19, 12am; for more info http://serialspace.org/events/112/call-for-proposals-time-machine/
RealTime issue #106 Dec-Jan 2011 pg. web
© RealTime ; for permission to reproduce apply to realtime@realtimearts.net