Welcome to the new-style in the loop. Less chatter and more art, but RT's in the loop listings continue to be selected for their potential to excite, challenge, inspire and innovate (and because they piqued our curious-kitty natures). Read on to stay informed about interesting events in your part of the world as well as action around the country and overseas.
cementa, kandos nsw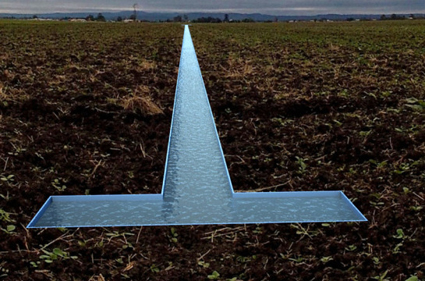 courtesy the artist
Fiona Kemp, Lap Lane, site-specific work of a 46mx20cmx10cm trough embedded into the ground, coloured chlorine blue and filled with water
Fancy an art intensive weekend in the country? Try Cementa, taking place at Kandos around three and half hours' drive from Sydney in central NSW. Co-curated by Ann Finegan, Alex Wisser and Georgina Pollard, Cementa will present over 40 artists in and around the town, which until recently was a thriving hub of cement manufacture. It's an impressive collection of artists, both established and emerging, offering video, installation, sound, 2 and 3D works. Artists include Josephine Starrs & Leon Cmielewski, David Haines & Joyce Hinterding, Sarah Goffman, Cigdem Aydemir, Sue Pedley & Virginia Hilyard, Mark Brown, David Capra, Pia Van Gelder and Alex White. Each day will feature walking and cycling tours to make sure you don't miss a thing.
Cementa, Feb 1-4, Kandos, NSW, various venues, http://cementa13.com/
the transmuted signal, frequency oz
Curated by Colin Black and produced by Yanna Black, The Transmuted Signal is a radio series presented on air and streamed online via Kunstradio (ORF, Austria). Black himself and Philip Samartzis, Cat Hope, Nigel Helyer, Lizzie Pogson, Melanie Herbert and Entoptic will "transmute" a visual image into an audio-only work. "Each work follows an evolution of media from hand written symbols to audio technologies, broadcast technologies and the internet via live audio streams and podcasts" (press release).
The Transmuted Signal, broadcast on air and online Feb 3 & 10, and March 3 & 10, 2013; www.kunstradio.at; www.frequencyoz.com
wim vandekeybus, ultima vez, adelaide festival

photo Octavio Iturbe
What the Body Does Not Remember, Ultima Vez
Jana Perkovic, covering ImPulsTanz 2008 in Vienna for RealTime, wrote "Even the standing room only tickets have sold out, and the raging mass of disappointed kids looks like they may start a riot: the atmosphere before Ultima Vez's performance is akin to a rock concert. Choreographer superstar Wim Vandekeybus' company has toured the world with their trademark vocabulary of acrobatic, extreme, often violent movement, soaked in multimedia and energetic music " (RT87). The Flemish dancer and choreographer Vandekeybus, who appeared in Jan Fabre's legendary The Power of Theatrical Madness (1984), has revived his 1987 classic What The Body Does Not Remember for an international tour which will bring the work to the 2013 Adelaide Festival and the company's much anticipated first visit to Australia (and only to Adelaide). Vandekeybus and the composers Thierry De Mey and Peter Vermeersch won a much-prized Bessie Award in New York for the work which was then described as "a brutal confrontation of dance and music: [a] dangerous, combative landscape."
See an excerpt of Ultima Vez in performance at http://www.adelaidefestival.com.au/2013/dance/what_the_body_does_not_remember and glimpses of other works and a complete film on YouTube.
soundout festival, canberra
Now an established part of the summer improv wave that sweeps across the eastern states, SoundOut returns (with funding this year) for an intense weekend of "Free Improvisational, Free Jazz and Experimental Music" (press release). International guests include Abaetetuba Collective (Brazil/Switzerland), Barcode Quartet (Austria/UK), Hermione Johnson (NZ) Jeff Henderson (NZ) along with Charity Chan (Canada). Australian talent includes the Stasis Duo, Mike Majkowski, Alison Plevey and Reuben Ingalls, Jon Rose, Michael Norris and festival director Richard Johnson.
SoundOut, Feb 2-3, 2013, Theatre 3, Canberra; http://soundout2013.blogspot.com.au/
blak nite cinema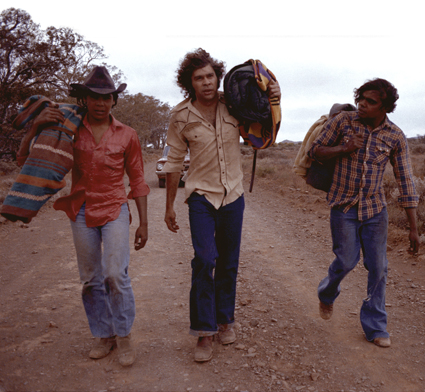 The Wrong Side of the Road, Blak Nite Cinema
This three-day festival explores "Aboriginal and Torres Strait Islander visual arts, hip hop and country music, traditional and contemporary dance, theatre and the performing arts through film" (press release). As well as feature films Bran Nu Dae and The Sapphires there's a great program of impressive documentaries.
Blak Nite Cinema, presented by the City of Melbourne, ACMI (Australian Centre for the Moving Image), Federation Square;, Feb 8-10; http://www.thatsmelbourne.com.au/Whatson/blaknite/Pages/BlakNite.aspx
gasp, tasmania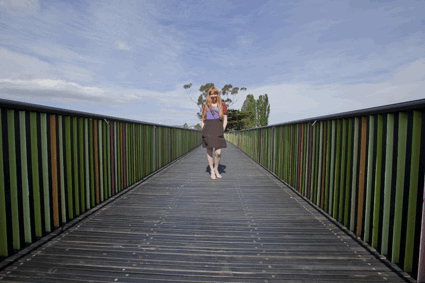 Susan Phillipsz at GASP, photo Rob Harrison; GASP landscapes, photos Pippa Dickson
Tasmania is currently punching above its weight in cultural output. Another venture, Glenorchy Arts and Sculpture Park (GASP), is an impressive addition to the cultural landscape in which The Museum of Old and New Art figures so prominently. The park occupies the public land from Wilkinson's Point to Montrose Bay on the Elwick Bay foreshore, 10 minutes north of Hobart. The main feature of the park is the architect-designed boardwalk by Room 11 spanning 600 metres of river. For their first permanent commission, GASP asked Scottish artist and 2010 Turner Prize winner Susan Philipsz to create a work for the bridge. The resulting sound installation, The Waters Twine (which takes its inspiration from James Joyce's 1929 audio-recording of Finnegans Wake), was launched during the MONA FOMA music festival. It will be presented again at various times across the year so stay tuned. Stage 2 of the park is currently underway and due for completion in April 2013.
Glenorchy Arts and Sculpture Park (GASP), http://gasp.org.au/
digital media month, colour box studio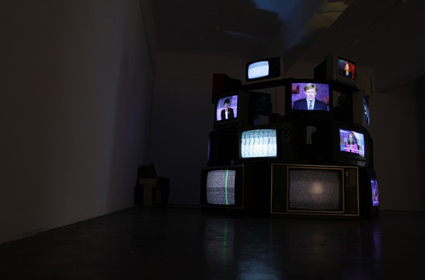 Layla Vardo, Cromlech "a kind of burial mound in observance of the death of analogue television" (artist statement)
Colour Box Studio is a pop up multifunctional artspace that opened in November 2012 in Footscray. "The space will change month to month to showcase Melbourne's creative community and represent a diverse range of artists, creative people and artforms" (website). Over February it celebrates all things digital with an exhibition curated by William Head featuring major works by Layla Vardo and Ka-Yin Kwok, an extensive screening program focusing on non-fiction and more. The space was founded by filmmaker Amie Batalibasi and also offers workshops ranging from photography to web design.
Colour Box Digital Media Exhibition, Footscray, Jan 16-Feb 27, 2013; http://colourboxstudio.com/
international: the dark universe, sonic acts festival amsterdam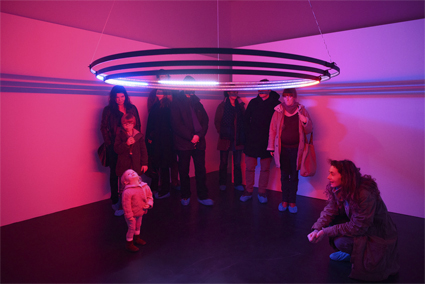 photo Pieter Kers
HC Gilje, Revolver, installation at the opening of The Dark Universe Exhibition
For some serious sound art fare/fair, there's the upcoming Sonic Acts Festival in Amsterdam, this year titled The Dark Universe, investigating "how to make the invisible imaginable, teach us how to embrace the unknown, and guide us through the dark universe" (press release). The exhibition has already commenced at NASA: New Art Space Amsterdam and will be complemented by three nights of performance and talks. The impressive roster of musicians and audiovisual artists includes Maja Solveig Kjelstrup Ratke & HC Gilje, Jacob Kirkegaard, Makino Takashi, Mika Vaino, Biosphere, Lustmord, Tina Frank and Cut Hands (William Bennett).
Sonic Acts: The Dark Universe, Feb 21-24, 2013, exhibition open now; http://2013.sonicacts.com/
RealTime issue #112 Dec-Jan 2012 pg. web
© RealTime ; for permission to reproduce apply to realtime@realtimearts.net