February sees the play celebrated across the country with Yellamundie at Carriageworks in Sydney and the National Play Festival in Perth, as well as announcements of new awards to deserving playwrights. More lateral approaches are anticipated from emerging artists at PACT, The Public Studio in Melbourne, a real life human experiment in ANAT's The Subjects, political provocation courtesy of Richard Bell at MUMA, seminal sonics from Deutschland and more…
And if you missed last week's in the loop you'll find current events listed at the end for easy access.
yellamundie, carriageworks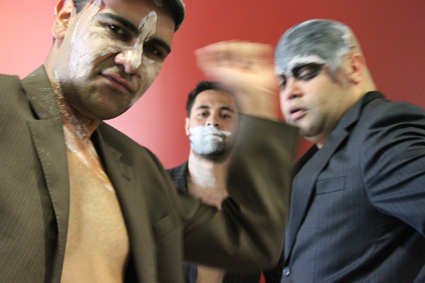 photo Cat Jones
Sonny Dallas Law, Bjorn Stewart, Colin Kinchela, Bully Beef Stew, PACT Centre for Emerging Artists
Mooghalin Performing Arts' Yellamundie: National Aboriginal and Torres Strait Islander Playwriting Festival is now in full swing at Carriageworks. After a launch during the Sydney Festival, six plays have been in development with public play readings taking place Feb 7-9. The plays include Cuz by Billy McPherson, First Contact by Jane Harrison (guest editor of RealTime's RealBlak edition) and Crowbones & Carnivores by David Milroy (also featured in RealBlak). There'll be readings of plays by emerging playwrights who have been taking part in Redfern Salon, presented in partnership with Playwriting Australia, Redfern Community Centre and Belvoir. You can read director Frederick Copperwaite's article on the festival in RealBlak.
Yellamundie, play readings and salon Feb 7-9, Carriageworks; http://www.carriageworks.com.au/?page=Event&event=Yellamundie
national play festival, perth
Playwriting Australia is having a busy month also producing the annual National Play Festival in Perth this year at the State Theatre as well as contributing to Yellamundie. A range of new plays will be presented via rehearsed readings including adventurous new works by Declan Greene, Andrea James (see RealBlak and RT105) and Angus Cerini (See RT107 and RT102). There's also an emphasis on writing for younger audiences with readings of works by Lachlan Philpott, Casey Nicholls and Kit Brookman as well as a showcase of emerging talent from Western Australia.
National Play Festival, State Theatre, Underground Studio, Perth Feb 21-24; http://www.pwa.org.au/nationalplayfestival2013/
awf playwriting awards announced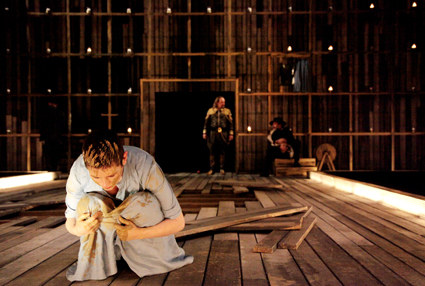 photo Pia Johnson
Yael Stone, A Golem Story, writer Lally Katz
Still on playwright matters, Declan Greene (see above) and Lally Katz (see RT104 and RT95) have just been named as the inaugural recipients of the Australian Writers' Foundation Playwright Award. The AWF is the charitable wing of the Australian Writers' Guild; each writer will receive $15,000 to assist in their career development. (See in the loop: opportunities for the State Library of Victoria's playwriting awards.)
Australian Writers Guild http://www.awg.com.au
harvest, pact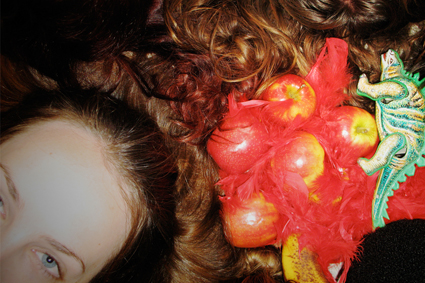 photo Julie Vulcan
Harvest. PACT Centre for Emerging Artists
PACT Centre for Emerging Artists' training program is now in its 15th year and we're about to discover the latest crop of talent in the annual ensemble production, Harvest. This year it's directed solo by Acting Artistic Director Julie Vulcan while Cat Jones makes the most of her Creative Australia Fellowship. Harvest explores "the world we live in through food, consumption and waste. Examining habits and the rituals that sustain us…When is one person's insane act another's act of sanity?" (press release). The opening night will also include the launch of PACT's 2013 program.
Harvest, PACT Centre for Emerging Artists, Feb 20 – March 9, official opening and program launch, Feb 22; http://www.pact.net.au/2012/10/ensemble-2013/
until then, then, the public studio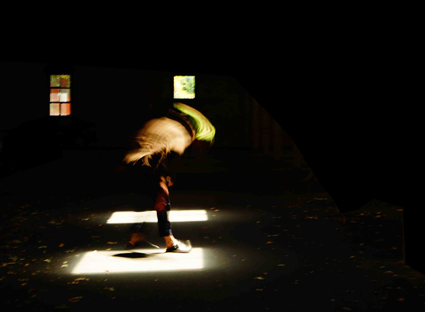 courtesy the company
Until Then, Then, The Public Studio
In RT73 John Bailey was impressed by performer/director Ming-Zhu Hii's take on Yoko Ono in her Next Wave performance Y. He wrote, "The personal, political, fiction and fact are interwoven in a way which doesn't result in an undifferentiated miasma but instead produces the sense, if not the logic, of an artist frequently written off as a relic of counterculture aestheticism." Her subsequent work Attract/Repel featured in the 2009 Melbourne Fringe. Ming-Zhu Hii returns after a three-year break to present a new work in her collaboration with Nicholas Coghlan which is titled The Public Studio. The production Until Then, Then is an audio visual installation inspired by Baroque vanitas in which the central character, King Fool, is "searching frantically for answers about his own apparent death and ultimately—the meaning of life" (press release).
The Public Studio, Until Then, Then, La Mama, March 6-10; http://thepublicstudio.net
See also Ming-Zhu Hii's article for RT85 on cross-racial casting.
the subjects, anat

Sean Williams, Fee Plumley, Thom Buchanan, Jennifer Mills, The Subjects, ANAT
The latest project from the Australian Network for Art and Technology is a kind of reality tv-lab rat-residency hybrid. Four artists have agreed to subject themselves to sleep deprivation under the supervision of scientists while attempting to be creative during the process. The artists/subjects are self-confessed techno-evangelist Fee Plumley, painter and cross-disciplinary artist Thom Buchanan and authors Sean Williams and Jennifer Mills. The experiment will take place at the Appleton Institute under the watchful eyes of director Professor Drew Dawson and sleep and circadian physiology researchers Greg Roach, Charli Sargent and Xuan Zhou.
Follow the experiment's progress at http://thesubjects.anat.org.au/; Feb 9-16
richard bell: lessons on etiquette and manners, muma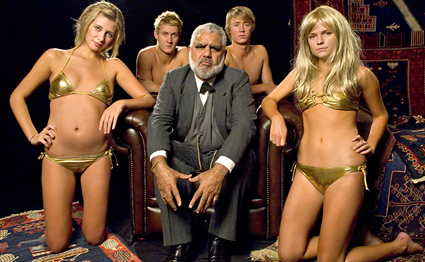 photo Mick Richards
Richard Bell, Scratch an Aussie 2008 (production still, detail), courtesy of the artist and Milani Gallery, Brisbane
Opening the 2013 season at Monash Museum of Modern Art is the first Melbourne survey of the work of painter, multimedia artist, activist and agent provocateur Richard Bell. Brisbane-based, Bell is a member of the Kamilaroi, Kooma, Jiman and Gurang Gurang communities and has been creating work that is political and humorous, particularly paintings, since the 1990s. For this exhibition he will present Peace heals, war kills (Big ass mutha fuckin mural) 2011-12, a collaboration with Emory Douglas, former Minister of Culture for the Black Panther Party in the United States, as well as recreating the 1972 Tent Embassy inside the gallery, which will also be the venue for a series of talks by radical Indigenous leaders.
Richard Bell: Lessons on Etiquette and Manners, curated by Max Delany and Francis E. Parker, Monash Museum of Modern Art, Feb 5- April 3; www.monash.edu.au/muma
tools, kawita vatanajyankur, beam contemporary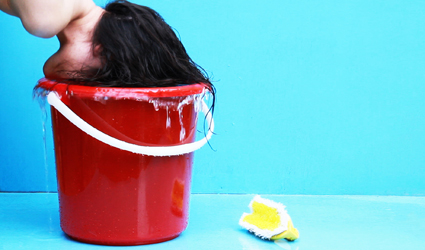 video still, courtesy of the artist
Kawita Vatanajyankur, Soaked, 2012
Thai-born Melbourne-based video artists Kawita Vatanajyankur's exhibition Tools uses the female figure in 17th century still-life paintings as a starting point. However, in her video pieces she "brings the female body into a new stark environment where body and domestic object conflate and seem to physically react and violently communicate with each other." We are intrigued…
Tools, Kawita Vatanajyankur, Beam Contemporary, March 1-16, http://www.beamcontemporary.com.au/
einstürzende neubauten & pole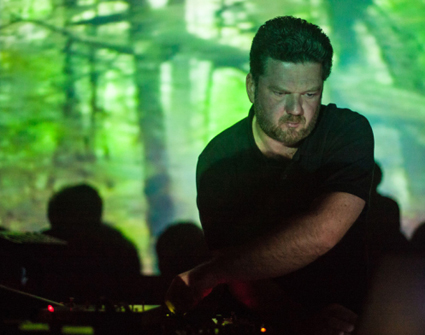 photo Anna Spysz
Pole, UnSound
Not one but two greats of late 20th century German music are about to tour Australia. Industrial krautrock legends Einstürzende Neubauten will be appearing in Melbourne courtesy of the Drones curation of I'll Be Your Mirror (a side project of All Tomorrow's Parties) as well as playing extra gigs in Melbourne, Sydney and Brisbane. Also on the festival circuit courtesy of Goethe Institut is Pole (Stefan Betke), the purported inventor of glitch. He'll be performing as part of UnSound at the Adelaide Festival as well as in Sydney and Brisbane.
Einstürzende Neubauten, Melbourne: I'll be your Mirror, Feb 17 & Palace Theatre, Feb 19; Sydney: Enmore Theatre, Feb 22; Brisbane: The Tivoli, Feb 23; http://handsometours.com/current/einsturzende-neubauten; Pole, Adelaide Festival, March 16; Brisbane: IMA, March 21; Sydney: Sound/Light/Stone, March 22; http://www.goethe.de
still in the loop
In Between Time 13, Bristol, UK
Feb 14-17, 2013, exhibition Feb 2-April 14; http://ibt13.co.uk/
more…
The Transmuted Signal
Broadcast on air and online Feb 3 & 10, and March 3 & 10, 2013; www.kunstradio.at; www.frequencyoz.com
more…
Blak Nite Cinema
Presented by the City of Melbourne, ACMI (Australian Centre for the Moving Image), Federation Square; Feb 8-10; www.thatsmelbourne.com.au/Whatson/blaknite/Pages/BlakNite.aspx
more…
Colour Box Digital Media Exhibition
Footscray, Jan 16-Feb 27, 2013; http://colourboxstudio.com/
more…
Sonic Acts: The Dark Universe
Feb 21-24, 2013, exhibition open now; http://2013.sonicacts.com/
more…
Wim Vandekeybus/Ultima Vez, What The Body Does Not Remember
Adelaide Festival, March 7-9; www.adelaidefestival.com.au/2013/dance/what_the_body_does_not_remember
more…
RealTime issue #112 Dec-Jan 2012 pg. web
© RealTime ; for permission to reproduce apply to realtime@realtimearts.net