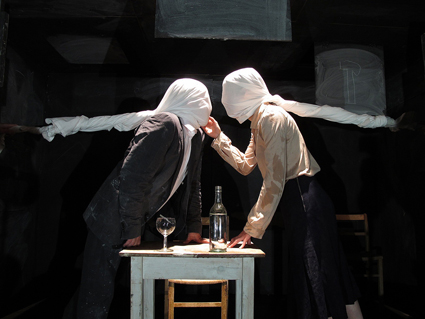 photo philpottdesign.com
Reckless Sleepers
NOT KNOWN FOR UNDERSTATEMENT, PERFORMANCE SPACE'S LATEST SEASON IS A DRAMATIC CALL TO ACTION—IT'S A MATTER OF LIFE AND DEATH.
While it's a compact season, taking place Feb 23-March 9, it promises to help you live for the moment, with three major performance pieces, a Night-time short works event, Clubhouse activities and workshops all focussed on that sticky subject, mortality.
The headlining performance is from UK/Belgian company Reckless Sleepers presenting The Last Supper. In RT107 Megan Garret-Jones described the performance she witnessed at the Compass Festival in Leeds: "The Last Supper interrogated storytelling and history-making with what transpired almost as a word-association game of recalling the notable dead and literally eating their words, squares of paper disappearing into the performers' mouths once their contents were recited. Performers and audience sat at dinner tables on the stage, intimately sharing the last meals of executed prisoners as distributed through a kind of raffle. We considered martyrs and criminals alike as defined by their last words and meals. We considered whether we were supposed to eat the cheeseburger and decided we were." It's an intimate performance for 39 guests. Each has a case number and it seems that for 13 of them, this could be their last meal. (Feb 27-March 9)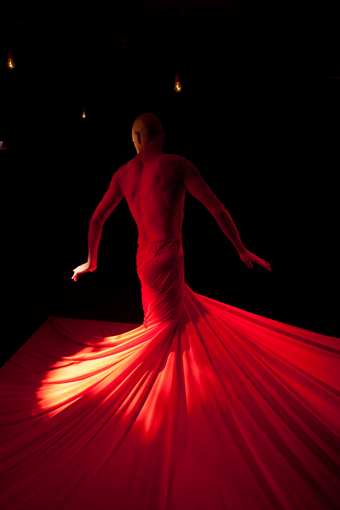 photo Fiona Cullen
Brian Lucas, Performance Anxiety
Running simultaneously is Brian Lucas' Performance Anxiety. Here we are invited into an intimate cabaret in which Brisbane-based choreographer/performer Lucas adopts roles of torch singer, war correspondent, orator and stand-up comedian. He shares tales of the large and small battles that an individual must undertake to be part of society. (Feb 27-March 2)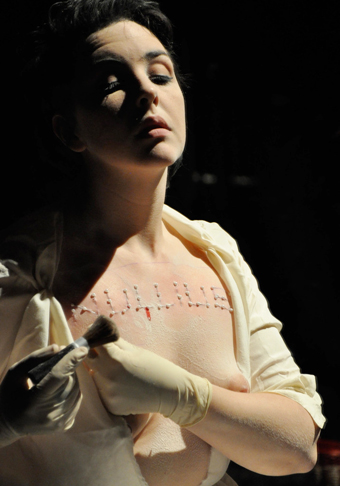 photo Penelope Benton
Sarah-Jane Norman, Corpus Nullius/Blood Country (2011), part of the Unsettling Suite
Much anticipated is Sarah-Jane Norman's performance installation, Unsettling Suite which brings together four of Norman's major works exploring her English and Indigenous heritage. In RT111's RealBlak Norman wrote of her projects: "In preparation for Bone Library, I've spent nearly a year, it seems, with blood permanently encrusted under my fingernails, the result of months spent cleaning animal bones, pushing out plugs of bloody marrow; and I've gradually learnt the best spots on my own body, with its recalcitrant veins, to draw blood, having trained myself via the many DIY hotel-room phlebotomies that have had to be discreetly performed for Take this, for it is my body. Materially, physiologically and symbolically, blood is an undoubtedly fascinating substance." This thought provoking epic is not to be missed. (Feb 23-March 10)
There is also a night of short works curated by ever-inventive writer, performer and curator Eddie Sharp titled Live and Let Die (March 2). Clubhouse will offer one-off events across the season such as Death(cha) Kucha by the Centre of Excellence for the History of Emotions presenting their research into the history of execution; and Desensitising Death: A Night of Film by Mu Meson archivists Miss Death and Jay Katz screening ads and clips which have inspired horror filmmakers. Celebrant and artist Vicki Spence will share her ongoing research into contemporary rituals around death in her presentation Mortality Talking.
But it's not all about death and loss, there's also Making Time (Feb 23, March 2, March 9), a workshop by Make Shift and Tessa Zettel which will literally explore preservation. Here you'll learn jam-making, bottling and preserving methods ideal for foraged, native or backyard surplus foods. It might almost make life worth living.
Performance Space, Matters of Life and Death, Feb 27-March 10, Carriageworks; http://www.performancespace.com.au
RealTime issue #112 Dec-Jan 2012 pg. web
© RealTime ; for permission to reproduce apply to realtime@realtimearts.net