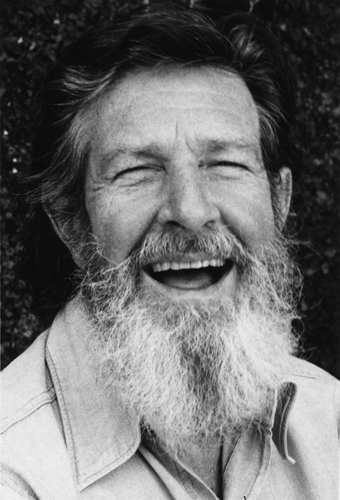 photo Dorothy Norman; courtesy of the John Cage Trust
John Cage (Cuernavaca, Mexico, 1973)
"I once asked Arragon the historian how history was written. He said, 'You have to invent it.'" John Cage, An Autobiographical Statement, 1989
It is hard to dispute that John Cage has had a major impact, perhaps in some ways invented the history of Western contemporary classical music. This year marks the 100th anniversary of his birth, and so it was inevitable that there'd be a variety of commemorative events.
One of the first of these for Australia will be the Cage in Us festival, presented by Clocked Out and the Judith Wright Centre Contemporary Art Centre in Brisbane. This four-day event is commemorative but also involves a healthy amount of reinvigoration and re-interpretation bringing together an impressive array of Australian and international artists.
The festival kicks off on April 5 with a series of films curated by Joel Stern from OtherFilm. Described as Cage-related they include Stan Vanderbeek's Poem Field No.7 (1967), Jud Yakult's John Cage Mushroom Hunting in Stony Point (1973), and DA Pennebaker's Rainforest.
The remainder of the festival takes place April 12-14, opening with Valerio Tricoli (Italy) and Werner Dafeldecker (Germany) performing Williams Mix Extended, a re-interpretation, using digital production techniques, of Cage's 1952 work for magnetic tape.
On Friday April 13 Swedish Percussion ensemble Kroumata will join Brisbane-based group Ba Da Boom to perform Music for Percussion and Prepared Piano. This will be followed by the Australian premier of Cage's Concerto for Prepared Piano and Chamber Orchestra performed by Vanessa Tomlinson, Erik Griswold and the Queensland Conservatorium New Music Ensemble.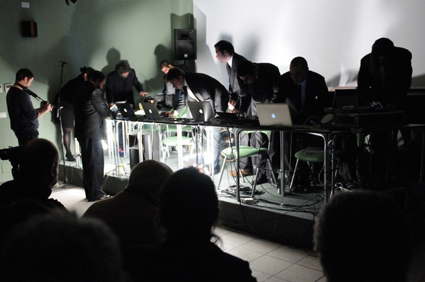 photo DavideCarozza
Decibel performing John Cage's Variations VII
Saturday April 15 will see Decibel from Perth, recently returned from their first European tour (see video interview with director Cat Hope) perform the Complete Variations I–VIII. Their epic interpretation will include TVs, projections, photo cells, Arduino, dancers, tape recorders and DIY circuitry along with assistance from Joel Stern to create Variations VII. To conclude Lawrence English will team up with audiovisual artist Scott Morrison to rework, or 'refocus,' Cage's only film work, One11.
Before each ticketed event there will also be free performances of Musicircus, co-curated by Rebecca Cunningham (exist-ence, see RT101), Vanessa Tomlinson, and Joel Stern and featuring installation, exhibition and performance elements inspired or based on the works of John Cage.
Clocked Out and Judith Wright Centre, The Cage in Us, Institute of Modern Art & Judith Wright Centre of Contemporary Arts, April 5, 12-14; www.judithwrightcentre.com; www.clockedout.org/
See also RealTime's Archive Highlight on Clocked Out featuring reviews, articles and interviews since 2001.
RealTime issue #107 Feb-March 2012 pg. web
© RealTime ; for permission to reproduce apply to realtime@realtimearts.net