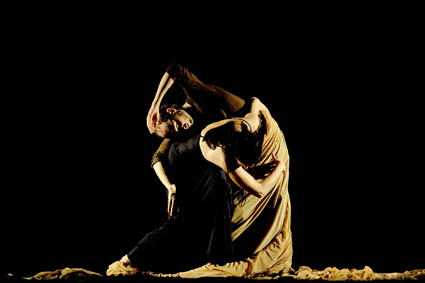 photo David Ruano
Sidi Larbi Cherkaoui, María Pagés, Dunas
WHILE SPRING IS CLEARLY DETERMINED TO KEEP US WAITING UNTIL ITS SCHEDULED SEPTEMBER APPEARANCE, SYDNEY OPERA HOUSE'S SPRING DANCE WILL USHER THE SEASON OF NEW GROWTH IN A LITTLE EARLY WITH A DIVERSE PROGRAM OF DANCE WORKS, LOCAL, INTERNATIONAL AND CROSS-CULTURAL.
Sydney Dance Company artistic director Rafael Bonachela has curated this year's program of six works which offer some startlingly different approaches to contemporary dance. Returning to Spring Dance following his well-received presentation of Sutra in 2010 is Sidi Larbi Cherkaoui (see RT100 Spring Dance and Brisbane Festival review), collaborating this time with Flamenco queen María Pagés on Dunas. Together they have created a work that fuses Moorish and Spanish cultures through traditional and contemporary styles exploring the undulations of sand dunes (Aug 22-25).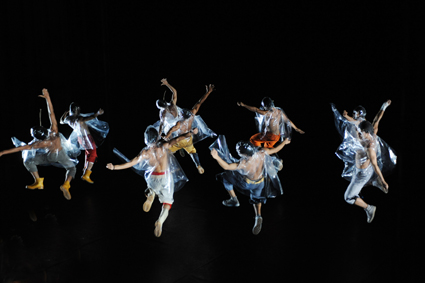 photo Michel Cavalca
Mourad Merzouki's Agwa
Suggesting a grittier urban feel are two works by French choreographer Mourad Merzouki working with 11 dancers from Brazil. Drawing on hip-hop, capoeira and samba styles the pieces are inspired by the dancers' personal experiences of growing up in the favelas of Rio de Janeiro. Correira (Running) is described as a high-energy endurance work while Agwa (Water) explores our relationship with this vital substance by deploying hundreds of cups of aqua pura (Aug 29-Sept 2).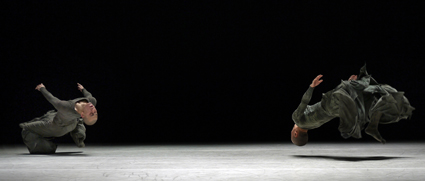 photo Matthew George Johnson
Duan Ni, Tao Ye, 2, TAO Dance Theatre
The third international presence is China's TAO Dance Theatre led by Tao Ye (Aug 22-26), also presenting two works. Described as "elegantly minimal" Weight x 3 comprises a duet and solo to music by Steve Reich, using the body alone "as the defining element." Tao Ye says, "with just two legs and two arms we can create endless possibilities" (press release). The second work, 2, a duet featuring Tao Ye himself, uses the rhythms of conversation as the musical and choreographic theme.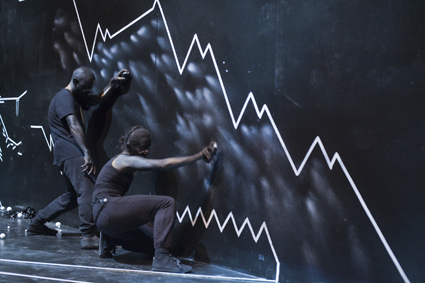 photo Ponch Hawkes
Antony Hamilton, Melanie Lane, Black Project 1
In an even split there are also three programs by Australian artists. It's great to see Antony Hamilton and Melanie Lane's Clouds Above Berlin make it to Sydney so quickly (Aug 29-Sept 2). The evening consists of a solo by Lane, Tilted Fawn, and a duet, black project 1. John Bailey wrote of the Melbourne premier that it was "a bewitching penumbral experience both stirring and unsettling (RT108, see also Tilted Fawn at Fringe World RT108).
The final two programs consist of short works. Focusing on up and coming female choreographers, Contemporary Women features pieces by Emily Amisano, Stephanie Lake, Larissa McGowan and Lisa Wilson (Aug 28-Sept 1). Local Sydney dance talent is highlighted in IOU with short works by Anton, Martin del Amo, Craig Bary, Narelle Benjamin, Kristina Chan and Timothy Ohl (Aug 22-25).
Spring Dance, curator Rafael Bonachela, Sydney Opera House, Aug 20-Sept 1; http://springdance.sydneyoperahouse.com/
While you're in a dancing frame of mind, don't miss the rare opportunity to experience Anne Teresa de Keersmaeker's Dance Ensemble ROSAS presenting two works at Carriageworks September 11-15 carriageworks.com.au
RealTime issue #110 Aug-Sept 2012 pg. web
© RealTime ; for permission to reproduce apply to realtime@realtimearts.net