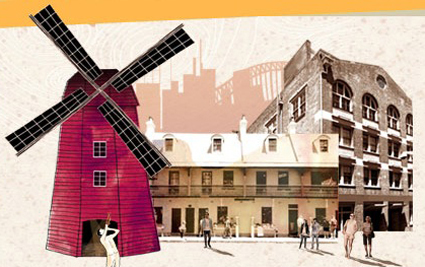 DOWN AT THE ROCKS PRECINCT THE CULTURAL SCHEMERS AT THE SYDNEY HARBOUR FORESHORE AUTHORITY ARE NOT AFRAID TO DREAM BIG.
In 2009 they presented Fire Water by Michael Cohen and Joey Ruigrok van der Werven—a ship moored in the harbour that caught alight and sank every night for the duration of its performance season (see RT90). So maybe it's not at all surprising that the same team have now decided to build a four-storey windmill!
The Rocks Windmill is again the brainchild of van der Werven, this time working with interdisciplinary artist Paul Gazzola. The structure will actually operate as a functioning mill with visitors invited to collect a bag of wheat and grind their own flour. The structure pays homage to the first theatre of the colony, set up by former convict Robert Sidaway, who allowed audience members to pay for entry with flour.
The windmill with also be a creative hub for a range of activities exploring both local history and contemporary issues. Windmill Live will see the structure become home to a variety of performance events including the Bell Shakespeare Company performing excerpts from Henry IV (the first work performed in the colony); a creative development showing by My Darling Patricia; an evening of Rocks themed stories by a Newtown writers group, Penguin Plays Rough; film screenings and secret music events.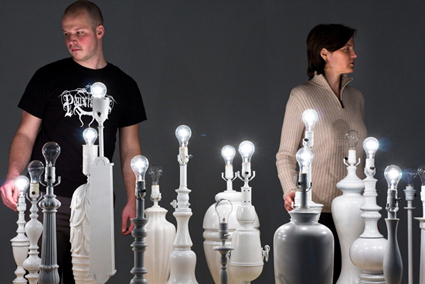 Tiffany Holmes, Dark Sky, ElectriCITY Sparks Community Eco-Viz , Carbon Arts And Media Lab Melbourne
Inside these Walls is the exhibition program. On one floor will be ElectriCITY Sparks Community Eco-Viz Exhibition which will display "world-leading projects and proposals for electricity visualisation in public space" (website), produced by Carbon Arts and Media Lab Melbourne. A surround sound installation by radio producer Jane Ulman will develop over time, incorporating sounds from all the activities within the building. The Tilting at Windmills project by Tessa Zettel and Jennifer Hamilton will explore our relationship, real and fictional, with weather. A series of talks is bundled under the Windmill Whispers program while Grist to the Mill offers a range of hands-on activities including naturalist Diego Bonetto's popular Foraging the City weed workshops.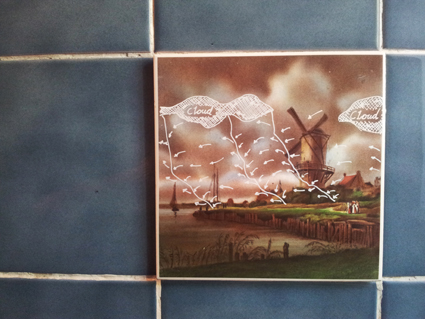 courtesy of the artists
Tilting at Windmills, Tessa Zettel and Jennifer Hamilton
Compared with the razzmatazz of Vivid and the touristic vibe of the area, the Rocks Windmill Project is particularly impressive as its programming focuses on grass roots ideas and issues with an emphasis on participatory engagement between artists, audiences and the local residential community.
The last windmill to dominate the Sydney skyline was demolished in 1878. Although temporary, it seems the 2013 windmill will be an important addition to both the physical and cultural landscape of Sydney, connecting its past with its future.
Sydney Harbour Foreshore Authority: The Rocks Windmill, key artists Paul Gazzola and Joey Ruigrok van der Werven, April 12-May 12; http://www.therocks.com/sydney-Things_To_Do-The_Rocks_Windmill.htm
RealTime issue #113 Feb-March 2013 pg. web
© RealTime ; for permission to reproduce apply to realtime@realtimearts.net