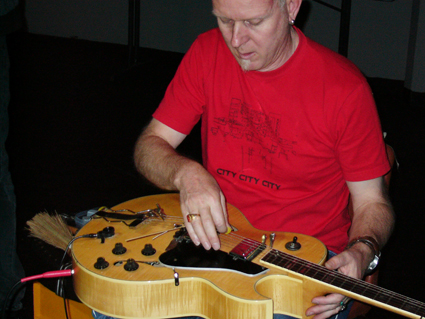 photo Jacques Soddell
Dave Brown at Undue Noise in 2005
It's a common error to assume that innovative arts action only happens in big cities. Particularly in the area of experimental music and sound art there's a vibrant history of festivals and activities based in regional Australia. In NSW there's been the Unsound Festival in Wagga Wagga (RT76), Rolling Stock Festival (RT101) and Wired Lab in Cootamundra (e-dition Nov 22, 2011); and more recently activities at Cad Factory Narrandera. In QLD there's been See Hear Now in Townsville (RT81; RT97) and in regional Victoria the undue noise collective.
Gently steered by Jacques Soddell (who also runs the Cajid CD label), the undue noise collective has been in operation since 2002, primarily in Bendigo but also working with Punctum to produce events in Castlemaine, including a touring leg of Liquid Architecture. Over this time the collective has presented more than 70 concerts successfully creating a community of artists and audiences in the region of Central Victoria.
To celebrate their 10 years of existence the collective is presenting Sonic Decadence, four concerts over two days at their regular venue, The Old Fire Station, featuring 24 local and intrastate artists covering a range of exploratory styles. Potential highlights could be Dr Aardvarks Table O Gadgets, a rare appearance by Warren Burt playing musical toys such as iPhones, Android Tablets and KAOS Pad, and The Runny Tadpole, a new group based in Bendigo playing Theremin, Kaossilator, home made instruments, drums and effects. Also from Bendigo is Justin Bull, improvising guitarist playing solo and reuniting with Soft Black Stars, a free improv group who performed at the very first undue noise. Taking the trip from Melbourne will be guitarist Tim Catlin, sax player Rosalind Hall and guitarist David Brown. And of course the festival wouldn't be complete without an appearance by the microbiologist turned field recording sound adventurer, Jacques Soddell himself. Certainly worth a roadtrip!
Undue Noise presents Sonic Decadence, Old Fire Station, Bendigo, April 28, 2 & 8pm; April 29 2 & 8 pm; http://undue.cajid.com/blog/?p=331
RealTime issue #108 April-May 2012 pg. web
© RealTime ; for permission to reproduce apply to realtime@realtimearts.net