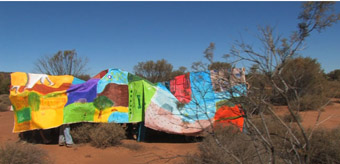 courtesy the artist and Performance Space
Alex Kershaw, You Are Here: Place
in place, inner place
A RealTime-Performance Space Forum, In Place, Inner Place, will address the subject of place in an engrossing, informal discussion, drawing on but going beyond the works in Performance Space's You Are Here: Place program. The forum will discuss shifting notions of place in urban development, digital media and imaginal psychology.
The forum will be an 'in the round' open conversation facilitated by Tony MacGregor [Head of Arts, Radio National]. Artists from You Are Here: Place [Alex Kershaw, Nigel Helyer, Martin del Amo, Gail Priest and Rosie Dennis] will be joined by Zanny Begg [co-curator, There Goes the Neighbourhood, an exhibition and book about Redfern; Performance Space, 2009] and Julie-Anne Long [a dancer-choreographer investigating the relationship between the city and its dance culture].
Our special guest is Peter Bishop who writes and teaches about media, transportation and new meanings of 'place'; the western relationship to Tibet; western Buddhism; orientalism & postcolonialism; Depth Psychology and post-Jungian studies; reconciliation; and utopian imagining and hope. Peter is Associate Professor in Communication & Cultural Studies at the University of South Australia. His excellent book, Bridge, about the functions and meanings of bridges around the world was published by Reaktion Books in 2009.
All welcome to participate or listen in. Wine and snacks provided. Please RSVP to georgiem@performancespace.com.au
RealTime-Performance Space Open Forum, Performance Space Clubhouse, CarriageWorks, Sydney, TRACK 12, Wednesday 3 March, 6.30pm; FREE.
RealTime issue #95 Feb-March 2010 pg.