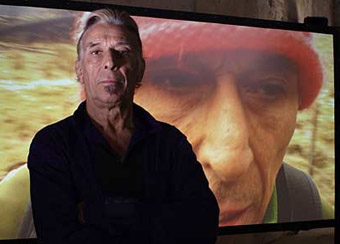 courtesy ARM
John Cale (Venice Biennale), appearing at Mona Foma
mona foma, hobart
After a succesful first season early in 2009 (see RT 89,) MONA FOMA curator Brian Ritchie has announced the program for the 2010 Festival, January 8-24, promising "musical challenge and intellectual discovery." How many Australian arts festivals lay claim to 'intellectual'?
John Cale, founding member of The Velvet Underground, will be the Eminent Artist in Residence with his Venice Biennale commission, the art/music installation Dyddiau Du/Dark Days, master-classes, an intimate solo performance, "collaboration with leading Australian artists and a full-band electric art rock experience."
In a tribute to another great musician, one who criss-crossed the line between rock and contemporary classical, leading Australian pianist Michael Kieran Harvey will perform his 48 Fugues for Frank. "[This] hommage to Frank Zappa will be an immersive environmental work taking place on all four floors of TMAG's historic Bond Store." The concrete poetry of Arjun von Caemmerer's Lingua Franka will be remixed and reinterpreted by four young artists, Michele Lee, Rob O'Connor, Mat Ward and Aedan Howlett, curated by Hobart-based Leigh Hobba. Jon Rose and Robin Fox will present their aural and video bicycle-driven fantasia, Pursuit, premiered by Performance Space at CarriageWorks earlier this year (RT 90, p48). In a more intimate concert, Eight Hands—Variations on the Theme, Cale will be joined by three great Australian pianists: Paul Grabowsky, Gabriella Smart and Andrew Legg. There's also a heap of bands ranging from local acts to The Dirty Three. Mona Foma, Hobart, Jan 8-24; program at www.mofo.net.au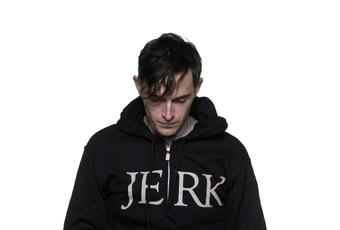 photo Mathilde Darel
Jerk, PuSh Festival
push, vancouver
Can't face the post-New Year doldrums and want a festival that will inspire? Go to Vancouver! With a theme of "bearing witness", PuSh International Performing Arts Festival artistic director Norman Armour has announced a seriously adventurous program that includes aptly unusual engagements with media and experiments with audience-artist relations.
New Yorker Reid Farrington's The Passion Project "compresses the entirety of Carl Dreyer's classic silent film The Passion Of Joan Of Arc into a 30-minute concentration of movement, projection, installation and sound collage. The audience surrounds a 10 x 10 foot area flooded by four projectors, in which Emily Watts meticulously arranges and rearranges a number of parchment screens in a series of choreographed movements that explode the film into three dimensions." You can compare the experience with the film at normal duration and a new score by Stefan Smulovitz elsewhere in the festival.
European collaborators Rimini Protokoll (see RT 91) put the audience and 'experts from everyday life' at the centre of their works. At PuSh, their show Best Before "pulls the multi-player video game out of the virtual realm and plugs it into an intimate theatre setting. A simulated city evolves as each of 200 spectators add their personal touch, game controller in hand."
In Jerk (France), in "a play within a play, the audience takes the role of a psychology class visiting [a serial killer] as he serves his life sentence in prison. Fascination, humour, madness and sheer terror are melded in his puppet show recreations of the murders." Jerk has been created by Gisèle Vienne a choreographer, director, visual and performance artist, with performer Jonathan Capdevielle. In another of his explorations of audience engagement, choreographer Jerome Bel's The Show Must Go On (France) is performed with 20 Vancouver citizens.
Audience activity is also expanded in a unique music event, radical American saxophonsist Anthony Braxton's Sonic Genome. "For eight continuous hours, 50+ performers use the compositions and improvisational languages developed by Braxton to create a living sound world. Ensembles form and split apart like cells dividing and reforming into new organisms." And the audience too divides to follow whatever excites it.
In Kamp, Hotel Modern from Rotterdam have built "an enormous scale model of Auschwitz…with thousands of tiny handmade puppets representing the prisoners and their executioners…Actors move through the set like giant war reporters, filming the horrific events with miniature cameras and live video projection. Through a series of wordless vignettes, these delicate puppets made of clay, wire and cloth, re-enact the atrocities that took place within the confines of Auschwitz almost 70 years ago."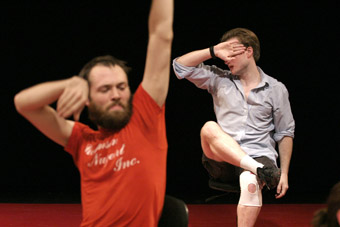 photo Peter Nigrini
Poetics: a ballet brut, Nature Theater of Oklahoma
Meanwhile the wonderully eccentric Nature Theater of Oklahoma (see RT 91, p12; RT 89) continue to stretch the limits of performance with Poetics: a ballet brut. Committed if formally untrained dancers turn everyday gestures into something very special. RealTime writers enjoyed Vancouver production Clark and I Somewhere in Connecticut in PuSh 2008. The show makes a welcome return with its lateral investigation, by a performer in rabbit suit, into a case of found photographs. The program also includes William Yang's China, from Australia. PuSh International Performing Arts Festival, Vancouver, Jan20-Feb 6; http://pushfestival.ca
womadelaide: 13 beautiful people
In an unusual choice for Womadelaide, American indie musicians Dean Wareham and Britta Phillips will play their score for 13 Andy Warhol black and white, silent screen tests from 1962-64. The show was seen at this year's Melbourne International Arts Festival. The tests used to be shown in Warhol's studio and at happenings.Thirteen of the 300 tests were selected by Wareham for scoring thanks to a commission by The Andy Warhol Museum and Pittsburgh Cultural Trust. The pair have also created scores for feature films The Squid & the Whale (dir Noah Baumbach) and Clean (Olivier Assayas). Womadelaide, Adelaide, March 5-8, www.womadelaide.com.au
RealTime issue #94 Dec-Jan 2009 pg. 20
© RealTime ; for permission to reproduce apply to realtime@realtimearts.net