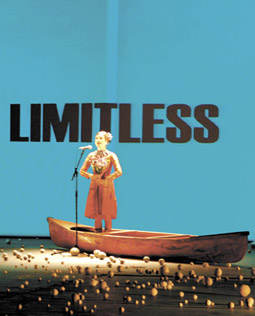 photo Tilly Morris
Willoh S Weiland, Yelling at the Stars
new aphids artistic director: willoh s wieland
Exciting news from Melbourne: Willoh S Weiland has been appointed as the new artistic director of Aphids. As we were putting this online edition together, Weiland was flying back to Australia. We look forward to catching up with her once she's settled into the job of guiding one of the country's most innovative outfits, renowned for its idiosyncratic hybrid creations and international collaborations.
A young and energetic artist, Weiland looks made for Aphids. Her projects as artist, writer and curator over recent years have been strikingly individual. The ongoing art-science project Yelling at Stars (see RT 88) was presented at the Sidney Myer Music Bowl as the closing event of the 2008 Next Wave Festival and then in Glasgow at Less Remote, an art/science symposium running parallel to the 59th International Astronautical Congress. Her 2009 Synapse residency was at the Centre for Astrophysics and Supercomputing, Swinburne University of Technology, where she developed Void Love (www.voidlove.tv), "a soap opera about astrophysics" starring Kamahl.
Weiland is involved in ongoing collaborations with Spat & Loogie and, as part of Deadpan, with video artist Martyn Coutts—including an Asialink residency in Beijing and NES artist residency in Iceland in 2010.
David Young, the outgoing artistic director and co-founder of Aphids (and now director of Chamber Made Opera; see RT95) sees Weiland as "hugely talented and a perfect fit with the Aphids spirit and ethos." He thinks that with the current Aphids team, "I really cannot imagine what Aphids will become under her watch—and that's exactly what I am most excited about."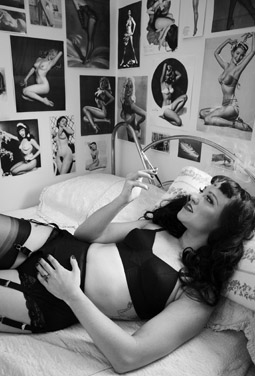 courtesy the artist
Lillian Starr Pinup Girl, Tina Fiveash, part of Women in Piracy
women and piracy
As the application of copyright laws tighten, creative commons becomes part of the big picture and internet censorship escalates, it's timely to take yourself to Kudos Gallery to reflect on the good use to which appropriations, adapatations and thefts have been put in Women in Piracy. The show includes works by Penelope Benton, Brown Council, Tina Fiveash, The Kingpins and others. Curated by Marcel Cooper it's part of the 2010 Sheila Autonomista Festival for queer women's art and music centred at Red Rattler Theatre, Marrickville. Women in Piracy, Kudos Gallery, 6 Napier St, Paddington, Sydney, March 30-April 10; scooter.org.au/sheila.html
jo lloyd: 24hrs
God knows what all the fast turnaround short film and short play festivals are doing to our psyches as artists and audiences—blessed be the slow food movement—and now dance has joined the rush! But what an intriguing race it might be in the Jo Lloyd-curated 24HRS at Dancehouse. Four choreographers will each create a new work over 24 hours—one for each Friday over four weeks. Just to add to the inevitable delirium of commencing work on a Thursday night at 9pm, "the creative process will be twittered and streamed online and the teams must be ready to present the work to a live audience by 8pm the next night." There goes the privacy associated with the slow boil of the creative process. The stellar line-up of choreographic speed freaks is Natalie Cursio, Shelley Lasica, Phillip Adams and Luke George. 24HRS, performances April 30 (Cursio), May 7 (Lasica), 14 (Adams), 21 (George), Dancehouse, Melbourne; www.twitter.com/24HOURS; www.livestream.com/24HOURS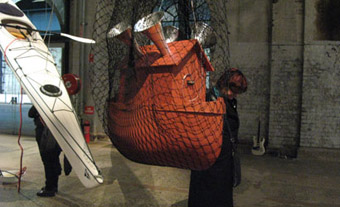 courtesy the artist
Adrift, Nigel Helyer, Memory Flows exhibition
cmai, memory flows
As our major easten rivers and Lake Eyre fill after an epic drought that threatens to return almost as soon as it has departed, the UTS-based Centre for Media Arts Innovation is holding a timely exhibition of underground water basin and river-inspired art. "Australian rivers are conduits that are emblematic of networking systems, travel systems and survival systems. They are also the ground for flows of memory as riverbeds, for instance, hold the memory of water embedded in the land. This project will tap into and out of memory flows—along Australia's riverbeds and groundwater systems." The distinctive venue, Newington Armory, and its proximity to some of Sydney's unique waterways give the exhibition added frisson. The artists are Ian Andrews, Chris Bowman, Chris Caines, Damian Castaldi, Sherre DeLys, Clement Girault, Jacqueline Gothem, Ian Gwilt, Megan Heyward, Nigel Helyer, Neil Jenkins, Solange Kershaw, Roger Mills, Maria Miranda, Norie Neumark, Shannon O'Neill, Greg Shapley, Viktor Steffenson and Jes Tyrrell. CMAI, Memory Flows, Newington Armory, Sydney Olympic Park, weekends May 15- June 27; www.memoryflows.net
art for easter 1: sounds unsound festival
Recommended, say the organisers, for people who don't do Easter, the Sounds UnSound Festival is "a one-day event focusing on the experimental, improvised, noise and left-field musical fringe of Sydney and beyond." Artists include Japanese noise maestro Defektro, improvisors Forenzics, Chippendale improv group The nHOMEas, Toydeath, glass vocalist Justice Yeldham, audio-visualists Infinite Decimals, bass/drum duo The BZNZZ, Prehistoric Fuckin' Moron(s), the computerised Scissor Lock, The Not Too Distant Future and Baad Jazz. Sounds Unsound Festival, The Wall (The Bald Faced Stag), 345 Parramatta Rd, Leichhardt, Sydney,April 2, 2-10pm; www.myspace.com/thesoundsunsoundfestival
art for easter 2: arvo pärt's berlin mass
A special Easter Saturday performance of Arvo Pärt's immersive Berlin Mass by Sydney Chamber Choir and the ensemble Ironwood will celebrate the composer's 75th birthday. On the same generous program, directed by Paul Stanhope, there will be selections from Carlo Gesualdo's Tenebrae and a work inspired by them, Scottish composer James MacMillan's Tenebrae Responsories. Ironwood will also present a movement from Haydn's Seven Last Words from the Cross. Via Crucis, Verbrugghen Hall, Sydney Conservatorium of Music, Sydney, April 3,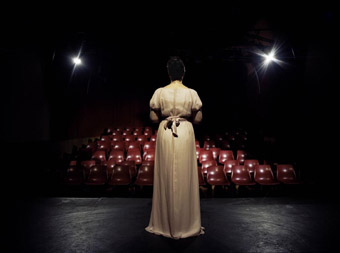 image courtesy Breenspace, Sydney
Kate Murphy, The note, 2010
kate murphy at breenspace: the note
The latest work from one of the leading and more lateral of Australia's video artists, Kate Murphy, is The note, a 10-minute, single-channel HD video installation in 5.1 surround sound. According to the Breenspace website, the work was conceived when the artist "read a distant relative's suicide letter. Murphy asked composer Basil Hogios to develop a musical composition based on every word written in this letter." The result is an aurally immersive video of a mezzo soprano singing in an empty theatre. Kate Murphy, The note, Breenspace, 289 Young St, Waterloo, Sydney, March 12-April 17 www.breenspace.com
RealTime issue #95 Feb-March 2010 pg. web
© RealTime ; for permission to reproduce apply to realtime@realtimearts.net