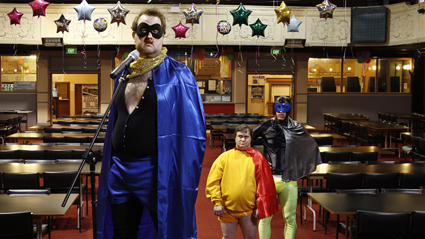 photo Jeff Busby
Super Discount, Back to Back Theatre
Super Discount, Back to Back, STC
Back to Back has continued to impress with a performance vision that is utterly unique, endlessly inventive and thoroughly brave (see RT's Arts and Disability archive highlight for a collection of Back to Back articles). The Geelong-based company will be premiering their new show, Super Discount, as part of the 2013 Sydney Theatre Company season, continuing at Malthouse later in the year. Directed by Bruce Gladwin, devised by company members and featuring choreography by Antony Hamilton, Super Discount interrogates the archetypal comic book action hero, fighting against all odds. "Sticky notions of identity, representation and power are pulled apart and investigated with humour and candour" (press release).
Back to Back, STC, Malthouse: Super Discount, Sydney Theatre Company; 20 Sept-19 Oct; http://www.sydneytheatre.com.au/what's-on/productions/2013/super-discount.aspx
SUPER DISCOUNT DISCOUNT: STC is offering RealTime readers $30 tickets for previews Sept 20, 21, 23, 24. Use this link to book with the code REALTIME.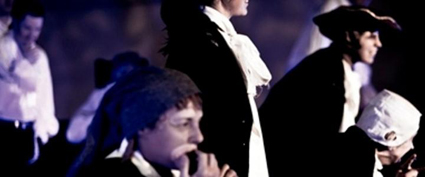 photo Pippa Dodd
Flock, Weave Movement Theatre
Flock, Weave Movement Theatre
Another "ability inclusive" company, Weave Movement Theatre will be presenting their new work, Flock, as part of the Melbourne Fringe Festival. Directed by Janice Florence, a paraplegic dance artist, Flock looks at "social connectedness, human interactions and social exchanges" via movement, dance and theatre. (See Philipa Rothfield on Weave's Capsule; and an article by Janice Florence on the Art of Difference)
Flock, Weave Movement Theatre, Mechanic Institute Performing Arts Centre, Brunswick, 19-22 Sept; http://www.melbournefringe.com.au/fringe-festival/show/flock/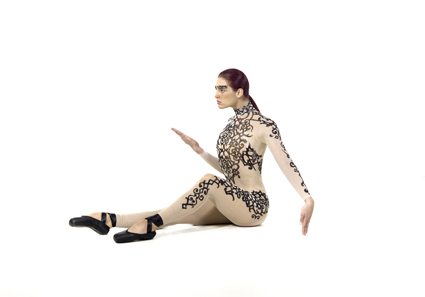 photo credit Chris Herzfeld – Camlight Productions
Nought, Australian Dance Theatre
Nought, ADT, Samstag Museum
Australian Dance Theatre will be premiering a new work choreographed by Daniel Jaber at the Samstag Museum. Jaber has danced with ADT since 2004 and Nought represents a number of firsts for both him and the company: it's Jaber's first full length work; the first show to be commissioned by ADT from a company dancer; and the first ADT show be presented in a gallery setting. Jaber says "Nought is an experiential performance where the audience is taken through a process of discovery, ending with a poignant insight into the dancing body and the dancer's fragility" (press release).
ADT: Nought, choreographer Daniel Jaber, Anne and Gordon Samstag Art Museum, 25 -27 Sept; http://adt.org.au/; http://w3.unisa.edu.au/samstagmuseum/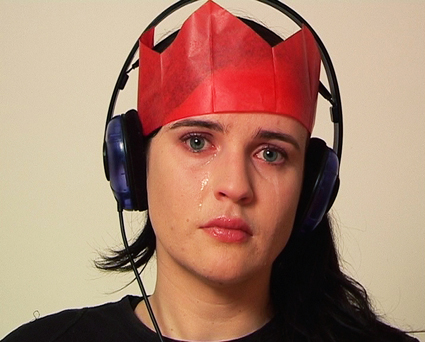 courtesy of the artist and BREENSPACE, Sydney © the artist
Kate Murphy Cry me a future (Dublin), 2006
Kate Murphy, Probable Portraits, SAM
Shepparton Art Museum is presenting their largest screen-based exhibition to date with this survey of the video practice of Kate Murphy. The exhibition will feature key pieces exploring themes of family, ritual and aspiration including Prayers of a Mother (1999, see RT57 http://www.realtimearts.net/article/issue57/7262), the Britney Love series (2000/2007), Assembly (2009) and Yia Yia's Song (2010, see RT100 http://www.realtimearts.net/article/issue100/10128). Murphy also turns the camera on herself in Cry me a river (Dublin) (2007) which depicts the artist's tearful response to a clairvoyant's reading.
Kate Murphy, Probable Portraits, Shepparton Art Museum (SAM), 13 Sept-14 Nov; http://www.sheppartonartmuseum.com.au/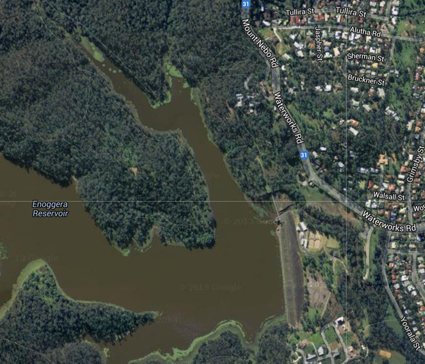 Sound walk with Anthony Magen & WestHead Projects, Open Frame
Open Frame, Room40
There have already been a few activities staged for Room40's annual festival, this year themed The Future is Noise. David Toop, David Grainge (author of the recently released book Noise Matters, Bloomsbury 2013) and Amelia Barrakin have already duked it out in a forum at IMA. Plus the amazing Japanese sound artist Akio Suzuki has performed in Brisbane and at Lismore Regional Gallery. The festival will culminate in a concert series at Brisbane Powerhouse featuring Francisco López (Spain), Mark McGuire (US), Laurel Halo (US), Objekt (Germany) and local artists. There'll also be a soundwalk led by Anthony Magen through the Brisbane State Forest Park featuring the West Head Project crew, Monica Brooks, Jim Denley and Dale Gorfinkel.
Room40: Open Frame, Brisbane Powerhouse and various venues; 12-28 Sept; http://openframe.room40.org/2013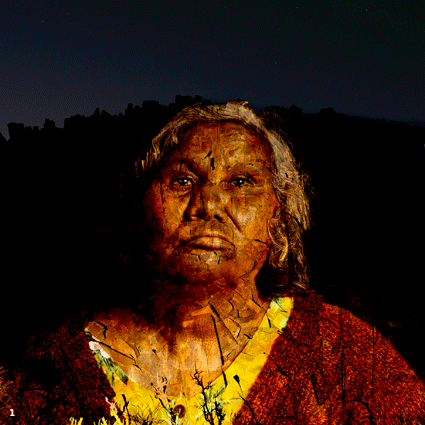 Craig Walsh, In Country (2012); 1) Pansy Hicks, courtesy the artist and Pansy Hicks; 2) Tim Douglas, courtesy the artist and Tim Douglas; 3) Tootsie Daniels, courtesy the artist and Tootsie Daniels; © the artist
Embedded & Primavera, MCA
Embedded is a follow-up to Craig Walsh's 18-month regional tour, Digital Odyssey (2010-11). For this project Walsh resided for four weeks in and around the Burrup Peninsula in north-west Western Australia, courtesy of the MCA and Rio Tinto. He worked with the community, Indigenous elders and the mining company exploring differing attitudes to the environment: "'land' as commodity and 'Land' as spiritual and cultural guidance" (Walsh, press release). The exhibition comprises a wide-screen video work, Standing stone site (2012) and a multi-channel piece, In Country (2012), in which community elders are literally embedded in the rock-scape as they discuss spiritual aspects of the land.
Spring is also Primavera time at the MCA with this year's exhibition for artists under 35 curated by Robert Cook (Art Gallery of Western Australia). His vision includes painting, sculpture, video and sound works by Jacqueline Ball (WA), Jackson Eaton (WA/VIC), Heath Franco (NSW), Brendan Huntley (VIC), Thomas Jeppe (WA/VIC), Jess Johnson (VIC), Juz Kitson (NSW) and Kusum Normoyle (NSW).
Craig Walsh, Embedded & Primavera, MCA, 12 Sept-24 Nov; http://www.mca.com.au/exhibition/craig-walsh/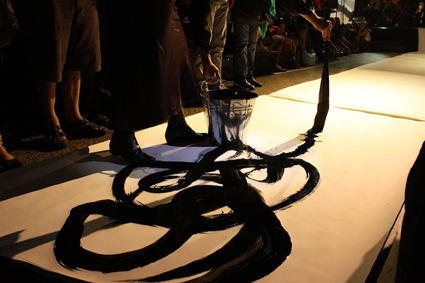 photo Goegina Tait, courtesy the artists
Kellie O'Dempsey, MONA FOMA, 2012
Drawn to Experience, POP Gallery, QLD College of Art
Drawn to Experience is a survey of performance drawing curated by Kellie O'Dempsey. The exhibition will feature works by international artists Morgan O'Hara (New York), Tony Orrico's (Chicago), Mar Serinya (Barcelona) and Jaanika Peerna (Estonia/New York) alongside Australian practitioners O'Dempsey, Rebecca Kinsey and Gosia Wlodarzcak. It will include works on paper, digital drawings, video and a live drawing performance.
Drawn to Experience: Performance Drawing, POP Gallery (Postgraduates and Other Projects) , Queensland College of Art, Griffith University, 12-21 Sept; http://www.kellieo.com/?page_id=1213
Still in the loop
ikono On Air Festival
global, online
6-29 September
http://ikono.org/festival/
2013 Brisbane Festival
7-28 Sept
http://www.brisbanefestival.com.au/
arte magra: from the opaque, AEAF
5 Sept-5 Oct
http://www.aeaf.org.au/exhibitions/ArteMagra.html
The boat goes over the mountain, Happy Dagger Theatre
The Blue Room, Perth
10-28 Sept
http://blueroom.org.au/events/the-boat-goes-over-the-mountain/
Windows to the Sacred, S.H. Ervin Gallery
presented in association with Buratti Fine Art; 30 Aug-29 Sept
http://www.shervingallery.com.au/
Malthouse's Helium
Little Ones Theatre, Salomé, 30 Aug-14 Sept
Smack! Bang, City of Shadows, Rachael Dease, 21 Sept-5 Oct
http://www.malthousetheatre.com.au/helium-2013/
In Confidence: Reorientations in Recent Art, PICA
31 Aug-13 Oct
http://www.pica.org.au
RealTime issue #116 Aug-Sept 2013 pg. web
© RealTime ; for permission to reproduce apply to realtime@realtimearts.net