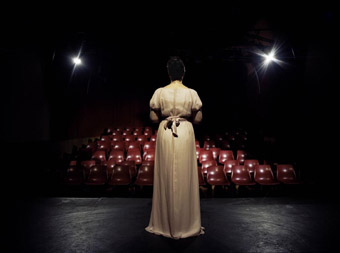 image courtesy Breenspace, Sydney
Kate Murphy, The note, 2010
kate murphy at breenspace: the note
The latest work from one of the leading and more lateral of Australia's video artists, Kate Murphy, is The note, a 10-minute, single-channel HD video installation in 5.1 surround sound. According to the Breenspace website, the work was conceived when the artist "read a distant relative's suicide letter. Murphy asked composer Basil Hogios to develop a musical composition based on every word written in this letter." The result is an aurally immersive video of a mezzo soprano singing in an empty theatre. Kate Murphy, The note, Breenspace, 289 Young St, Waterloo, Sydney, March 12-April 17; www.breenspace.com. Kate Murphy and the MCA's Rachel Kent will discuss the work on March 20, 3.00pm.
art for easter 1: song company, gethsemane
Atheists and agnostics can join Christians in a celebration of the art that constellates around Easter in Song Company's Gethsemane. The company's previous collaborations with choreographers Kate Champion and Shaun Parker offered us intense meditations from singers (themselves bravely and successfully integrated into the action) and dancers, attracting large, responsive audiences.
In a radically new approach this year, instead of the Tenebrae of Gesualdo there'll be a new score from leading Australian composer Gerard Brophy, informed by a visit to India: "Gethsemane interprets the traditional Jeremiah lamentations from the Old Testament through modern-day accounts of life on the streets of Calcutta to create a contemporary meditation on poverty, abandonment and compassion" [Press Release]. The work, directed by Roland Peelman, will be performed by Song Company and Synergy Percussion with saxophonist Christina Leonard and choreography by Martin del Amo. Gethsemane, City Recital Hall, Angel Place, Sydney, March 31; tour: Canberra: Albert Hall, March 21, Wollongong City Gallery, March 22; Bowral: Chevalier College Auditorium, March 24; Newcastle Conservatorium, March 25; Bathurst Memorial Entertainment Centre, March 27; Parramatta: Riverside Theatres, March 29; www.songcompany.com.au
art for easter 2: arvo pärt's berlin mass
A special Easter Saturday performance of Arvo Pärt's immersive Berlin Mass by Sydney Chamber Choir and the ensemble Ironwood will celebrate the composer's 75th birthday. On the same generous program, directed by Paul Stanhope, there will be selections from Carlo Gesualdo's Tenebrae and a work inspired by them, Scottish composer James MacMillan's Tenebrae Responsories. Ironwood will also present a movement from Haydn's Seven Last Words from the Cross. Via Crucis, Verbrugghen Hall, Sydney Conservatorium of Music, Sydney, April 3,
www.sydneychamberchoir.org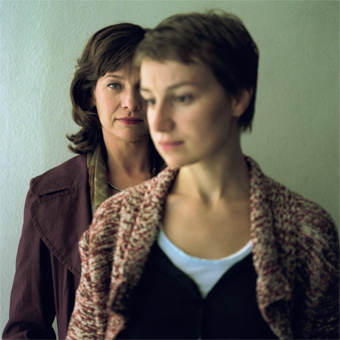 image courtesy 23/5 Filmproduktion/Berlin
Kerry Fox, Anamaria Marinca, Storm
festival of german film: storm
Here's early notice that the Festival of German Film looks particularly strong this year, with contributions from Michael Haneke (the eagerly anticipated The White Ribbon: village life unravelled by strange events before World War I), Margarethe von Trotta (Vision—Aus dem Leben der Hildegard von Bingen; a biopic of the composer and visionary) and the brilliant Fatih Akin in an unexpected comic turn, The Soup: "A run-down restaurant gets a fresh lease of life when the owner hires a temperamental new chef who alienates the regular customers, inadvertently turning the eatery into the toast of the 'it' crowd" [Press release].
Mediaeval history is addressed not only in von Trotta's Vision but also Sönke Wortmann's Pope Joan (Die Päpstin): "A 9th century woman of English extraction born in the German city of Ingelheim disguises herself as a man and rises through the Vatican ranks. More recent events are resurrected in a rarely told story in Florian Gallenberger's John Rabe, "The true story of a German businessman who saved more than 200,000 Chinese during the Nanjing massacre in 1937-38."
Hans-Christian Schmid's Storm is an impressive inclusion in the program. I was lucky to see a preview of this largely English language film starring Kerry Fox as a War Crimes Tribunal prosecutor thrown at short notice into the trial of a Serbian commander turned popular politician. What seems straightforward becomes quickly and dangerously complex in the manner of a good political thriller. But Schmid pays consistent attention to the realpolitik of the European Union's attempts to defuse murderous local tensions by overriding ordinary citizens' need to tell what happened. Storm effectively addresses the big political picture while focussing on the pain of players and victims, with Kerry Fox excellent as a lawyer who finds her own life trapped in these contradictions. Fox creates a laid back persona, droll, determined, often blunt, but increasingly alert to nuances that will test her own morality as events unfold. The fine widescreen cinematography embraces both intimate scenes and varied location choices. One pointer: as Storm unleashes its series of climactic events you certainly need to pay attention to the political and legal machinations as they play out. Storm is suspenseful, moving and memorable, its story an unusual and admirable choice. KG. Audi Festival of German Films: Chauvel Cinema/Palace Norton Street, Sydney, April 21-May 2; Palace Cinema Como/Palace Brighton Bay, Melbourne, April 22-May 2; Cinema Paradiso, Perth, April 22–26; Palace Centro, Brisbane, April 28–May 4; Palace Nova, Eastend Cinemas, Adelaide, May 7-May 9; www.goethe.de/australia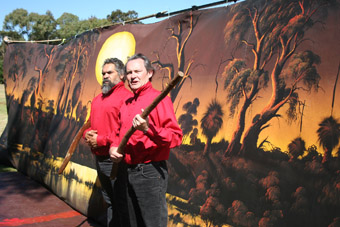 image courtesy the artists
Kelton Pell, Geoff Kelso, Bindjareb Pinjarra
bindjareb pinjarra: massacre & reconciliation
The 1995 stage production Bindjareb Pinjarra, an improvised work about the Pinjarra massacre created and performed by Isaac Drandic, Geoff Kelso, Sam Longley, Franklin Nannup, Kelton Pell and Phil Thomson has been revived for a season in Fremantle as part of Deckchair Theatre's umbrella program. It focuses on "a major incident which occurred in October 1834 between Nyoongahs and the police at a place now known as Pinjarra, 90 kms south of Perth." [For an excellent account of the massacre and associated history see www.pinjarramassacresite.com.] With a sense of both tragedy and humour, the equal mix of indigenous and non-indigenous makers aim "to show how black and white Australians are all part of the same history, and how by acknowledging that history we can move forward together to create a better future as one people." Bindjareb Pinjarra, Victoria Hall, Fremantle, March 17-April 3; www.deckchairtheatre.com.au
arts house: future tense
This is a brief reminder that Melbourne's Arts House has an excellent program of live art and contemporary performance from March 16 to April 3. Rivetting Australian groups Acrobat and Scattered Tacks [see RT90] are programmed alongside the intimate audience-interactive works of Rotozaza (Etiquette; Wondermart); Mem Morrison Company's up-close wedding reception show (Ringside); and Helen Cole's magical Collecting Fireworks, reminiscences of pivotal encounters with performance. Rotazaza, Mem Morrison Company and Helen Cole are all from the UK and give some indication of the expansive range of works that constitute live art. Arts House, Future Tense, Melbourne, March 16-April 3, http://artshouse.com.au
sydney dance company: new creations
The Sydney Dance Company's double bill New Creations opens March 23 with 6 Breaths by artistic director Rafael Bonachela and Are We That We Are by young Berlin-based Australian dancer (most recently with Meg Stuart's Damaged Goods) and choreographer Adam Linder. Read the RealTime interview with Linder about his career and his new work with its focus on altered states of being. Sydney Dance Company, New Creations, Sydney Theatre, opens March 23; www.sydneydancecompany.com
RealTime issue #95 Feb-March 2010 pg. web
© RealTime ; for permission to reproduce apply to realtime@realtimearts.net