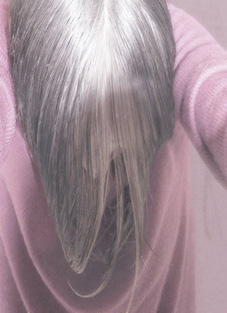 Pat Brassington, Angel Lust
Pat Brassington has on the tip of her tongue a taste for flesh and blood or, to put it mildly, the mysteries of physical presence. Compared with her images, words fail. Entering her latest exhibition, You're so Vein, feels like falling into some powerful infantile fantasy. Here are partial views of the body, sensuous and disturbing maternal images from the subconscious rendered in soft focus, like dreams. I sink into the capacious lap and watch until, as in all memories from childhood, images morph into elongations, dismemberments, form little fetishes of mouth, hair, shoes, neck, pink-of-petal nipples, stockinged thighs, powdered feet. I make way for the fearful distortions, the leaks and slippages: animal appendage or human genital?; flesh, flower or fruit? Hybrid visions from when the world was one. All feeling. All sensation. I am the milk and the milk's in me. Now I know why babies cry.
And who is behind these strange visions? At her Artist's Talk at Stills Gallery, Pat Brassington reveals that she started out as a mature-aged student. Now one of Australia's leading photomedia artists, she lives and works in Tasmania where she's been practicing for 22-years. She is blatant about her role as an experimentalist which she sees as "not a bad thing to be."
Her source material is mixed and heavily appropriated. As well as photographing her own body, she favours unidentified images by unknown artists and putting them together to make compilations "of previous lives."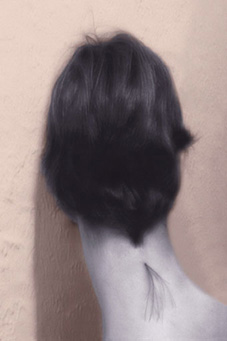 Pat Brassington, Vivian's Spring
Apparently, there are some images that recur in her work: a foot, a red hand pressing on something, and a pillow ("a big lumpen thing") that belonged to her mother.
Some of my favourites among her works are arranged in what might loosely be called 'narrative series' but Brassington sees this exhibition as the antithesis of narrative. Her work springs from early life experiences, she loves film, has been through her "horror" phase. There are too many influences to elaborate and they cross all artforms.
Some images are "straight" but in this exhibition, all except one are manipulated. For some time now, Brassington has been exploring the possibilities of pink, the tinted colours and tones of flesh. She's experimented with the blue/green end of the spectrum but abandoned it.
Though the technology she uses might suggest otherwise, Pat Brassington works slowly. As she conceives her images, she and her partner ("like chalk and cheese") must live with them over time. She likes to have them "in and around her." With some in this exhibition, like the lolly pink 'penis', she thought, "That's gross!", but visitors to the house said, "I like that," and it stayed. She's interested in the personal, emotional responses of others. She doesn't censor. She has a big reject file.
The enigmatic titles come last: Close, Until, Angel Lust, Topography in Pink, Varnish, Crush, Drummer, The Wedding Guest, Vivian's Spring.
Pat Brassington admits to a penchant for the "uncanny", that psychological space where things that are barely familiar are made strange. In psychoanalytic terms, she says, she might be assumed to have suffered some trauma. She doesn't know what she'll do next. It's not concepts that lead her on so much as a reservoir of images and her intuition. And she's hard on herself.
Entering the labyrinth of Pat Brassington's exhibition reminds me of the seductive spaces of Jenny Kemp's theatre, the installations of Sophie Calle or Lyndal Jones or Rosslynd Piggott, Monica Tichacek or Susan Norrie. "Entering a room of works by Susan Norrie", says Victoria Lynn, is "like being engulfed in a temporal process of shifting ideas and curious connections that slows down our perception to a quiet and thoughtful pace" (V Lynn, "Laminae", catalogue essay, Susan Norrie, AGNSW 1994). Tranquil or transgressive, these are female domains in which another kind of contemplation is offered. They are places that hum with possibility.
Pat Brassington, You're So Vein, Stills Gallery, 26 Gosbell Street, Paddington April 20-May 21, 2005. Informal notes on the Artist's Talk, April 30, provided by Stills Gallery.
RealTime issue #67 June-July 2005 pg. 44
© Virginia Baxter; for permission to reproduce apply to realtime@realtimearts.net