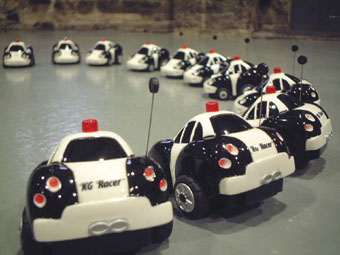 Jonah Brucker-Cohen, PoliceState
"I've been playing this for hours and I'm the winner" said a little voice from the terminal beside me. This was Max, an 8-year old Dutch boy who spoke perfect English, and had decided to show me how to play Blast Theory's Can You See me Now, an online and on-the-street chaser game at The Dutch Electronic Arts Festival (DEAF).
"Please, can we stop now and come in for a cup of tea?" came a crackled plea from one of the walkie talkie transmissions. "No, keep playing", typed Max. "Okay, okay 10 more minutes, but that's it Max," said the shivering Blast Theory crewmember from outside.
A winter's evening in Rotterdam can be extremely cold, so spare a thought for Blast Theory, who for art's sake had spent 8 hours a day, for the last 5 days running around the Kop Van Zuid (the Rotterdam docklands) in less than zero temperatures. Can You See me Now is a game for up to 10 online players who use the arrow keys on their keyboards to move a simple avatar around a maze of virtual streets while chatting to other players by typing messages. Outside on the real streets 3 'runners' from Blast Theory use walkie talkies to communicate while trying to track down the online players, whose virtual positions are relayed via satellite and the Global Positioning System (GPS) to wireless networked palmtops they all carry. If a runner manages to come within 5 metres of an online player's location then that player is 'seen' and out of the game.
Computer games tend to stress me out and I wasn't really sure what I was doing when "Hey, nice ass!" appeared in my chat text box. I turned around; it was just Max and I playing. "Was that you"? He just smiled cheekily and kept typing. "Yep, and look out that runner is going to see you!"
And that was it; I was out of the game. After a few more attempts, and a personal best of 10 minutes, I was left wanting more. I wandered out of virtual Rotterdam and onto the 'mixed reality' streets. I wanted the palmtop; I wanted to be running around like a maniac chasing phantoms in the freezing cold! It seems like I might not have long to wait because Blast Theory's latest project Uncle Roy All Around You allows the public to do exactly that (updates can be found on their website at www.blasttheory.co.uk).
After trying to console Max, who couldn't believe that the game he loved so much was really over, I began thinking that there was something about the DEAF03 exhibition that reminded me of a futuristic playground. This is not to suggest that the works were immature in content, but rather that many works at DEAF were simply a lot of fun and as I observed many times throughout the festival, very appealing to younger people. Sometimes these playful interfaces were the colourful wrappings of a darker, more political core and in others the simple act of engaging with these works became the core itself.
Interacting with Zgodlocator, Herwig Weiser's magnetised sculptures of crushed and granulated computer hardware, was like playing with a big musical toy. Lying in semi-darkness on a soft, carpeted surface, visitors could peer down through perspex covered holes to strange alien-like surfaces, while low vibrations rumbled up through their bodies. Adults and children alike seemed hypnotised as metallic landscapes pulsated and mutated to the rhythm of electromagnetic signals that they were sending using various midi controllers in the space. Particularly satisfying was the feeling of shared interaction, as 5 or 6 people could 'play' Zgodlocator at once and generate patterns and sounds only possible through their cooperation. Web of Life by Australian Jeffrey Shaw provoked similar squeals of delight as people donned those silly looking 3D glasses to interact and explore this colourful and highly immersive, networked 3-dimensional space. When entering Web of Life a visitor can place their hand through a simple metal relief onto a screen, which then scans their palm. This process extracted a series of 'unique' lines from each hand and then, to the obvious enjoyment of everyone (including myself), these same lines would suddenly appear to be floating in front of you and then magically fuse with the other lines already hovering in space, becoming part of the Web of Life network.
This installation was one of many linked elements to a project that exists at up to 5 different locations at once and also includes a book and a website. A somewhat darker work was PoliceState by Jonah Brucker-Cohen, which at first glance consisted of 20 toy police cars driving around a playpen in chaotic patterns. In fact this was a motorised visualisation of data traffic using 'Carnivore PE', a public access version of the FBI's software used to pick up on 'terrorist threats.' Whenever someone typed a word on the FBI 'blacklist' (which seemed to occur every few seconds) PoliceState used the 'CarnivorePE' software to convert this information into a corresponding police code that triggered the radio-controlled cars to drive around in choreographed patterns, while a loudspeaker announced each new threat. Although undeniably cute at first, PoliceState was a disturbing visualisation of our increasingly surveillance-obsessed society. As little malfunctions caused the cars to breakdown or crash into one another throughout the festival I was reminded again of the many failings and consequences of this kind of institutionalised paranoia.
In another room a keyboard on a pedestal was happily clicking away as if being used by an invisible typist. If you approached, the typing faltered, then stopped. If you typed something, the Poetry Machine_1.5 by David Link, activated a corresponding stream of associations from your words, projected live on a screen above. If the program didn't recognise any of your words, it sent out 'bots' (autonomous internet seaching devices) to find corresponding texts on the internet where this word occurs. This process could be seen on a plasma screen which beautifully visualised the intricate patterns and linkages that were constantly occuring. By the end of the festival the Poetry Machine's language had deteriorated into repetitive babble, seeming to have regressed to the vocabulary of a young child, which may have said something more about the audience's input than the Poetry Machine itself.
DEAF03, Dutch Electronic Art Festival. Data Knitting, organised by V2-Institute for the Unstable Media, Rotterdam, The Netherlands, Feb 25-Mar 9
RealTime issue #56 Aug-Sept 2003 pg. 30
© Anna Davis; for permission to reproduce apply to realtime@realtimearts.net