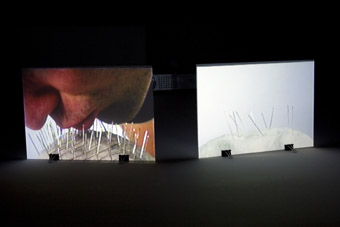 Matthew Perkins (Australia), Prick, 2006
In Anxious Bodies curator and artist Matthew Perkins sets out to establish an historical continuum between past and present performance and video practices, and to question the relation between body and self. The works reveal how anxiety can become an instrument of expression and influence conscious actions. Black and white videotapes of performances from earlier decades by Bruce Nauman, Vito Acconci and Dennis Oppenheim suggest the legitimacy of the form. Video has become part of performance itself as well as a means for recording ephemeral works.
In his own work, Prick, Perkins draws blood as he makes small holes in 2 clay moulds with needles sharpened at both ends held in his mouth. The projection of the performance is split across juxtaposed screens building the illusion that the artist is moving the pins from one to the next. Reminiscent of and as palpably disturbing as the work of Mike Parr, the work invites sadistic pleasure in the artist's masochistic determination to move all the pins.
Agony and exhaustion also figure in Annie Wilson's In Your Own Time. Against a black background a man falls and bounces with no apparent pattern. The sound, however, dramatically evokes heartbeats until the man collapses, the screen darkens and the jumping commences once again–a constant, cyclic fight with our own anxiety.
Briele Hansen's Where suggests the ambiguities of presence and absence and public and private spheres. A human figure is rear-projected on a frosted glass door. The viewer's voyeuristic curiosity increases inexorably in the attempt to discover what is happening behind the glass. The tension rises to a climax when the ghostly presence reaches for the door and the shape of its hand is beautifully outlined as it touches the glass. So skilful is the illusion that the viewer expects the presence to traverse the liminal barrier and connect, as Anne Marsh suggests in her catalogue essay.
The dynamism of Hansen's work contrasts with the stillness of Alex Martinis-Roe and Amy Miller's video installation, The Drawing Room, where the artists stare at length at the viewer from a large screen. In the second part of the installation a performance is projected into a picture frame, ironically establishing a more conventional viewer/painting relationship. Sue and Phil Dodd's video performance, Gossip Pop, tackles the theme of anxiety in a wily way. The artists' songs draw on rumours about pop idols. Rather than addressing anxiety directly, they choose to ridicule the 'consumerist' answer to it: trash pop culture.
Anxious Bodies generated curiosity, perplexity, distress and numbness as artists engaged forcefully with their bodies, pushing me to face my own anxieties against today's omnipresent tide of rationalism. Definitely not a show for control freaks!
Anxious Bodies, curator Matthew Perkins, Linden St. Kilda Centre for Contemporary Arts, Melbourne, June 3-July; Plimsoll Gallery University of Tasmania, Hobart, June 2007.
RealTime issue #75 Oct-Nov 2006 pg.
© Elena Galimberti; for permission to reproduce apply to realtime@realtimearts.net