Talking to those who work in the area, it's exciting to find that what's utopian to them includes not only ways of teaching screen education, but what that education leads to, the wide variety of activities and employment that expertise in this area is opening up. And it's even more exciting to realise that it's not really utopian, because it's already here. As reported in the Tertiary Open Days supplement in the Sydney Morning Herald on 1 August, "the creative services economy—in particular services such as digital content and web design in fields such as architecture and marketing—is growing strongly."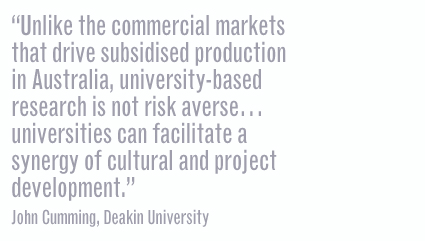 What is still utopian, however, is a better and more fulfilling relationship between the universities and the industry. There's a belief that universities really need to engage the industry in conversations about ways they can co-operate, and argue that university postgraduate research can actually provide a much-needed forum for innovation in Australian film.
"In terms of employment, media is everywhere, in industries of all types, and media skills are really important for almost every professional these days," Associate Professor Gillian Leahy explains. "Since our last review at UTS we've adopted a much more forward thinking course structure and content in both our undergraduate and postgraduate Media Production courses. While developing film and video skills still constitutes the majority of our course work, all students are learning some sound and new media and working with the web as well. And the image-making, storytelling and structure skills they get from film and video are useful across all media. So they're all equipped to go out in this time of change and evolving work practices with skill sets that set them up for employment as well as for their own filmmaking." She adds, "screen production is being used in all sorts of contexts—even wedding videos are now being made with a complete romantic pre-wedding narrative!"
As Leahy explains, UTS has a revised Masters and Graduate Diploma in Media Arts and Production, with more students enrolling for the new pathways provided. "They are forming better teams, as they all have to find work on each other's projects, and the work itself is looking more sophisticated and with better production values. We don't really know why the numbers have improved, or why they're working better together, but it's happening."
Stuart Cunningham, QUT
Someone who specialises in forward thinking is Stuart Cunningham, Distinguished Professor of Media and Communications at QUT and Director of the ARC Centre of Excellence for Creative Industries and Innovation. He currently has two projects with great relevance to this area. QUT has just received a Linkage grant from ARC, in partnership with Screen Australia, SBS and the ABC which should contribute to improving the viability of the screen education sector, and the growth of the whole educational market for screen production. With the new requirement in the National Curriculum from next year that Media Arts is to be compulsory in primary schools and expanded in secondary schools, they'll be carrying out a three-stage survey of schools in terms of their needs in resources, budgets and time for this change, as well as identifying what material is being used and how it's being used. It's a three-year project looking at the market for Australian screen content in education, from both supply and demand sides.
Cunningham has also just seen the publication of his new book written with John Silver, Senior Lecturer in Film, Television and Digital Media at QUT. Screen Distribution and the New King Kongs of the Online World (Palgrave McMillan, 2013, and available on Kindle) looks at the impact of the new technologies on screen distribution and the development of viable business models which deliver content to larger and larger audiences across multiple screens, from iTunes, Netflix, Amazon and Hulu to the increasingly dominant YouTube and its global clones. The authors survey the possibilities that are emerging not only for new players in online distribution, but also to what this offers to providers of new content.
Cunningham and Silver argue that there is "good news for independents around the world because the opportunity is there for good content and a sufficient number of more openly accessible video platforms now exist to distribute that content. The potential is there for next generation filmmakers, as long as they grasp the dynamics of social media and the intense feedback loops it creates, to find the right audience online."
Nicolette Freeman, VCA
The Victorian College of Art, however, has resisted the urge to teach multimedia and gaming, to concentrate on storytelling. "What we're currently doing is close to utopian," says Nicolette Freeman, Head of the School of Film and Television. Last year the school introduced a Masters in Screenwriting, and this year a Bachelor of Screenwriting. "We're putting the writing students together with the writer/director students. They'll be doing workshops together; they will be on the set, following the process of how a script becomes a film, right through the production to the editing. We're really interested to see how that impacts on the work that comes out, and the difference between the scripts written by writing students and the writer/director students over the three years."
Having survived its stoush with the University of Melbourne, VCA is now able to offer electives in filmmaking, not only to VCA students in areas such as dance, but to Melbourne Uni students from totally different areas of study. "We hope students from areas such as science or law could see filmmaking, documentary in particular, as a way to be engaged in their discipline. The electives will offer everything they want to know about how movies are made, then move on to more specific aspects such as acting, censorship, other national cinemas. We're tailoring the electives to encourage interest in filmmaking."
John Cumming, Deakin University
At Deakin, they're also interested in narrative. Script development is integrated with critical evaluation and production through identifying and building narrative structures. Film and Television course director John Cumming says, "The students work with genre in their second year to learn about narrative form and structure, making everything from Westerns to films employing the methods and codes of the French New Wave. They also work in TV studio production, documentary and experimental modes."
Cumming believes the really utopian future for screen production education would see postgraduate research in creative practice that engages leading professionals. "Unlike the commercial markets that drive subsidised production in Australia, university-based research is not risk averse. At Deakin we've begun working with a number of leading producers, writers and directors who see that universities can facilitate a synergy of cultural and project development. Such work can enhance the capacity of industry to critically drive its own development whilst building forums of ongoing support for a new generation of creators who are focused on effectively reaching and challenging audiences."
Cumming says that, with more than 60% of people now working in the industry having a degree, there is increased understanding of university study and research. "This brings more scrutiny to the contribution that the university sector makes. This needs to be rigorously independent but also relevant and responsive. The film industry in particular is now facing the fact it has had no effective process for high level professional development or succession planning. The university sector can help address this need, as it does in many other industries where the active participation of senior industry figures is integral to academic work. These 'professors' of professional practice are a brains trust that can be tapped in a coherent way by engaging them with younger personnel who are now regularly pursuing projects, including feature films, through PhD programs and post-doctoral research."
A universities – film industry – state screen funders future
Still utopian, however, is a better relationship between universities and the film industry itself, with the federal and state screen-funding organisations still not open to university-industry research linkage, and with postgraduate practice-based researchers still excluded from accessing production funding through government film financing. John Cumming believes that the academy and the industry need to engage in conversations about ways they can co-operate, and that industry needs to understand that universities are not just turning out technicians, but providing graduates and an increasing number of post-graduates who will ultimately determine the future of screen culture. "University research isn't just about providing statistics, it is engaging with issues of creativity in an applied way and with increasing sophistication. Serious programs of research can explore issues like how Australian films can better identify and reach their audiences, especially for those critical first and second features and documentaries. With the doors of the funding bodies effectively closed to emerging screen practitioners, much of their production is conducted, not only independently, but in near-isolation—on a credit card or with crowd funding. A little bit of academic oversight, professional mentorship and a supportive collegiate of peers couldn't hurt."
RealTime issue #116 Aug-Sept 2013 pg. 8
© Tina Kaufman; for permission to reproduce apply to realtime@realtimearts.net