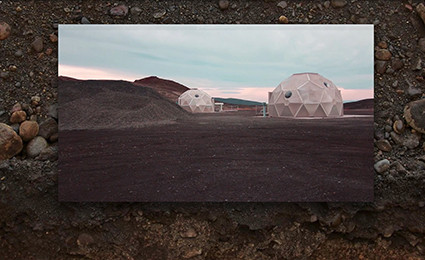 courtesy the artist
Video still from work-in-progress, Zoe Scoglio, Iceland artist residency, 2015
Stretching from abiogenesis to the Anthropocene Age, Zoe Scoglio's purview reaches across deep time and space and draws in ideas from the geological to the ceremonial. Running parallel to an obsession with the mineral, the human and the mysteries in-between is a gamut of formal interests: flatness and depth, synaesthetic effects and how juxtaposed forms can provoke new responses to the world as a whole.
Shifting Ground
Scoglio's recent major focus has been her Shifting Ground (Melbourne, 2012; London and Glasgow, 2014), a performed work for small audience that utilises video projections, the performer's body, rocks, ritual, deeply resonating sound, a layer of salt on a table and some unique 'geological' headwear. In Shifting Ground, says Scoglio, "I animate the rocks through light, sound and gestural choreographies. I use them as instruments; use composed and vocal sonic vibrations to move them and create cymatic patterns in the salt."
Created with sound artist Nigel Brown and interaction designer Chris Heywood, Shifting Ground both conflates and consummates the human and the geological. Scoglio says she is fascinated by our human relationship to the geological earth, often referring to abiogenesis in her works – "the process of biological life forming from non-living matter." Seeing this phenomenon as evolutionary, Scoglio considers "rocks as our ancestors and us humans as their direct descendants."
MASS
Scaling up dramatically from the intimate ritual of Shifting Ground, Scoglio's most recent work MASS (2015) utilised Melbourne's Calder Park motor racing circuit to enact a participatory full moon ceremony centring on "car bodies, planetary bodies and human bodies" [reviewed in RT129]. Held at twilight, moon ascending behind mauve and apricot clouds, MASS was "part drive-in, part-guided-walk; a car-gazing ceremony that illuminates the geological origins of the human, vehicular and celestial."
MASS was created "in response to this proposed era of the Anthropocene"—the age in which climate change and human environmental destruction are delivering tangible impacts on the planet itself.
"I feel we need to create new cultural narratives that tell the story of our collective geological origins, of the interconnected nature of all things. Narratives that dissolve the borders between human and non-human, animate and inanimate worlds and that help us stop thinking of ourselves as atomised individuals but as societies and communities with global responsibilities.
"For a while now I've been interested in finding a human-made geological site to create a live work," says Scoglio. Calder Park Raceway's "giant man-made mountains, lone palm trees and massive pylons looking out over a horizon are very evocative…" MASS utilised Calder Park's Motocross track. "It feels very post-apocalyptic, a world between worlds, a small example of a man-made mountain, of anthropogenic geological activity."
In Scoglio's installation and video works—a copious complement to her performance works of the past few years—her explorations of the human–planet relationship are amplified by formal experimentation.
"My recent video works often reference screen culture, the act of looking and framing, the way video is flat and that depth is forced; or the way a two-dimensional moving image can be restaged in a three-dimensional environment and talk to an understanding of deep time and deep space."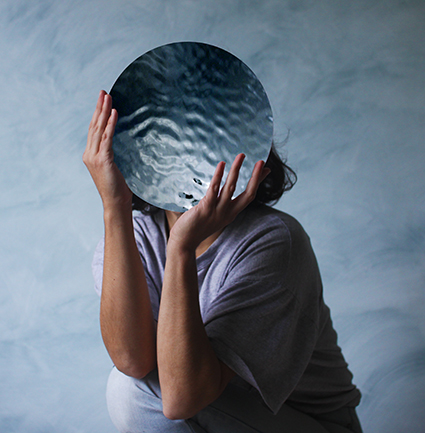 photo courtesy the artist
Zoe Scoglio, Water Falls & Other Features
Water Falls and Other Features
Water Falls and Other Features, her installation as part of The New Vanguard exhibition at this year's Gertrude Street Projection Festival, juxtaposed sharp graphic forms, video of flowing water, a bubbling, rumbling soundscape and a display of plastic mineral water bottles. Housed in a tiny room at Seventh Gallery, the work held both the natural and the 'designed' and geometry and geology in odd, incalculable tensions, creating an almost counter-intuitively harmonious play of sound, colour and light.
"For Water Falls I was curious about the points between order and chaos, the natural and man-made, the controlled and uncontrollable, what is understood and that which is beyond our understanding. I was interested in notions of value and permanence… Part-shrine, part archaeological display, the work questioned how the objects and structures from our contemporary life will become the artefacts and ruins of tomorrow."
Scoglio is interested in 'synaesthetic aesthetics' or deceptions in which video can become sculptural, sound can be physical and so on.
"My interest in finding crossovers between worlds and mediums is both a thematic and formal enquiry. This is to play with our sensory and mental perceptions and assumptions about the world we live in. It points to the world as a hybridised and interconnected set of materials and actions.
"I have a tendency to get lured in by the possibilities of trickery that can be created through the application of simple scientific principles and video magic, which can remind us both about our limitations of perception and the core rules of physics that govern our planet."
Other creations
Zoe Scoglio's many recent video and installation works include, in addition to Water Falls…, a series for the 2012 Melbourne Festival's Place of Assembly; her Human Sundial project; Ungardened Horizons (with Liz Dunn and Rebecca Jensen) for Brisbane's 2015 Underbelly Festival; and Inter-radiessence (with Cait Foran) in 2012. Scoglio found time to travel overseas during 2013, including the taking up of artist residencies in Turkey and, notably, Iceland where the geology is dramatic and humans represent a relatively recent incursion.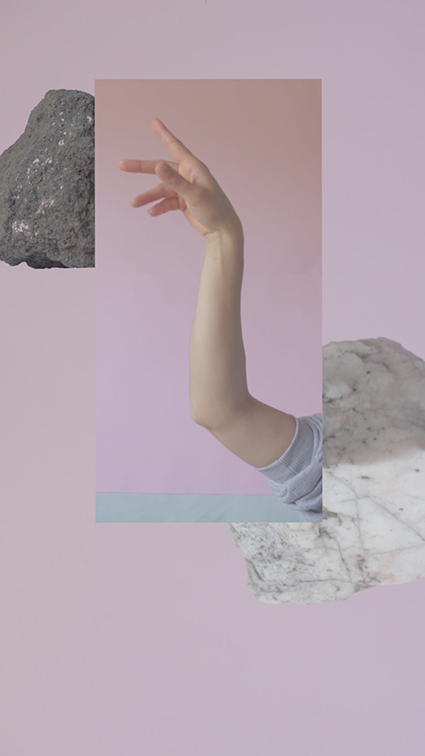 image courtesy the artist
still from screen-based work, Land Forms, 2015
"While driving and hiking through [Iceland] I was surprised at how much I felt a non-human presence. Iceland has only been inhabited since around 900AD. It struck me how much I could sense that humans were still relatively new to this place… That's where elves come in I guess. The hidden people. I was interested by the still-often-unspoken but commonly held belief in hidden creatures and the importance of planning around these invisible beings when creating new roads and infrastructure in the natural landscape."
At MASS, as a couple of hundred of us stood in formation halfway up the outer rim of the Calder Park Raceway embankment; we were anything but 'invisible beings.' Part of Scoglio's "mass choreography" we stood in perfect alignment with a row of monumental power pylons, sky above, low-flying aircraft shearing the air nearby, highways encircling us, city lights in the distance. Electric flickers sounded uncannily in our headphones; equally uncannily, flocks of twittering birds. We felt the hacked-up dirt under our feet and looked down to our cars, parked perfect as a crop circle in the paddock below. It was as Scoglio had hoped: "a new method of being together."
See also:
Shifting Ground, 2012
Varia Karipoff, Of the earth, temporarily
inter-radiessence, 2012
Urszula Dawkins, love refractually
For more about Zoe Scoglio and her creations, visit www.zoescoglio.com
RealTime issue #129 Oct-Nov 2015 pg. 13
© Urszula Dawkins; for permission to reproduce apply to realtime@realtimearts.net