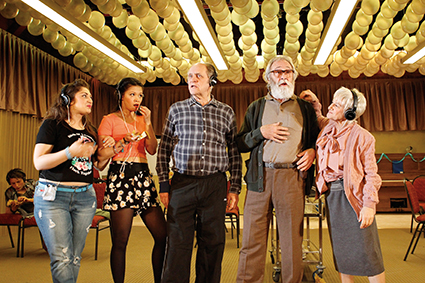 photo Jeff Busby
Roslyn Oades Hello, Goodbye and Happy Birthday
WE BORROW ON NERVOUS TERMS. EVEN BEYOND THE LEGAL AND MORAL IMPLICATIONS OF ARTISTIC QUOTATION, THE VERY UTILITY OR FUTILITY OF PASTICHE, HOMAGE, PARODY AND REVISION HAS BEEN ENDLESSLY DEBATED AND THE POLITICAL AND PHILOSOPHICAL COMPLEXITIES CONTINUE TO ANIMATE BRITTLE AND APPREHENSIVE DISCUSSIONS.
It's the kind of situation that leads to the limp toing-and-froing about 'adaptations versus originals' that regularly crops up in Australia, or that causes brows to furrow when a work is described as 'after' so-and-so. It was hugely rewarding, then, to see a suite of new works at this year's Melbourne Festival taking on the specific problem of translation between forms with great confidence and sophistication.
These included a poem transformed into a nightmarish multimedia landscape, audio documentary rendered as magnificent 'verbatim theatre,' a Shakespeare play as nomadic live art and true crime tale reimagined in a lyrical, almost musical manner.
The Trouble With Harry
The Trouble With Harry is the only one of these to even gesture to the problematic status of artistic debt, through the occasional moment that recognises the epistemological impossibility of ever faithfully recreating a 'true' story on stage. The work is inspired by the life of Harry Crawford, a woman whose life as a man in early 20th century Sydney included marriage and parenthood. She came to national attention after a murder that resulted in her eventual outing, and playwright Lachlan Philpott and director Alyson Campbell rightly acknowledge that there are questions that must be faced regarding their responsibilities in addressing such a complex subject. But, just as interestingly, they acknowledge that these are far from the only questions that deserve asking here.
The work is stylistically daring in subtle ways. It employs two narrators dressed in understated contemporary garb, as opposed to the diegetic characters in period costume. Dialogue and narration overlap and at times the lyrical language employed and the tight choreography of movement almost transform the work into a kind of music theatre. At odds with music theatre's sense of grand community however is the oddly disconnected viewing experience of The Trouble With Harry where audience members are fitted with chunky headphones that afford them access to the intimate discussions of the folk on stage along with an accomplished sound design by Chris Wenn. It's easy to lose the sense of being in a crowd, given these circumstances, and the work rather lends itself to a kind of voyeuristic sense that is all the more interesting given the events that unfold.
The Trouble With Harry never dips into sensationalism, though it does play with the way its subject was met with prurient or lurid fascination across history. The fear of being discovered forms the background to the piece, rarely made explicit but always simmering beneath scenes. The roles of Crawford's children are a little overplayed in the way that most kid roles for adults often are, but the performances of Maude Davey as the titular Harry and Caroline Lee as his wife Annie are so finely detailed as to provide one of the most credible on stage relationships I can recall. The play itself doesn't pathologise anyone involved—rather, there is a wealth that is unspoken here but gently conveyed by these two actors, allowing audiences only the briefest of access to the untold business that exists between lovers.
My Lover's Bones
Brown Cab Productions' My Lover's Bones takes a more explicitly horrifying look at the vicissitudes of the heart. It follows an unnamed Aboriginal man's quest to track and slay a bunyip in the hope it will win him his love, but the hunt itself becomes a metaphor for his own descent into obsessive madness. The monster may be in his head; this 'lover' may be a rapist and murderer; or perhaps he is the victim of a larger system that has entrapped him. If all of this sounds ambiguous, the production is not. It fuses a hard, physical and at times hypnotic performance by Kirk Page, thoughtful design including striking set pieces, well-executed projection and arresting sound design, and text that produces evocative imagery without detracting from the concrete aspects of the work.
At the performance's end the person next to me sighed, "it was like a poem," and this was exactly the thought I'd had myself. It's some marker of success that the work is adapted from a poem by Cameron Costello, but is far more than a presentation of the original with some extra trimmings. Rather, it makes material the spirit of Costello's text, which is an eerie fusion of Quandamooka legend and Poe-like gothicism. It's a short, sharp and memorable work.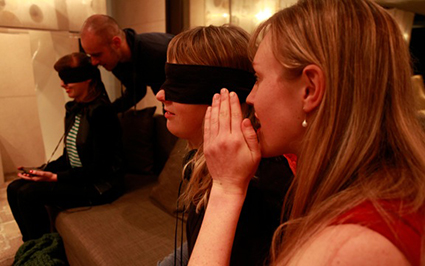 photo courtesy Melbourne International Arts Festival
Since I Suppose
Since I Suppose
I wouldn't describe Since I Suppose as short nor sharp, but it certainly featured several sequences that left a lasting impression. Live art collective, one step at a time like this' last work was en route, a city-roaming audio tour in which urban flanerie was complemented by fragments of spoken word drawing upon thinkers and poets as sources. It has travelled the world extensively and successfully, so it's easy to see why the group has expanded upon the model with this new outing. It's a two-to-three hour experience for two people traversing a city, mostly unaccompanied and directed by a mobile device that provides video and audio. Unlike en route, it injects the additional element of narrative.
In this case it's Shakespeare's notorious 'problem play' Measure for Measure. The original's concerns afford a neat excuse to take participants to the seats of political and religious power as well as less salubrious sites of intrigue. There's sometimes a sense of the ghost-hunt to it, as scenes from the past play out on the mobile screen in the same location as the participants now stand. There's also the chance to put yourself in potentially uncomfortable situations, though it's by no means a necessarily confronting work.
If it lacks something that en route had, it's likely simply the aspect of novelty that can't be repeated. Newcomers to the company's work will probably find that here in spades. A politically problematic narrative is a tough replacement for the sense of wonder I found in the earlier work, however, and it was only after the work had ended that I felt it held together as a translation of Shakespeare's play that conveyed both its story and internal tensions without being beholden to form or structure.
Hello, Goodbye and Happy Birthday
On paper, Roslyn Oades' Hello, Goodbye and Happy Birthday might seem the least ambitious of these translations—even closer to mimicry than anything else. It consists of a style of practice she has been developing for some years in which audio interviews are played live in the ears of actors who then incarnate these speakers in real time (see The Power of Listening, Caroline Wake's interview with Oades in our Women + Performance series, RT123, p33). So, impressions, basically? The result is anything but.
The raw material here is drawn from the words of a disparate group of 18-year-olds and people in their 80s or older. The sheer number of interview hours Oades must have conducted is staggering, given how much of this is rich with character and anecdotal originality. Then again, perhaps it is the constantly engaging energy produced when the live audio feed allows every stutter or hiccup or stumble or giggle to be rendered in a way that would seem artificial in regular theatre but has an absolute authenticity here.
Also key is the way the actors, whose ages must surely span at least 40 or more years themselves, are given the opportunity to play across generations as well as gender and race. Performers with greying hair produce impeccable portraits of awkward adolescents, while those barely out of their teens themselves seem perfectly cast as people whose bodies or minds are beginning to fade. That these are stories without a conventional sense of the dramatic to them doesn't matter. They are infused with a terrific sense of life rarely felt in a theatre.
2014 Melbourne International Arts Festival: MKA Theatre of New Writing and Darebin Arts Speakeasy, The Trouble With Harry, writer Lachlan Philpott, director Alyson Campbell, design Eugyeene Teh, lighting Rob Sowinski, sound Chris Wenn, Northcote Town Hall, 17 Oct-9 Nov; Brown Cab Productions, My Lover's Bones, producer John Harvey, design Alison Ross, lighting Lisa Mibus, composer, performer, projection Anna Liebzeit, choreographer, performer Kirk Page, choreographer Alexandra Harrison, video Ainsley Kerr, Footscray Community Arts Centre, 14-18 Oct; one step at a time like this, Since I Suppose, creators Suzanne Kersten, Clair Korobacz, Paul Moir, Julian Rickert, developed through Arts House CultureLAB, 15-26 Oct; Hello, Goodbye and Happy Birthday, director Roslyn Oades, movement Nat Cursio, sound Bob Scott, Russell Goldsmith, lighting Paul Jackson, design Christina Hayes, audio-script editing Roslyn Oades, script dramaturg Raimondo Cortese, Malthouse, Melbourne, 9-26 Oct
RealTime issue #124 Dec-Jan 2014 pg. 10-11
© John Bailey; for permission to reproduce apply to realtime@realtimearts.net