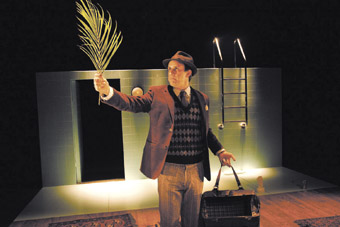 photo Bohdan Warchomij
Eamon Flack, The Goose Chase
THEATRE CAN BE HARD, ADULT, WORK AND FOR THAT WE SHOULD BE GRATEFUL. THE GROWN-UP DEMANDS OF A NIGHT AT THE THEATRE OFFER A RARE ANTIDOTE TO THE UBIQUITOUS TELEVISION, WHICH HAS BEQUEATHED US A TEENAGER-ISH MODE OF ENGAGEMENT CHARACTERISED BY WEAK ATTENTION, MILD DISINTEREST AND POOR POSTURE. UNLIKE THE MOVIES, WHERE OUR EXPECTATIONS AS VIEWERS ARE LARGELY GENRE-DRIVEN AND FRAMED BY A COMBINATION OF MARKETING AND REVIEW, THEATRE PROMISES THE INTENSELY UNEXPECTED.
But with intense engagement comes the risk of intense boredom. It is a singular state, the boredom of theatre, irreducible to other kinds of boredom. Is there a word (in German perhaps?) for the muscle-clenching, teeth-grinding experience of being stuck inside a theatre with an hour and a half behind you, and another 50 minutes in front?
Two recent productions in WA offer an opportunity to reflect upon the intense experience of theatre.
Matthew Lutton has emerged as a powerful force in West Australian theatre, both through his role as Artistic Director of Black Swan's BSX Theatre and in productions with his own company, ThinIce. In the first half of Lutton and Eamon Flack's recent The Goose Chase, I was thrilled to get to work, grateful to be given a grown-up job to do. There was no doubting Eamon Flack's energy and skill as he flipped between era and character. The script was witty and insightful, and I wrestled happily with the tricky parallelisms established between Edwardian detective Edward Blunt, struggling to find his identity, and the contemporary Edward Taylor, young, gay, expatriate, desperately seeking a new plot for his next novel while holed up in London. I was moved by the drama of a young Australian author struggling to locate a subject for his writing within a universe which objectively promulgates postmodernism and globalism, but which subjectively robs him of reference and roots. At last, I thought, an original theatrical production which is dialogically engaged with issues that matter to me, to us, here in the State of Excitement, in the Land of Opportunity. Hurrah!
But, alas, interval and then the befuddlement of devised theatre. What appeared in the first half to be an actor inside an act, increasingly proved to be an actor putting on an unnecessary act. In scenes set in Singapore, the contemporary Edward rediscovers his 'roots', travelling back to his family home. The performance collapses into autobiographical sentimentality, with a tedious parody of a Malay trader on the beach adding nothing more than proof that the actor can do accents. What had been a fine balance between Shandy-esque digression and narrative focus now spilled over into—well, to put it bluntly, boredom. Excruciating boredom. Boredom raised to the degree to which I had been formerly engaged. Where was this goose chase leading? And if nowhere, and for no good reason at that, what was the point of working at it?
The sad thing about The Goose Chase is that it broke its promise to the audience. It was very nearly very good, but in falling short it proved its reputable devisers to be further from home than most had hoped. The most telling moment came in the epilogue, where the actor stepped out of frame to offer us a faux resolution which jettisoned the complex, dialogic concerns of the first half (where do we belong? does the local matter? how do we straddle the commitment to place and speak beyond that place?) in favour of a pallid 'we are one' individualism. Teeth clenching indeed. But which is worse? To have no idea where you are headed, or to have no interest in anything other than the destination?
Katherine Thomson's Wonderlands knows what it is about, and it is quite sure what it wants to do. It is a play that sets out to 'build bridges' and 'fill in gaps'. It is about land rights, about history, family, about love and betrayal. Instead of one actor on a goose chase, we have a whole stage-full of actors in character types being dispatched where many have gone before. Quick tempered Lon (Luke Hewitt), with wife Cathy (Angela Campbell) by his side, is struggling to keep his pastoral property on the go. Their daughter is about to be married to young fella Tom, but has inexplicably taken extended leave of her family. When Lon finds his property to be the subject of a land claim, led by local Indigenous woman-with-heart-of-gold, Edie (Margaret Harvey), old wounds are opened and old prejudices are mobilised, with suitably symbolic consequences.
It is not surprising that Katherine Thomson has had a long and successful career across theatre, television and film. Wonderlands sets demands on the audience somewhere around the level of 'serious' Australian television drama. Unlike The Goose Chase, this looks like a script with its issues up on the board well before a word was written. With more parallels than a parallelogram, no stray ends are permitted. Black and white, past and present all line up to face each other. Lon's daughter suffers from mental illness, Edie's son is off the rails. The disasters of the present mirror the disasters of the past. We are apparently doomed to repeat our melodramatic plots forever and a day.
The Goose Chase set out to keep the audience guessing, and promised a suitably clever dénouement, only to abandon the detective genre and jump ship. But this is surely infinitely preferable to narrative predictability. Having had all the work done for you, there is really nothing to do when watching Wonderlands, except become mildly bored and wait for the moment when your friend (who is very good and who, like all the actors in the show, continues to work very hard) comes back on stage and manages to wring a new shape out of a familiar shadow. Which is just enough for me tonight.
Deckchair Theatre & ThinIce, The Goose Chase, co-creator, director Matthew Lutton, co-creator, performer Eamon Flack, composer Ash Gibson Grieg, set & cosume design Claude Marcos, lighting Andrew Lake, sound design Kingsley Reeve, projections Sohan Ariel Hayes, PICA, Perth, May 1-20; Wonderlands, writer Katherine Thomson, director Angela Chaplin, performers Angela Campbell, Margaret Harvey, Luke Hewitt, Scott Jackson, Kyle Morrison and Samantha Murray, lighting Andrew Portwine, set & costume designer Brian Woltjen, Victoria Hall, Fremantle, June 7-July 1
RealTime issue #80 Aug-Sept 2007 pg. 41
© Josephine Wilson; for permission to reproduce apply to realtime@realtimearts.net