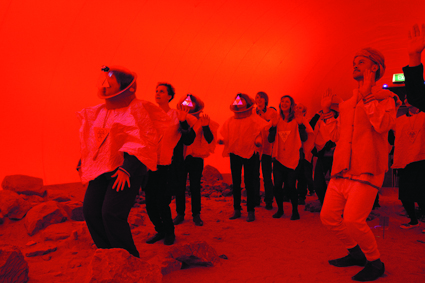 photo Shea Bresnehan
100 Proofs the Earth is Not a Globe, Tape Projects
NEXT WAVE FESTIVAL IS RIGHTLY SEEN AS A MELTING POT WHERE YOUNG ARTISTS CHALLENGE TRADITIONAL CREATIVE APPROACHES AND METHODS OF PRESENTATION. THERE IS ALSO AN EXPECTATION THAT VISITORS WILL ACTIVELY CONTRIBUTE TO THIS DIALOGUE. ALTHOUGH THIS YEAR'S FESTIVAL CONTAINED NUMEROUS EXAMPLES OF EXHIBITIONS AND PERFORMANCES IN TRADITIONAL VENUES, MANY OTHER PROJECTS RELIED UPON NON-TRADITIONAL AUDIENCE ENGAGEMENT. THIS IS CHARACTERISTIC OF AN ORGANISATION THAT SUPPORTS YOUNG AND EMERGING ARTISTS, AND IT RESONATED PARTICULARLY WELL WITH THE THEME OF THE 2010 NEXT WAVE FESTIVAL, "NO RISK TOO GREAT," ENCOURAGING NOT ONLY ARTISTS BUT ALSO VIEWERS TO STEP OUTSIDE THEIR COMFORT ZONES.
sunset over cardboard mountains
Sunset Over Cardboard Mountains, by artists Rachel Feery, Ed Gould and Lisa Stewart, proved a fitting beginning to my voyage through this year's festival. While a number of Next Wave pieces broadly picked up on the idea that 'risk taking' is often the domain of youth, this work responded to the ways that children experience and negotiate the unknown, the scary and the risky through storytelling, role-playing and imagination.
An audience of 12, each member in their own individual cardboard box (cushions provided), sits inside a large tent-like structure. The lights go down, a live but unseen musical accompaniment begins and the tent fabric shakes, as if buffeted by a strong wind. From this point onwards the audience is treated to a low-fi performance of lighting, shadow and video effects which poignantly evoke common rites of passage. From confronting silhouetted 'tree-monsters' that appear during storms, to telling ghost stories by torchlight under bed sheets, to constructing fantastic machines and fortresses out of cardboard boxes and quilts, these childhood modes of play and initiation were all joyfully revisited by Sunset Over Cardboard Mountains in an immersive and often surprising performance.
100 proofs the earth is not a globe
The highly anticipated, ambitious 100 Proofs the Earth is Not a Globe from Melbourne-based collective Tape Projects did not disappoint. Tape Projects worked with the Victorian Space Science Education Centre at Strathmore Secondary College to develop 100 Proofs, shifting their artistic focus from visual arts projects towards a performative and experiential practice.
100 Proofs took viewers on a highly choreographed trip into a seamlessly constructed environment in which fantasy, fiction and alternate realities collided with rational and logical experience. The Space Science Education Centre was transformed each night into an otherworldly research facility, full of focused yet strangely attired inhabitants in a time warp. At the outset, the audience was divided into two groups (blue and red) and we were each assigned an alter ego. I became Raphael Constantinescu of the Personnel Department.
Being a member of the blue group, I was required to complete a number of pre-designated experiments. Armed with a lab coat and a clip-board Raphael Constantinescu was ushered through a series of tasks which included estimating the weight of a rock, sketching with a non-preferred hand, determining a 'magic number' through a series of calculations and observing and analysing the movements of a strange group of subjects (the red team). While the significance of these tasks was often unclear, in the context of the performance they took on a strange sense of urgency and purpose. By compelling the audience to act out roles as either scientists or subjects, 100 Proofs provided a thoroughly enjoyable and fascinating commentary on our understanding of scientific knowledge. As the work's title implies, often our perceived reality is at odds with scientific truth. The minutiae and detail of scientific process and logic can obscure broader contexts and implications; science can go too far. At the same time, the imaginative possibilities of science are enticing and enthralling as science fiction rapidly turns into science fact.
evolution
Evolution by Safari Team (Blaine Cooper, Lillian O'Neil, Jon Oldmeadow) was yet another work inspired by scientific progress and imagined futures. By flagrantly opposing the supremacy of 19th century religious beliefs and institutions, Charles Darwin will forever be acknowledged as one of history's greatest risk-takers, a figure whose ideas to this day remain controversial and passionately contested by the champions of Creationism and Intelligent Design.
A five-screen video installation, Evolution, located in ArtPlay in Birrarung Marr on the north bank of the River Yarra, responded to some of the ways that the general public are often introduced to and made familiar with scientific discoveries. The series of carefully composed images that repeated across the five screens seemed to be inspired by a warped view of natural history documentaries and science fiction films, mashed up into a dystopic vision of scientific endeavours.
I had high expectations for Evolution, but unfortunately it failed to live up to Safari Team's delightful Molto Morte (2008), one of the highlights of the 2008 Next Wave Festival. Unlike 100 Proofs, which cleverly critiqued methods of scientific research and discovery, Evolution did not engage as strongly with the very real and fascinating contemporary dialogues around human evolutionary activity, such as the fact that humans can now actively control and dictate evolution through technological advances—evolution through 'unnatural' selection. The piece was certainly not narrative-based, however it needed a stronger overarching structure, or perhaps a soundtrack or some kind of aural accompaniment, to draw the compelling but disparate images into a more fluid conversation with each other.
Furthermore, the installation did little to enhance the artwork, making it appear too ambitious for an outdoor location. As well, time-based artworks are forever burdened with the necessity of having to engage viewers relatively quickly, and even then they don't necessarily stay long. However, when the artwork is installed outdoors, after hours and during a festival that creeps into Melbourne Winter, the challenge is amplified.
doomsday vanitas
In this sense, Nicole Breedon's Next Wave project, Doomsday Vanitas was a minimal but ultimately more successful example of a media artwork conceived for public space. Breedon projected hologram-like images of common objects onto buildings in Guildford Lane and surrounds. These were not complex images, yet as viewers discovered each successive projection amongst the alleys they were rewarded immediately, as the artworks' simplicity and surprising beauty melded perfectly with their laneway environment. Rendered as gently rotating and glowing still-lifes, everyday items such as a water bottle, Swiss Army knife and an axe assumed an ominous quality within the urban environment, reflecting ongoing concerns to do with street violence and weapons culture.
film that will end in death
Perhaps the most literal exploration of the festival's theme was Trevor Flinn's Film that will end in Death. Based in Dunkeld in regional Victoria, Flinn identified and interviewed a number of people in 'risky' occupations—from lion taming and bull riding to wildlife rescue—questioning them about their relationship and attraction to risk. In the film, as in real life, Flinn has an endearing and engaging personality, which draws out candid admissions and stories from his interviewees. His dry sense of humour, wide-eyed enthusiasm and self-confessed 'risk-averse' personality make him the perfect foil for his subjects.
Interestingly, many of Flinn's subjects spoke about their rather dangerous pastimes and jobs not so much in terms of 'thrill-seeking' impulses, but rather as almost normal activities in which inherent risks needed to be understood, mitigated and minimised. The hilariously blasé lion tamer Matthew Ezekial said that after a while "it's just a job." This matter-of-fact sentiment was reflected in the traditional documentary construction of Flinn's film. It was a welcome and memorable interlude in a festival which, while always encouraging the provocative and the novel, also allows a space for audiences to engage with personal modes of storytelling and presentation.
2010 Next Wave Festival: Sunset Over Cardboard Mountains, Rachel Feery, Ed Gould, Lisa Stewart, Studio 246, May 14-21; Tape Projects, 100 Proofs the Earth is Not a Globe, Lee Anantawat, Cait Foran, Eugenia Lim, Tanja Milbourne, Michael Prior, Zoe Scoglio, Jessie Scott, Victorian Space Science Education Centre, May 19-28; Safari Team, Evolution, Blaine Cooper, Lillian O'Neil, Jon Oldmeadow, Birrarung Marr, May 13-30; Doomsday Vanitas, Nicole Breedon, various locations, May 13-30; Film that will end in Death, Trevor Flinn, Kings ARI, May 8-31
RealTime issue #98 Aug-Sept 2010 pg. 41
© Kate Warren; for permission to reproduce apply to realtime@realtimearts.net