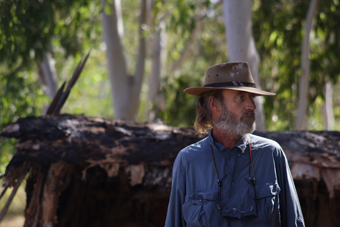 photo Jackson
Rolf de Heer
To sustain an art cinema career in an Australian context demands an ingenious balancing act. It is necessary to judiciously work to a low budget, create innovative content and style that will attract the international marketplace, and maintain a sensibility that appeals to an Australian audience who display, at best, a distinct indifference to their local industry. It takes a consummate risk-taker, problem-solver and troubleshooter to fulfill this formula.
One filmmaker, of a precious few, who has successfully endured calculated risk-taking is Rolf de Heer. The only Australian director to have been in competition in all 3 major European festivals, he has commenced production of his eleventh and most logistically challenging feature to date. Ten Canoes the first Australian feature film to be spoken entirely in an Indigenous language, is set centuries before white contact with the continent, and utilises an entirely non-professional cast. The shoot's location is on the edge of the Arafura Swamp, near the Ramingining community in North East Arnhem Land. Within this primordial landscape resides the largest concentrated mass of crocodiles in the world. From the film's base at a local cattle station, De Heer explained the shifting nature of the project and the ways he dealt with significant production challenges, from the story itself to his stylistic approach.
"Ultimately, I wrote a script that conformed to the parameters that were set for me," he explains. De Heer's premise was to use the local Yolngu people as actors, but to come up with a story that they wanted and were able to perform. Quite a traditional group, not only were they non-actors but the concept of pretence was fairly new to them. "Here there's no such thing as fiction; [stories are] all real in some way." As a result, he incorporated familiar local history into the script. In particular, he sought inspiration in the photographic work of Donald Thomson, an anthropologist who did extensive work in Arnhem Land, North Queensland and the central desert in the 1930s. Thomson is remembered so fondly by the Yolngu that they refer to an epoch as "Thomson Time" and have songs about him that they hand down to the new generations. "It fits completely into their mythology now…and it's because of those photographs that have made their way back here and their identification with their relatives in them.
"In particular there's a sequence of photographs about goose egg gathering…It was something that hadn't been done properly for decades and they've been talking for years now about restarting it….I learnt pretty quickly that that's what they wanted to do…[a practice] that's terribly important to recreate." Thomson's photographs also formed a visual guide for this section of the film. Most notably, de Heer maintains the pristine black and white and formal composition of the original stills. "I was very much drawn to shooting in black and white because I wanted to preserve the Yolngu's vision of that past…most of the shots are still-framed, a number of them very directly inspired by the Thomson photographs."
The canoeists leisurely drifting though the swamp, searching for nests, in striking black and white panoramic long shots certainly makes a strong image but cannot sustain a feature narrative. De Heer decided upon a second dramatic line to weave into the narrative, but encountered a problem. "The past, or 'Old Time' as the locals call it, has been idealised to such a degree that everything good happened in the past and nothing bad ever happened…this formed part of what I had to put into the film. There was nothing allowed that had the remotest thing to do with dramatic conflict… So I had a real problem creating a film around the ethnographic details the cast wanted, and what I knew cinema could and should be doing."
To get around this, de Heer sets his second narrative strand in the mythical past because, as the Yolngu explained, there anything can happen. So one of the canoeists in the Thomson-inspired segment tells a younger gatherer a story set in a Dreaming-like scenario, and that forms the primary on-screen action. This tale is shot in colour not only for the rationalist reason that it's "becoming harder and harder to sell a black and white film", but as a stylistic contrast to the main narrative. Rather than static framed compositions, the mythical section frames a larger cast, contains constant movement, and makes prolific use of steadicam to go with the vibrant colouration. "The idea was to have a shot for each scene…each shot taking some hours to do but each with a lot of inherent internal interest", de Heer explains.
So, there was a script and a methodology. But there were other problems. "It became clear in pre-production that there was no way we could pull this off", de Heer recalls. "We were in deep, deep trouble if we tried to shoot the script the way it was." Amongst the difficulties was communication. David Gulpilil, who was an inspiration behind the project ("He rocked up with a photo of Thomson's one day and said 'Look, we need 10 canoes!'"), was to be co-director but withdrew for various reasons. "I had no one who could straddle the film world and also speak the language." Not only was speaking to the actors made more difficult, but constructing an appropriate cast proved a challenge. "We had trouble getting 10 canoeists in the first place, let alone cast for large camp scenes." These problems were further compounded by the pitfalls of directing non-actors; "to get them to do things like repeat action; to get continuity between cuts: forget it."
Directors have to be able think on their feet, re-strategise and prioritise, and fortunately these are de Heer's strengths. There was no time to rewrite the script, so he decided to use the same mythical story as a basis, but "stylise it, surrealise it, shift its tone from cinema reality to a more heightened, exaggerated way of doing it…this was done so we could patch holes more easily." De Heer elaborates on his shift in method:
"What I decided to do, was leave the black and white section the way I planned it, make it the most difficult part of the shoot and make it happen some way. It took a disproportionate time in the schedule for the amount of the screen time it takes because some of that stuff was incredibly difficult to set up. Then the other section…there's just a lot of little vignettes in a way. There's very little cutting in a scene, there's a bit, but not much at all… [I would] get what dialogue I could from it, but I was planning to have some sort of first-person narration anyway…to tell the story where it needed to be told, and illustrate that with these vignettes. For example, yesterday we had this situation where it was meant to be a vignette without dialogue but I couldn't get it to work, added some dialogue, and then it did work so I won't have to put some narration into that one. But today we had one where the dialogue didn't work at all, in fact the actor involved couldn't do it. But once I got rid of the dialogue and made it almost pantomime, it was fine. So we can use narration where we need to when it's not clear in the story."
–
The film is currently in postproduction and is scheduled to premiere in March, 2006. Ten Canoes, director Rolf de Heer, co-director Peter Djigirr, producers Rolf de Heer, Julie Ryan.
RealTime issue #68 Aug-Sept 2005 pg. 22
© Sandy Cameron; for permission to reproduce apply to realtime@realtimearts.net