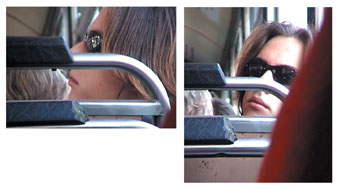 photo Kylie Johnson
Kylie Johnson sits behind boys on public transport
Tasmanian artists Kylie Johnson and Tiffany Winterbottom's exhibition Everyday Entertainment takes the 'bad grrrl' phenomenon of a couple of years ago—and runs with it.
Johnson and Winterbottom take an experimental approach to their work within popular culture and develop its content from personal experience. Their creations are set in the social spaces they inhabit—bars, clubs, living rooms, parties, public transport…In the name of art, they remodel their lives into "something more entertaining, powerful and glamorous" (media release).
Winterbottom's 5 large-scale scenarios derive from photo-shoots (at home) of friends dressing up, drinking, smoking and playing to the camera. Luridly seductive, colourful collages of digital prints, vinyl and plastic sheet, they are sexually explicit and slightly cartoon-like. Photoshoot for Boyfriend Overseas dabbles in deliberately cheap eroticism, exploring female sexual stereotypes. The subject of this image is semi-naked, assuming a submissive pose, yet her face is defiant and confident—a "girl with attitude" (exhibition notes).
Pop Bandit is all legs and torso. Its subject wears boots, fishnets and black lingerie, her stance bold and challenging. In The Night the Cops Turned Up, the subject matter is taken to its extreme, with what appears to be a rape scene, but is actually a 'hard-edged' depiction of sexual coupling. These works are powerful, confronting and highly original in their execution. The subjects are "cast in fantasy roles that exaggerate their eroticised self" (exhibition notes). Winterbottom's extraordinary animation, the affecting and disquieting Dribble Girl in Lounge Room combines abstracted still elements overlaid with linear moving components and depicts a young woman writhing in a slightly pathetic sexual display.
Kylie Johnson's work is, by comparison, understated—and a good foil. Her obsession is seduction. She says, "to be seduced is to be preoccupied, absorbed or enchanted by someone or something to the point where one's individual identity dissolves into nothingness."
Johnson's images are smaller in scale; predominantly black and white digital prints from video. Her titles are long and descriptive, incorporating the artist's name in a Tracey Emin-like gesture that nevertheless has its own originality—Kylie Johnson took his photo to her clairvoyant; Kylie Johnson sits behind boys on public transport; Kylie Johnson made a template of his tattoo from memory—each title expanding the work and having its own subtle wit. Text is used to effect in the artworks as well, and Clairvoyant incorporates sound; earphones allowing the gallery visitor to eavesdrop on the seer's musings.
Tattoo interestingly incorporates an artist's book of images of the facsimile tattoo Johnson adhered to her arm for 7 days, removing it to reveal slightly scabby skin in its shape. This work is dominated by an enormous wall-based bat-wing vinyl shape—a blow-up of the tattoo in question.
These are voyeuristic and confessional works. The 20 small digiprints, Kylie Johnson followed her because she had that familiar hard skin feature an anonymous woman's legs and shoes and prompt the question—What else does Kylie Johnson get up to? An intriguing question about an intriguing artist. Everyday Entertainment is an excellent 2-hander with 2 strong bodies of work complementing each other exceptionally well.
Everyday Entertainment, Kylie Johnson & Tiffany Winterbottom, CAST Gallery, North Hobart, Sept 6-28; Gallery Wren, Sydney, Nov 6-22
RealTime issue #58 Dec-Jan 2003 pg. 33
© Diana Klaosen; for permission to reproduce apply to realtime@realtimearts.net