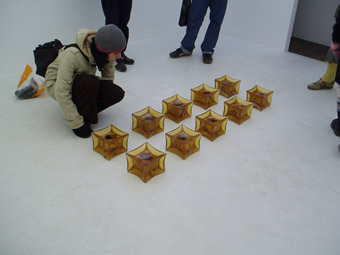 photo Ned Rossiter
Thom Kubli, Stationsraum—Assimilativen Zahlwitz (installation)
Building on festival themes of previous years, transmediale.05 set out to explore the ethico-aesthetic contours of digital technologies. The festival's theme–'basics'–operated as a sort of equivalence for real needs beyond the bare conditions of life in a world increasingly permeated with digital techniques of organisation, reproduction, control and expression. But as noted by Florian Cramer, chair of the conference on basic security, there's no such thing as a basic concept of security. Nor can there be an operative concept of basics. Any concept of security co-exists with its dialectical other; insecurity. As Konrad Becker, Wendy Chun and McKenzie Wark unravelled the diverse and often contradictory means and precepts by which security takes form, it became clear that complexity more accurately encapsulates the diverse conditions, institutions and practices that underpin life within information societies and media cultures.
It was with a sense of complexity that I encountered the festival as a whole. Since 2002, the Haus der Kulturen der Welt (House of World Cultures)–referred to with a kind of sceptical fondness by Berliners as 'the pregnant oyster'–has been transmediale's principal venue, with other events staged throughout the city. The 5 day festival comprised screenings, conferences, lectures, exhibitions, performances, workspaces and workshops. My technique of engagement consisted of impulsive wandering. Here's a sample of the work encountered.
Taking the opening line of Wittgenstein's Tractatus Logico-philosophicus as its title, Eva Teppe's digital video Die Welt ist alles, was der Fall ist (The world is everything that is the case) appears a study of accumulating horror. Bodies cascade from an undetermined height. The fall of women, children and men slowly pass by the steady frame of the camera. Their transient clarity is offset against the soft blur of figures in the background. This is the world as it appears. And herein lies the ambiguity that haunts the sense of veracity so frequently attributed to optical devices. I wondered if this was footage I hadn't seen from the collapse of the Twin Towers. The artist's statement functioned as a corrective: this was reworked TV footage of Spanish athletes engaged in that peculiar hobby of constructing human pyramids. What I took to be a descent toward nasty injury, if not death, was something far less ominous: these were bodies caught in the moment of collapse. Here we find it is not the digital media form that is unstable so much as the mediation of perception.
While the text demystified Teppe's video, it had the obverse effect on Thom Kubli's installation Stationsraum für Assimilativen Zahlwitz. Ten amber coloured gelatine cubes with concave sides are laid out in 2 rows in the middle of a small white room. Each cube is about 10cm square, their translucent mass enclosing an assortment of what look like rotting organs. I'm reminded of jars of formaldehyde containing mutant babies, preserved brains and frog stomachs that I once saw at les Galerie d'Anatomie Comparée et de Paléontologie in Paris. Upon closer inspection, there appeared to be a half-crushed, aluminum-like speaker component partially encased in silicon supports. "Eins, zwei, drei…"–the cubes are counting to 10. They never stop.
I read the exhibition blurb in the catalogue: "An interactive audio installation… the speaker whizzes past you…step back…the shock wears off…don't get too close!" So where's the interaction? When am I going to be blasted? I retreat to the safety of the nearest white wall. As I edge around I hear the sound of doors creaking open, slamming shut, voices wailing, instructions or commands being issued. I'm becoming increasingly anxious as I wait for the 'interactive' component to kick in. I test the release of sound against my movements. I can't detect any motion sensor at work. I place my ear close to a cube. I'm genuinely puzzled. A few people enter the installation and proceed to repeat more or less the same routine. Perhaps the installation's malfunctioning.
Frustrated, I re-read the catalogue. Amazing–I've been reading the wrong exhibition statement! In fact, I'm supposedly listening to "atmospheric sounds from a psychiatric ward." Mistaking the text made for a substantially different and, as far as I was concerned, much more interesting encounter. I probably would have spent a fraction of the time with the work had I matched it with the correct entry.
Run Motherfucker Run! provided an interactive experience in a most literal and basic sense. A large screen is located in front of a moving conveyor belt. A jogger is required to activate the screen. One of 2 possible scenic options is selected by moving to one side of the conveyor belt and accelerating toward the screen. I start off with a jog through dockyards at night. Street lights illuminate the alley. I pass a ship waiting for crates to be loaded. I'm starting to enjoy the rhythm of movement. I'm supposed to be able to "explore the movie" and "experience a thriller-like adventure", but it seems I can only ever run in a straight path. This is not an embodied version of Grand Theft Auto. The scene ends and I'm required to jog to one side of the conveyor belt in order to make the next selection. I avoid the Olympic stadium running track.
A wonderfully uncoordinated jogger takes my place. Her movements express uncertainty, hesitation and physical ineptitude. After 5 minutes of stuttering from one side of the running platform to the next, never quite managing to sustain the necessary speed to fully activate either possible scene, the screen and conveyor belt simultaneously pack it in. Superb. An exemplary "fuck you!" moment. Realistic and nausea-free as this virtual reality experience is, ultimately it doesn't amount to a lot more than a heavy-tech, low-option arcade game. Artist-designer Marnix de Nijs opted out of exploring the sonic possibilities offered by this kind of installation.
Untitled 5 by US artist Camille Utterback was one of 3 co-winners of the transmediale Award competition. I pass by a large chinoise-expressionistic style picture of flowers on a wall with a soft rectangular light in front of it. When I return, a child is gently moving in a random manner across the blank surface of the lit floor. He watches the data projection on the wall. His movements are a catalyst for the algorithmic expansion of roots, tentacles, cells, lines and brush strokes of colour. I'm fascinated. I enter the light and shuffle about. I'm mesmerised watching the mutable textures of light respond to the sweeping gestures of my feet. There's a distinct correspondence between this installation and what I take to be its precursor: the brilliantly annoying Etch-a-Sketch toys popular in the 1970s. But unlike the now kitsch apparel of self-absorbed youth culture, the generative system of Untitled 5 is not based on movement alone; stasis too registers as transformation in the organic composition of the digital image.
The problem with international art events like transmediale.05 is the tendency for projects to become abstracted from the conditions in which they were initiated. This isn't a claim for the virtues of authenticity or a valorising of origins. Abstraction, after all, operates as a plane of expression. But as with any abstraction, the noise-signal ratio is altered. This can often be the case for politically and socially motivated projects such as Public Netbase (www.t0.or.at) and the Disobedience and Hack.It.Art partner exhibitions. Such a predicament is amplified with an event like transmediale, which declares an interest in the basic sociality of media culture but doesn't go beyond the social occasion of the festival itself. However, transmediale.05 was many things. The performances, conferences, installations and the seemingly impromptu Salon and projects in the Basement ensured that this was a festival in which the symmetry between experience and production was frequently internal to the temporal rhythms of the event.
transmediale.05, Berlin, Germany, February 4-8, www.transmediale.de
RealTime issue #66 April-May 2005 pg. 29
© Ned Rossiter; for permission to reproduce apply to realtime@realtimearts.net