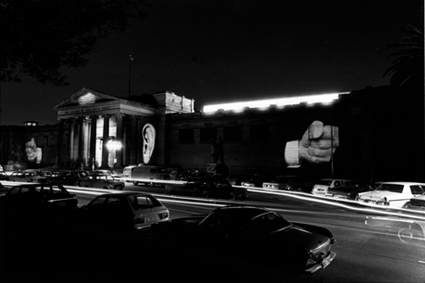 courtesy the Profile Foundation
Krzysztof Wodiczko, Art Gallery of New South Wales, Sydney, 1982
What is the role of monumental architecture in urban terrains traversed by hordes who pay little attention to their surroundings? How does a glitzy outré edifice impress a general populace glued to their smart phones scrolling through selfies and welded to earbuds playing television idol finalists' hits? This is the problem faced by entrepreneurial city councils the world over. To succeed, architects and councils must collectively pierce the insular audiovisual womb within which more and more people walk the streets and take public transport.
Buildings thus now perform like outlandish clowns, hysterically trying to attract the attention of those in their immediate vicinity. Buildings are no longer forms or objects – let alone sculptures or installations. They are forced performers: mimes for hire; fancy-dress party goers; strip-o-grams. Within the logic of global millennial urban renewal, buildings are there not to be renovated, but to be tizzed-up, frizzed and permed. And the most effective means for this type of drag is public projection. It can be rudimentary still dissolves à la PowerPoint, or smarty-pants projection mapping. It doesn't matter; the result is the same. That old building is deemed to suddenly 'come to life.'
Lit-up public buildings are new millennial equivalents of fireworks displays. But rather than the cosmos exploding in an open-air planetarium, illuminated architecture celebrates the earthly realm and its civilised patrons by portraying the city in idealised aesthetic terms. In the urban dark, the outside world shines just like the evening parade at Disneyland. It's all family-friendly and lower-common-denominator stuff—which begs the question whether it's worth analysing or critiquing. But the preponderance of council-funded tourist-touted festival-lauded events of public projections now constitutes a dominant form of audiovisual spectacle. Instead of the raw energy gunpowder detonations of old fireworks displays, any night-time event of large scale is now accompanied by 'public address' broadcast of musical accompaniment.
Things didn't start out that way. Early public projections such as Krzysztof Wodiczko's anti-Reagan statements of the mid-80s were thankfully silent. Like elliptical luminous graffiti, their critique was metaphorically amplified by scaling-up succinct, direct imagery (a politician's hand, a missile head, chains, a homeless youth, a grieving mother, etc) onto public architecture. Despite their gargantuan presence, they did not blare their message; their still silence invited contemplation. That was a long time ago, when city centres were struggling to stall bankruptcy and deal with crime rates. In the soft culture overload of the present, those core social problems have returned with a vengeance. The city is now regarded as a giant canvas of distraction to celebrate its 'soul' or 'spirit' or whatever Disney/Pixar/DreamWorks effigy you choose. Consequently, musical accompaniment of the rankest order is required to actualise the public space of the projection, to transform it into a transfigured shopping mall plateau.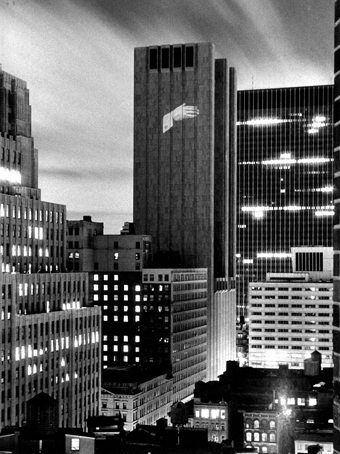 courtesy the Profile Foundation
Krzysztof Wodiczko, AT&T Long Lines Building, New York, 1984
All this would be fine if it was acknowledged that the commissioning of public projections since the late 20th century performs this workman-like task of tizzying up a CBD void. But that would be a bare, blunt admission. Hence art comes to the rescue: that wonderful transformer of the banal into the aesthetic. For no public projection is not regarded as 'art'. Indeed, public projections are championed as technologically advanced contemporary art. Massive render farms. Mega-pixels. Humongous solid-state drives. Enough lumens to decimate a small planet. It's the 'wet reality' of what New Media Art proponents dreamt of throughout the 90s. Well, those dreams came true.
The Lighting The Sails commission for illuminating the Sydney Opera House with synchronised multiple projections has always been a major event of the annual Vivid Festival. Starting with Brian Eno's projected version of his software-randomised still cross-dissolves titled 77 Million Paintings in 2009, Vivid embraced the idea of granting an artist access to the mega-canvas of the Opera House 'sails' at night. Great in theory, but ugly in reality. The visual quality and appearance of Eno's 'vivid' artwork is like a hyper-RGB tweaking of splotches of Ken Done and swathes of Pro Hart. Uncannily, Eno's gaudy palette and texturing synchronised perfectly with Australia's populist idea of 'visual artistry': they evoke 77 years of bad white 'modern' landscape art.
Since 2010, the Vivid public projections became Lighting The Sails. These large scale commissions have been granted internationally: 2011 to Superbien from France; 2012 to Urbanscreen from Germany; 2013 to Spinifex from Australia; and 2014 to 59 Productions from England. Each one progressively foregrounded musical accompaniment by effectively 'scoring' the image sequences to a mix of shallow studio-produced teledoco-style background mood noodling. It's the kind of 'imaginative soundtracking' that high school kids source when they post their first YouTube video editing exercise. The 59 Productions upped the ante with a more astute track selection (Explosions In The Sky, Ratatat and Battles), but the visuals swamp the edgy art-prog-rock of those tracks with decorative fluff and smarmy pop graphics. 59 Productions' commission has been the most blatant in its self-serving remythologisation of the Opera House's design, going as far as incorporating historical sound bites of parliamentary missives against carrying through with Jørn Utzon's original design. Everyone now champions the design of the Opera House—but mostly as a pat on the back to show how far we as an anti-intellectual nation have progressed.
Looking at and listening to 59 Productions' Lighting The Sails, I perceive no progression—especially as it climaxes with Vivaldi and Joey Talbot. If anything, its audiovision confirms how the Opera House can become a forced performer, illuminated and animated into an audiovisual effigy of all the ersatz values of hi-tech public art. It's presented as an 'art event'—but of the kind that first and foremost pleases the marketing departments of large arts institutions, consoled in knowing that plebeians will be transfixed by vulgar momentary distraction. The public will lower their smart phones, pull out their earbuds, and realise how magnificent the Opera House is. Considered this way, public illuminations of such scale are like gargantuan portraits of court officials. The Sun King Louis XIV would have found Lighting The Sails dazzling.
The Australian film industry mostly services the advertising industry, with occasional deliveries for television drama. Similarly, large scale public art commissions form but a tiny tiara on a hulking pro-AV industry which mostly services the advertising industry, with occasional deliveries for franchised theatre and corporate events. One can read the cartography of these interlocking industries to discern any overlapping zones between their client servicing and 'artistic production.' There isn't any. That's what is illuminated by Lighting The Sails.
–
RealTime issue #122 Aug-Sept 2014 pg. 26
© Philip Brophy; for permission to reproduce apply to realtime@realtimearts.net