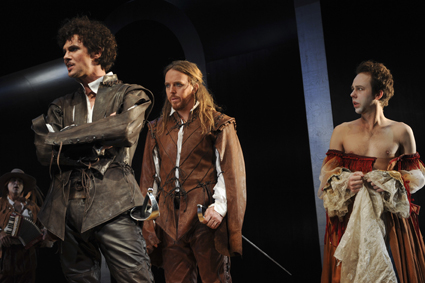 photo Heidrun Löhr
Rosencrantz and Guildenstern are Dead, STC
The slipperiness of identity, whether a matter of clinging to or searching for it is a commonplace in fiction and theatre, let alone in real life where it keeps many a being from a sense of wholeness. Three productions in Sydney have addressed this: the STC's Rosencrantz and Guildenstern are Dead in which the duo's quest for being in a world that refuses to properly identify them is dressed with a scarily surreal aura; Back to Back Theatre's Super Discount which puts to the test a 'disabled' man's identification with a super hero and its ramifications for his friends; and Moogahlin Performing Arts' This Fella My Memory, in which three women struggle to re-achieve their sense of connection with family and country.
STC, Rosencrantz and Guildenstern are Dead
With Escher-like perceptual playfulness, Gabriela Tylesova's design (with enabling lighting by Nick Schlieper) for the STC's production of Tom Stoppard's Rosencrantz and Guildenstern are Dead (1967) could have come straight out of a Polish theatre production of the 60s. Stark cloister arches on the sides of the stage angle in without meeting, yielding an ominous upstage void. The spaces immediately behind the arches at first appear to have depth but are later blackly forbidding, constituting a symbolic barrier for the play's trapped protagonists, already confused and ineffectual victims of pure, or let's say theatrical, contingency. If that weren't enough, a large inverted, abstracted tree hangs above the pair, like a cipher from Beckett's Waiting for Godot rendered by a Polish modernist.
Of course, the play is a riff on Waiting for Godot in which, instead of a landscape empty save for a tree, we have the world of Shakespeare's Hamlet experienced as if from the sidelines by two of its doomed minor characters. The air of calculated Mittel European surrealism in the design is amplified by the pair's naïve and increasingly desperate philosophising as well as in the costumes and grotesque demeanour of the hyperbolic figures they encounter—the actors on their cart like a circus crew from a Bergman film and Gertrude (an unrecognisable Heather Mitchell) an explosively exasperated wordless take on Elizabeth I.
Although perpetually panicked, Rosencrantz and Guildenstern themselves appear relatively normal: a couple of tolerably well-dressed gentlemen. Toby Schmitz's intellectually posturing Guildenstern prances about, underlining thought bubbles with idiosyncratic gestures. Tim Minchin's Rosencrantz, less alert than Guildenstern, but capable of his own flashes of illogical brilliance, hesitates and darts, stays close to the ground as the pair fill the waiting with ridiculous but sometimes alarmingly meaningful speculation. This tightly teamed, flawless duo is superb, as is Ewen Leslie's ebullient leader of the actors.
An aura of pathos forms as the play ends, two likeable innocents, despite all their naïve attempts at understanding their condition, surrender to the ultimate blackness threatened throughout by the stage design of the provisional world they inhabit and the inadequacies of language—"words, they're all we have to go on."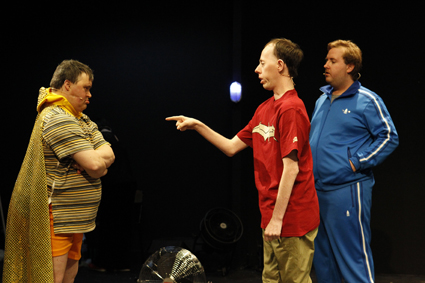 photo Jeff Busby
Mark Deans, Simon Laherty and Brian Tilley, Super Discount, Back to Back Theatre
Back to Back Theatre, Super Discount
Like Stoppard's Rosencrantz and Guildenstern are Dead, Back to Back Theatre's Super Discount (for Sydney Theatre Company and Malthouse) is another gripping account of existential angst within a theatrical framework. This time a group of performers with intellectual disabilities in a rehearsal room decide to perform a work about the superheroes beloved by one of their number, Mark Deans. However, believing that he's not capable of playing a super hero, they instead audition each other and a cocky 'able' actor (David Woods), squabble (some very funny, quick-witted exchanges between Brian Tilley and the others), tear into patronising audiences and slip into superhero costumes. But then they falter as the inauthenticity of the process dawns on the director, Simon Laherty. He suspects Mark should be playing the superhero. The outcome is funny, spectacular (lighting Andrew Livingston) and telling—that sometimes simple solutions are best.
The ambiguities constellating around persons with disabilities being represented as superheroes, save it seems for top-ranking sports people, are many. Back to Back avoids any easy affirmation of the underrated capacities of the 'disabled.' Instead they face the complexities—degrees of ability, prejudices among the 'disabled' themselves and the theatrical demands of casting—that have made the creation of a work, initially as a tribute to Mark, so troublesome.
Another complicating factor is the presence of the 'able' actor, disgruntled because disadvantaged in not having a disability—he's never praised by audiences. Not surprisingly, he is cast by his fellows as the bad superhero. His angst is best displayed by Woods in dialogue, less well when it becomes a monologue leaving the other performers inert and the momentum of an otherwise brisk production stilled.
The audition routines, debates, role playing (Laherty in a wig as a super hero's girlfriend), super hero dancing (Woods and Tilley choreographed by Antony Hamilton), Scott Price's obstreperous interventions, nice touches like Sarah Mainwaring's battle to mount a microphone on a stand, witty scripting and a strong focus on trust—will the group do the right thing by Mark?—all add up, delivering a satisfyingly complex and richly entertaining experience.
Moogahlin Performing Arts, This Fella My Memory
A large cloth screen, timber walkways and an open space to the front of the stage facilitate the presentation of various encounters and locations, urban and rural, and a very active spirit world in This Fella My Memory. The writing, the plot and characterisations are straightforward, but the actors deliver nuanced performances that suggest more complex personalities. Vast projections of night skies, rippling water and glittering traffic flows in a distant city amplify a sense of people in narrow circumstances looking for bigger lives.
Dolly (Lily Shearer)—a middle-aged Indigenous alcoholic who is hit by a car and loses her place in a hostel for homeless women—fears she is dying and yearns to visit her country. A grumpy cousin, Toots (Elaine Crombie), begrudgingly agrees to take her, but has to be coerced to also deal with Colleen (Linden Wilkinson), a white woman friend in the hostel who doubtless gave Dolly the grog that got her into trouble. While tension on the road between Colleen and an unforgiving Toots (who meanwhile indulges in a fantasy of returning to a singing career she ruined) doesn't let up, Dolly begins to improve, if haunted by the ghosts of two girls from her country's past.
From here on the plot grows more complicated as the unwelcome trio encounter Toots and Dolly's relatives, enabling the play to take in issues of juvenile crime, rape and murder (hence the presence of the two ghost girls), return to ceremony and a young middle class woman's discovery that she is Aboriginal. As well, Colleen reveals her past and its Indigenous connection and Toots finally acknowledges that she has no singing contract. It's almost too much, veering into soap opera territory as crises mount and are too easily resolved, but director Frederick Copperwaite's careful pacing and the intensity of the playing compensate somewhat for misgivings. Certainly the collectively composed writing, which oscillates between sharply observed and pedestrian, could be improved should the play have another life.
As "the first Aboriginal theatre production created, developed and produced by an Aboriginal company in Redfern in almost 40 years" (press release), This Fella My Memory is a welcome indication of the potential of Moogahlin Performing Arts to bring new perspectives on Australian life to the stage, in this case with a focus on the challenges for disadvantaged middle-aged women to recover their sense of agency and identity.
Sydney Theatre Company, Rosencrantz and Guildenstern are Dead, writer Tom Stoppard, director Simon Phillips, Sydney Theatre, 28 Aug-14 Sept; STC, Malthouse, Back to Back Theatre, Super Discount, director, devisor with the performers Bruce Gladwin, Wharf 1, 20 Sept-19 Oct; Moogahlin Performing Arts, This Fella My Memory, director Frederick Copperwaite, created & devised by Moogahlin Performing Arts & Linden Wilkinson, Carriageworks, Sydney, 4-7 Sept
RealTime issue #117 Oct-Nov 2013 pg. 34
© Keith Gallasch; for permission to reproduce apply to realtime@realtimearts.net