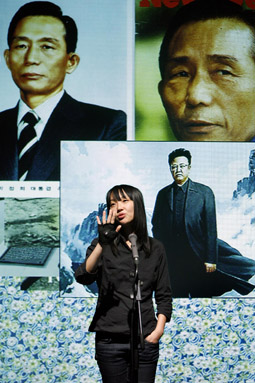 photo Barbara Braun
Miriam Yung Min Stein, Rimini Protokoll
IN RECENT YEARS, THE PERFORMANCE GROUP RIMINI PROTOKOLL HAS DEVELOPED AN INTERNATIONAL REPUTATION FOR ITS GROUNDBREAKING, EXPERIMENTAL WORK. FORMALLY ESTABLISHED IN 2002, THE GROUP CONSISTS OF STEFAN KAEGI, HELGARD HAUG AND DANIEL WETZEL WHO FIRST MET IN THE EARLY 1990S WHILE STUDYING AT THE INSTITUTE FOR APPLIED THEATRE STUDIES AT GIESSEN UNIVERSITY IN GERMANY. ALTHOUGH DISPERSED ACROSS THREE DIFFERENT COUNTRIES (KAEGI, WETZEL AND HAUG ARE BASED IN SWITZERLAND, GREECE AND GERMANY RESPECTIVELY), RIMINI PROTOKOLL HAS SERVED AS THE TITLE UNDER WHICH THEY HAVE PRODUCED AN EXTRAORDINARILY ECLECTIC BODY OF WORK.
What draws this work together is the emphasis placed on developing a performance, art, theatre and radio practice driven by ordinary people, experiences, encounters and events. In Cargo Sofia-X (which toured Europe in 2008), the audience was placed in the back of a converted, glass-sided truck manned by a Bulgarian truck driver who recounted stories about his work and life as he manoeuvred the audience between service stations, roadside diners and border checkpoints. In interviews, Rimini Protokoll describes these non-actors as "experts" rather than amateurs, because what interests them about the performers is the specific knowledge and forms of experience that they bring to bear on the work in question.
Among several Rimini Protokoll works currently touring Europe is Black Tie—a performance I attended at the HAU 1 Theatre in Berlin in March and which is being staged at the Vienna Festwochen in May and June this year. Black Tie is essentially a one-woman show performed by Miriam Yung Min Stein, a German woman born in South Korea in 1977 and adopted seven months later by a German couple who raised her, together with their other children, in Osnabrück in north-west Germany.
Like most of the "experts" who feature in Rimini Protokoll's productions, Stein does not have a background in acting. Although she studied dramatic writing in the USA and worked with Christoph Schlingensief on his 2004 production Kunst und Gemüse (Art and Vegetables), she has largely practised as a journalist and a director in advertising and music television. In 2008 she published Berlin-Seoul-Berlin which recounts a 2006 journey to South Korea in search of her identity. It is around this preoccupation with tracing her roots that Black Tie is structured.
It is clear that the performance is going to be an intimate affair. Instead of entering via the usual doors, we are ushered in via the backstage entrance to take our places on temporary seating at the back of the stage which directs our gaze towards the well-lit auditorium. At the front of the stage, facing us, is a very simple set which features a large screen for projections, a podium and a small platform for an accompanying musician, Peter Dick.
A casually dressed Stein introduces herself to us, scans her adoption certificate, which promptly appears on the screen behind her, and informs us that, as a newborn baby, she was found in a box outside the Seoul town hall wrapped in newspaper (a story which, she later informs us, was revealed to her as a fabrication). While the set is sparse, Stein uses a remotely wired glove to add and move images on the screen behind her, including close-up images of sections of the daily papers in South Korea on the day she was "discovered"—images which prompt her to reflect on whether her small body was wrapped in the international politics section, or perhaps in advertisements for fruit and vegetables.
Stein also uses the screen to provide us with a potted history of the country in which she was born: a chronicle illustrated via a colourful collage of images pasted together almost like a child's scrapbook. This digital 'scrapbook' also includes images of her (very blonde) German family taken when she was a child, along with a copy of a letter written by her German mother a year after she was adopted, in which she explains the difficulties Stein experienced in her first year growing up in Germany. Stein herself also reflects on these, citing painful moments in her life when her "difference" was made clearly apparent. She recounts, for example, the sense of pain and confusion she felt when the waiter at the Chinese restaurant she was dining at with her family spoke to her in Chinese; a traumatic event that prompted her to spend the rest of the evening under the table.
These memories and images are contrasted with photographs of "what might have been" via the introduction on stage of Hye-Jin Choi, a South Korean woman living in Berlin who draws on images from her own family album to provide us with a picture of traditional family life in South Korea. The cultural differences between Germany and South Korea are also highlighted via a clip from a South Korean reality television program in which a German woman is reunited with her birth parents on stage. As the young German woman moves toward her newfound South Korean relatives, they quickly begin distributing presents to her and her German family. Both parties look confused, nervous and uncomfortable, and the reunion is painfully awkward.
While Stein has no interest in appearing on such a program, Black Tie is about the central position her South Korean identity (or lack thereof) occupies in her life. While grateful to her German family for the opportunities with which they have provided her, she is clearly angry and, to a certain extent, bitter about what she describes as the "schwarze Löcher" ("black holes") that are opened up in people's lives by international adoption. This anger was clearly compounded when, after arriving in South Korea, she discovered that all information about her birth parents was lost when the adoption agency was destroyed in a fire.
As is revealed towards the end of the performance, in a last ditch attempt to learn more about her identity, Stein ordered a DNA profile, after spitting into a tube and posting it to an overseas lab. Among other things, the profile reveals that she has a one in five chance of developing Alzheimer's. As the profile is projected on screen, the performance concludes with Stein's melancholic reflections on the relationship between remembering and forgetting, on dates that have been lost, and on sense memories, people and places that have yet to be (and perhaps never will be) discovered.
The ending itself is a very open one (leaving the audience unsure when to applaud). Any attempt, however, to wrap up Stein's story would have undermined the active, imaginative mode of engagement fostered by the eclectic collection of materials from which the performance is constructed. The strength of the work, however, rests primarily on Miriam Yung Min Stein's performance, and on the "expert" manner in which she communicates a sense of her, at times, difficult experience growing up as a German strangely "out of place" in Germany.
Rimini Protokoll, Black Tie, script, direction, design Helgard Haug, Daniel Wetzel, performers Miriam Yung Min Stein, Hye-Jin Choi, music Peter Dick; HAU 1, Berlin, March 11-14
RealTime issue #91 June-July 2009 pg.
© Tara Forrest; for permission to reproduce apply to realtime@realtimearts.net