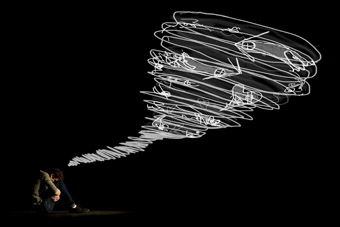 image by Thomas Breakwell and Robert Jordan
Matthew Whitty in The Fire and Hurricane Survival Guide
IN MELBOURNE SOME THEATREMAKERS ARE ENAMOURED WITH THE GENERIC RESIDUE OF SURREALISM. RECENT PRODUCTIONS OF WORKS BY ARTAUD (A SURREALIST OUTCAST) AND ARRABAL (A 1970'S ABSURDIST), ALONG WITH JENNY KEMP'S INFLUENCE AT THE VCA AND WRITER LALLY KATZ'S UNCANNY ABILITY TO BE EVERYWHERE SIMULTANEOUSLY, HAVE ENCOURAGED A DESIRE TO EXPRESS THE INDESCRIBABLE LONGINGS OF THE UNCONSCIOUS MIND.
However, this apparent Surrealist impulse is less a desire to reveal interior worlds than a symptom of a contemporary conundrum that confronts artists and audiences alike—a postmodern inability to remember and therefore to concentrate upon immediate problems such as economic crisis and climate change. What we are actually seeing in Melbourne is not Surrealism, but an evasive hyperrealism.
Dream Creatures and The Fire and Hurricane Survival Guide are two performances from Bird on Fence at St Martins Youth Arts Centre that provide contrasting examples of the surrealist impulse. Dream Creatures opens with its central character in bed wearing pyjamas. The creatures that surround the perplexed Ashley—a magician, a bird-man, an elf, an 'Alice' impersonator and a feline troll confined to a cage—are all characters that visit him during his nightly REM sleep. Ashley himself is an androgynous mix of ambiguous sexual inclination, completing the overarching impression that any sense of an actual world has been excluded.
In effect, we are watching Ashley's dream; which could also be a dream within a dream belonging to another character, or even another member of the audience. Noteworthy here is the fact that Dream Creatures relies upon conventional theatrical dialogue and character delineation to express the unconventional world of the lower cerebral cortex, while the second play, The Fire and Hurricane Survival Guide, utilises the power of non-verbal communication.
Two young men stand opposite each other at either end of the stage. Each immerses his head in a bucket of water, but at different times. When a city skyline appears on a rear wall it becomes clear that these two guys, desperate to emotionally connect, are instead overwhelmed by the pressures of urban life. Unlike the previous play, never a word is spoken between the two men; but, of course, much is said about social isolation, teenage gender bending and simple expressions of love lost to prejudice and feelings of acute helplessness.

image by Thomas Breakwell and Robert Jordan
Luke Fraser in The Fire and Hurricane Survival Guide
That Surrealist grand master Marcel Duchamp, an artist notorious for turning his nose up at the urinal of genre classification, also emphasised the communicative power of inanimate objects. In this sense, The Fire and Hurricane Survival Guide comes closest to transposing a precise surrealist impulse into the morass of postmodern life. Watching this impulse attempt to find traction in the year 2009 is one of the strangest experiences a reviewer can have in his theatre reviewing life. Perhaps though, this same sense of temporal-spatial displacement is once again, a necessary condition of the hyperreal.
Bird on Fence: Dream Creatures, and The Fire and Hurricane Survival Guide, Writer-Directors: Alisa Tanaka-King & Brienna Macnish, Performers: Ally Bruce, Amy Jones, Emma Lyhne, Brenna Macnish, Michael Timothy Mission, David Peake, Joana Pires, Stephanie Sabatino, Mattie Young, Luke Fraser & Mathew Whitty, Light: Katherine Hall & Maddy Seach, Sound: Daniel O' Shea & Danielle Anderson, Music: Glenn Luck & Caterina Pacitti, Sand Art: Amy Jones, Animation: Robert Jordan, August 5 – 8, St Martins Youth Arts Centre, Melb
RealTime issue #93 Oct-Nov 2009 pg. 42
© Tony Reck; for permission to reproduce apply to realtime@realtimearts.net