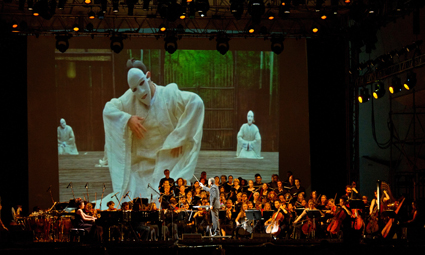 photo Kevin Yatarola
The Martial Arts Trilogy, Tan Dun
ADELAIDE'S ANNUAL OZASIA GENERATES SIGNIFICANT CROSS-CULTURAL AND CROSS-GENRE ARTISTIC DEVELOPMENT. THE FEATURE MUSICAL EVENT IN OZASIA 2012 WAS THE MARTIAL ARTS TRILOGY CONCERT, IN WHICH RENOWNED CHINESE COMPOSER TAN DUN DIRECTED THE ADELAIDE SYMPHONY ORCHESTRA IN RENDITIONS OF HIS SOUNDTRACKS FOR THREE MAJOR FILMS: HERO (2002, DIRECTOR ZHANG YIMOU), CROUCHING TIGER, HIDDEN DRAGON (2000, ANG LEE) AND THE BANQUET (2006, FENG XIAOGANG). FILM MUSIC IS JUST ONE ELEMENT OF TAN DUN'S WIDE COMPOSITIONAL RANGE.
In this concert, the music was performed in front of a screen showing excerpts from the films blended with live camera close-ups of the soloists and Tan Dun as conductor, forming a unique visual backdrop for the orchestra. In cinema, sound generally supports the action and is often considered a subsidiary element, but in the Martial Arts Trilogy concert the visual material supports the musical performance, giving visual embodiment to the drama within the music. There's a moment where a shot from the film of a guqin being played coincides with a sublime guqin solo. And there are many slow-motion martial arts scenes, with warriors flying magically through the air, that create a ballet to the music, as if choreographed to the musical line.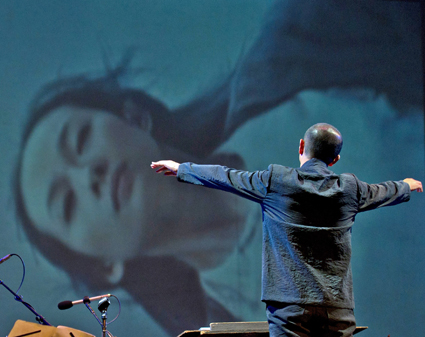 photo Kevin Yatarola
The Martial Arts Trilogy, Tan Dun
Tan Dun's scores for these films are orchestrated as a set of concerti, each work featuring a soloist. ASO concertmaster Natsuko Yoshimoto was outstanding as the violin soloist in the performance of music from Hero, establishing a dialogue with Xiaoxia Zhao's guqing and articulating the tension between the film's leading characters. The guqing sound blended beautifully with the violin and orchestra, setting traditional Chinese music within a Western musical framework. Li-Wei, the cello soloist for the music from Crouching Tiger Hidden Dragon, and Jiayi Sun, the piano soloist in the music from The Banquet, gave excellent performances. Tan Dun's writing for them is magnificent, requiring the highest level of execution and supported by theatrical but highly musical orchestration that characterises the narrative but is not dependant on the visual material for its effect.
Tan Dun has refreshed the traditional violin/piano/cello concerto concept by melding it with cinematic material and multimedia presentation, and bringing it to a significantly wider audience by allying it with cinema. The Martial Arts Trilogy concert embodies a significant artistic development, where film, live video and live music merge into a distinct form.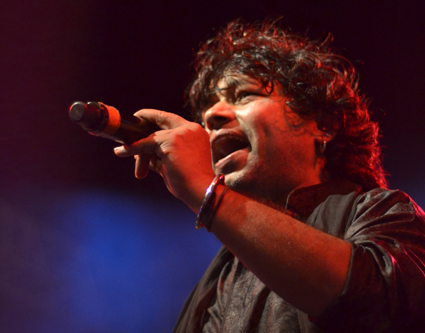 courtesy OzAsia Festival
Kailash Kher
Another feature OzAsia performer was star Indian singer Kailash Kher, a household name in Indian communities, and it was fitting that in a festival intended to bring Indian cultural exchange to a local audience, he and his band Kailasa would have a central role. His concert at the Festival Centre drew a packed house of ardent fans, many singing along and dancing in the aisles. He sings his joyous songs in a soaring voice, the backing music drawing on traditional Indian forms, jazz fusion and Bollywood pop. Much of the material is devotional, and he is often compared with the late qawwali singer Nusrat Fateh Ali Khan. The recasting of devotional music in a pop format transmits it to an audience that has grown up with a popular music sensibility. Kailash Kher's music is seductive on many levels, and carries great spiritual weight.
Sandy Evans' Indian Project has established a highly individual and powerful musical form, its mix of styles fitting well into the OzAsia Festival context. Legendary Australian jazz saxophonist Evans has been exploring Indian musical traditions for many years, and one of her teachers, Sri Lankan sitarist and singer Sarangan Sriranganathan, performs with her in this ensemble. Evans and Sriranganathan create an hypnotic fusion blending western jazz with Carnatic and Hindustani music, to which the expressive, mellifluous sax, paired with the sitar, is ideally suited.
The concert featured Evans' Seven Stories of Dreams, a performance involving a degree of improvisation. The composer states in the program note that when she composes for improvisers, her main inspiration comes from the musicians she is writing for. This hybrid music's character and strength lie in the hands of the musicians as they perform, their traditional material transforming itself and evolving as they play. It requires musicians who have mastered their respective genres to the point where they can adapt them spontaneously. One performer develops a melodic line and then the others respond to it, resulting in a delightful musical conversation. When two follow the same melodic line simultaneously, wonderful timbral effects are created. Seductive, swaying rhythms flow through every piece. This is music of much thought, development and rehearsal, highly refined and superbly delivered.
In the Crouching Tigers concert, an ensemble of members from the Adelaide Symphony Orchestra joined Xiaoxia Zhao to present new short works by five emerging Australian composers invited to write pieces exploring cross-cultural composition. Each composer was asked to include the guqin in the ensemble, and the resulting compositions were workshopped with Tan Dun. The composers variously explored the guqin's unique sonic properties and character, developing all kinds of effects when allied with violin, cello, clarinet, trumpet, bassoon and percussion. The work that made the most eloquent use of the guqin was Annie Hui-Hsin Hsieh's beautiful Threading Through Fumes, in which the guqin and the string and wind instruments' lines intertwine to evoke curling incense smoke trails. Xiaoxia's hands caress the guqin and, to conclude the work, she drops small pieces of foam rubber onto the strings to create wispy, barely audible sounds. Commissions for such events inspire exciting developments. This music was more cerebral than spiritual or visceral, but it cast a very special spell.
There is the question as to whether the re-invention of traditional music through hybridisation dilutes or undermines the strength of those traditions. But the process of hybridisation is itself well established and no culture can remain static for long. The OzAsia Festival's musical programming demonstrates how cultural interaction can stimulate rapid musical evolution while honouring the music's cultural lineage.
Adelaide Festival Centre, Ozasia 2012: Martial Arts Trilogy, Adelaide Symphony Orchestra, conductor Tan Dun, violin Natsuko Yoshimoto, guqing Xiaoxia Zhao, cello Li-Wei, piano Jiayi Sun, Festival Theatre, Sept 23; Kailash Kher and Kailasa, Festival Theatre, Sept 29; Sandy Evans' Indian Project, saxophones Sandy Evans, sitar and vocals Sarangan Sriranganathan, double bass Brett Hirst, tabla Maharshi Ravai, Space Theatre, Sept 22; Crouching Tigers, composers Tristan Coelho, Annie Hui-Hsin Hsieh, Christopher Larkin, Lachlan Skipworth, Timothy Tate, guqin Xiaoxia Zhao with members of the Adelaide Symphony Orchestra, Space Theatre, Adelaide, Sept 23; http://www.ozasiafestival.com.au/
This article fist appeared as part of RT's online e-dition Nov 6
RealTime issue #112 Dec-Jan 2012 pg. 38
© Chris Reid; for permission to reproduce apply to realtime@realtimearts.net