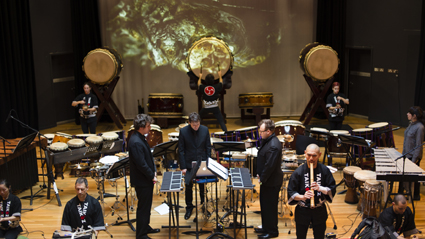 photo Michael K Chin
Pulse:Heart:Beat
Sister ensembles TaikOz and Synergy Percussion combined for two nights at Angel Place City Recital Hall in celebration of kaleidoscopic city love in Pulse:Heart:Beat, a concert series that has run for longer than a decade. With more than 20 artists, four premieres, three films and the promise of "gorilla cinematography and animation" (program notes) I was thrilled to witness this collaborative hotpot if disappointed by the marked absence of anthropoid apes.
The concert was a celebration of rhythmic colour with references to Austrian waltzes, Japanese Hachijo-style drumming, French-Senegalese artillery, Sydney's urban beauties, Punjabi bhangara and dirty universal dance beats. Knowing that this sort of musical smorgasbord could divide an audience, the groups were careful to frame their smashing of cultural and geographic barriers with the question, how on earth do we find intimacy in the maelstrom of modern life?
The concert was intimate despite the size of the venue and cultural turf traversed. At times, with Mike Chin aka Tokyo Love-In slinking his way around the stage, camera in hand, live images of the musicians shot from behind revealed to us new aspects of their experience.
Images by Chris Wilson, originally created for a collaborative work with Legs on the Wall in 2011 titled Beautiful Noise, accompanied Synergy Artistic Director Timothy Constable's reworked composition Cannons of Navaro. Both the sounds and visuals were borrowed, revised, re-presented in the pursuit of new tradition. During Resounding Bell, a frequently recurring piece in TaikOz's recent repertoire, there were stunning visuals from filmmaker Brad Kremer. An organic mass, ambiguously animal and vegetable, morphed in relationships with water and air as the meditative modal harmonies of two metalophones interwove under a shakuhachi melody.
Composed by Kevin Man and Kerryn Joyce aka Karak Percussion around 2003, Resounding Bell has been expanded to include an improvised shakuhachi solo by grandmaster Riley Lee and, later, a marimba solo, presumably added when Timothy Constable joined TaikOz on a regional tour in 2010. In Pulse:Heart:Beat composer Man played the shakuhachi solo in Lee's absence, but rather than improvising a new one, he recreated Lee's solo because it had come to form an integral part of the piece's sound world. This highlights an important aspect of the way both TaikOz and Synergy approach innovation, consolidation and the time-frames in which these processes come to pass. They demonstrate with their practice that intimacy is achieved by continual application and adaptation to produce recognisable cultural objects in a lived tradition. In this sense, while experimental and challenging thematically, this program was homogeneous and representative of the ideals and nature of both groups.
In post-concert foyer chitchat, I overheard someone say, "TaikOz makes Synergy look like the poor cousin." I couldn't disagree more. Are athletes better than academics? Sure, TaikOz players flash their muscles and sweat true to the cultural signifiers that mark taiko, but they play with the same sensitivity and astounding precision as their relatively restrained, concert hall suited Synergy colleagues. If it is the visual aspect of TaikOz's performance that trumps Synergy's, then one could conjecture that those pieces featuring excellent quality films would have met the most positive response, but this did not seem the case.
While Synergy shone as a flexible percussion ensemble, this concert was a strange blend of TaikOz's multiple musical personalities. A group specialising in traditional Japanese drumming that operates a bit more like a dance ensemble, TaikOz simultaneously inhabits the realms of the classical concert hall, pop festival stage, community drum workshop and corporate entertainment. In a brazenly honest offering, the groups presented their vulnerable and raw musical selves to the City Recital Hall audience.
Perhaps the bravest element of the program was the all-hands-on-deck realisation of young Anton Lock's throbbing Rhythm River. This work featured Lock clutching a microphone in power stance out front while the full combined ensemble reproduced a dub-steppy pulse behind. Lock rapped, percussively spraying rhymes into a deliberately sparse aural backdrop. With all the enthusiasm of a high-school musical chorus, awkwardly aware of the powerful statement they found themselves making, the beat makers did not appear calm and cool enough to assure the Angel Place crowd that it was okay to participate in such a vulgar, contemporary form of music. Yet void of the verbal obscenity often associated with this form of performance, in fact making an offering of thanksgiving, Lock's lyrics were uplifting. Nothing about his act was insincere. There was no empty bravado or rhetoric in place to hide a divide between philosophy and life lived. Lock stood, just as he is—rehearsed, dedicated, genuine—to deliver his vision for "freedom of expression." To Lock, and as it seems for both Synergy and TaikOz, genre is but a site in which musical expression can emerge. This concept of incompletion, of fluidity, is what frees them to experiment with sometimes surprising collaborators, ideas and sounds.
For all its variety and experimentation, the program's energy really took off only in the encores when the pressures of perfection and stamina had abated. The groups had memorised vast amounts of highly technical music, a cerebral feat not to be ignored or eclipsed by their fantastic displays of physicality. As tension lifted, so did the roof. The crowd, baffled though they were, could not help but be swept to their feet by the massive exchange of energy during rapturous encores. The charm snuck up on us…guerilla scintillation.
TaikOz and Synergy Percussion, Pulse:Heart:Beat, Synergy performers Timothy Constable, Bree van Reyk, Joshua Hill, young artist William Cedar Jackson, TaikOz performers Ian Cleworth, Graham Hilgendorf, Masae Ikegawa, Kevin Man, Kerryn Joyce, Anton Lock and associate player Sophia Ang, sound production Hugh Coffey, vision lead Tokyo Love-In, films Chris Wilson, Brad Kremar, Colin Rich, City Recital Hall, Angel Place, 28-29 June
RealTime issue #116 Aug-Sept 2013 pg. 50
© Felicity Clark; for permission to reproduce apply to realtime@realtimearts.net