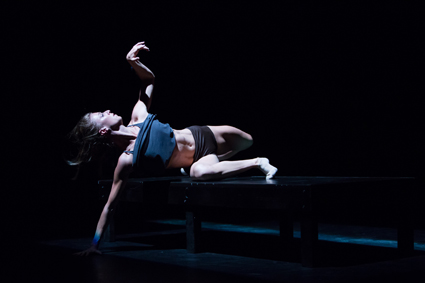 photo Jack Saltmiras
Juliette Barton, Scrutineer, SDC New Breed
Hybrids abound in Sydney Dance Company & Carriageworks' New Breed, five short works by emerging choreographers, crossing the line between human and animal or elaborating on the uneasy coexistence of inner and outer selves. In Performance Space's IOU3, a group of largely younger emerging choreographers mostly performed their own creations, tackling notions of form, caring and, in one case, the humanimal.
Lee Serle's White Elephant (17 minutes) is a "reimagining" of the work of Australian painter Stephen Bush as a "surreal…series of live paintings connected by the elephant figure in an ambiguous narrative" (artist program note). Bush's elephants are humans attired in the floppy costumes we see on collectors for wildlife protection funds. There's one in Serle's creation, entering with fury, swinging and kicking, breaking the mood of on and off formality of the opening dance. The delicate accompanying ostinatos and slightly asynchronous plucked metallic strings that had been ominously invaded by a deeper piano utterance, softly sizzling strings and wolf-like howls, fade into silence (Ben Frost, "Leo needs a pair of new shoes"). Unlike Bush's hyper-naturalistic landscapes, Serle's is abstract—glo-coloured piles of origami—and compared with Bush's anti-colonial gestures, his meanings enigmatic.
In the final section, after a semi-balletic solo, a cry for Celeste suggests this is Babar who, with two women dancers in a slow writhe of bodies, is borne down by inertia as seven other dancers look on, three with red horns. The sense of pathos is compounded by a long sustained high note gradually subsiding into the bed of sound beneath (Ben Frost, "Hydrogen Sulphide"). White Elephant is a mysterious, less than cogent choreographic creation.
In Charmene Yap's five-minute Do We, female and male dancer face each other, heads rather oddly thrusting forward until he moves in (to a gypsy mandolin melody) sniffing and snuffling about her. The dance resolves into a well-proportioned duet with hints of animality and, finally, separation. Its initial strangeness is the best thing about the too-brief Do We. Cass Mortimer Eipper's quite literal dance theatre-ish Dogs and Baristas focuses on the "portion-sized friendships [which] keep us sane." In other words, how do we ration affections. The work oscillates between solo speaking (about fear, anger, autonomy), the occasional dialogue ("Why does life have to be so complicated?" "It's not") and simple groupings where individuals fit or not. The 'social' component of being humanimal is not always a given, and here is lightly comical.
In Scrutineer, Juliette Barton performed her own solo, asking, "Was I looking through your eyes or mine?" She stares intently at us before withdrawing into herself on a gold-lit bench where she rests and turns with yoga-like inwardness contrasting with later involuntary kicks and rolls, nonetheless impeccably precise, before once again returning our stare. We wonder just where she's been—attempting to ascertain a sense of self regardless of the gaze with which we construct her?
Gabrielle Nankivell sees her work as expressing "dancers' fascination for physicality,"—the "wildebeest within." In her program note she writes, "With the head of an ox, the hindquarters of an antelope and the mane and tail of a horse, the wildebeest as image morphs easily between living animal and fanciful creature. Storms and predators gather as instinct stirs the herd and migration whirrs into action like an ancient machine." The herd comprises 13 dancers in various groupings in a 25-minute journey of routine, tensions, fights and resistance against the forces of nature aurally amplified by Luke Smiles' score which rises from mechanical clockwork into a storm of static that turns convincingly thunderous. This is a world in which nature is at once mechanical and sensual, ordered and dangerous, human and animal, where the herd rules—save for a passionate solo outburst expressing the power of difference. Nankivell's Wildebeest is a vigorously realised if limited conceit.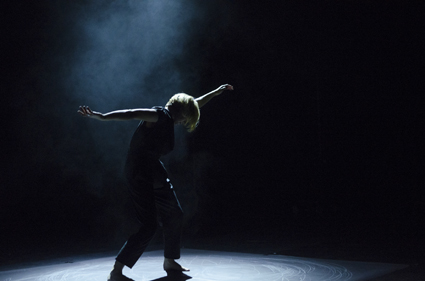 photo Heidrun Löhr
Tanya Voges, IOU3
IOU3
In the most engaging of the New Breed and IOU3 programs, Tanya Voges takes the text of Edgar Allen Poe's The Pit and the Pendulum, "the shape of the text of the page," especially punctuation, as the score for her work, …and the pendulum, to a score by James Brown and narration by Damian Asher. Although not a literal evocation of the tale, Voges' escalating, geometrically precise pendulum-like movement, her chalking of the floor (reminiscent of the protagonist's fraught intuitive marking out of his frightful cell), a video-ed aerial view and Brown's tense score cumulatively point to the horror behind apparent order. Voges claims in her program note that she intended the patterns of the work's various scores would "generate movement." However, her highly articulate dance and melded sonic and visual imagery suggest more than abstraction.
Emily Amisano writes that in her piece, in between dog and wolf, she is reflecting on the tension "between 'the call of the wild' and civilisation." Her approach is metaphorical, engaging with a length of rope with which she has an ambivalent relationship, a kind of co-dependency in which it ties her down or she leaves it, only to return. But the connection between body and rope is not clearly established and some of the movement appears surplus to meaning, weakening the force of her metaphor.
Adam Synnott and Lisa Griffiths' film existence (made with Jason Lam), was "inspired by nursing their newborn." The couple cradle and rock each other to a minimalist score in low light and in various formations, several of them intriguingly complex (caught in motion and as stills) as limbs move about bodies seeking security, locking in to form odd humanoid shapes. In Naked Habit, Timothy Ohl and Gavin Clarke tackle drug addiction with a light touch and a multitude of props (including puppets) and effects that limit cohesion and choreography, but amuse.
Kristina Chan's adrift looked promising, her body wracked, slipping and falling, tossed about by unseen forces—forcefully embodied in James Brown's thunderous score and Guy Harding's flashes of lightning—but there was little sense of structure or of a clear approach to the "buoyancy, weightlessness, surface tension and turmoil" Chan wished to convey in her short performance.
Craig Bary and Joshua Thompson's Without Concept aimed to "abandon both concept and theatrics" in favour of unadulterated "formalism, exploring dance as a medium." As the two super-fit, agile bodies moved dextrously from discrete solo selves to mirror images to entwinement and mutual support, a kiss, sinking into one another and separating, there was much more played out than aesthetic abstraction—with humour and intimacy and sometimes interesting dancing. The audience were palpably entertained.
As with the Keir Awards, New Breed and IOU3 offered no revelatory choreography, although Tanya Voges' …and the pendulum (save for its excess of voice-over narration) proved to be the strangest of the works, structurally the strongest and the one with the most potential. The seasons were nonetheless very welcome testing grounds for new choreographic talent deserving more opportunities to realise their vision.
Sydney Dance Company & Carriageworks, New Breed, Carriageworks, Sydney, 4-8 Nov; Performance Space, IOU3, Carriageworks, 12-15 Nov, 2014
RealTime issue #125 Feb-March 2015 pg. 30
© Keith Gallasch; for permission to reproduce apply to realtime@realtimearts.net