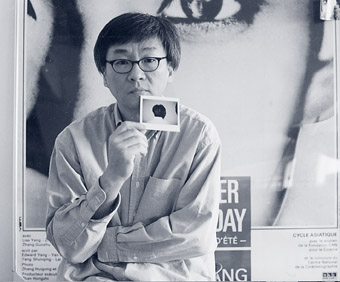 Edward Yang, director Yi Yi (A One and a Two)
In these times of post-handover politics and crouching tiger opportunities, the Hong Kong Film Festival has faced a tough time to maintain its position as the major showcase for new Asian cinema. What we got this year, with few premieres but a range of diverse seasons, was an opportunity to consider the dispersed achievements of East Asian cinemas.
If there was one masterpiece, it was Edward Yang's Yi Yi (A One and A Two). This is the work of a great filmmaker with an enormous sureness of touch. The small business people of earlier Yang films such as Taipei Story have done well out of high-tech, though they are not sure how. Events nudge them into an unaccustomed introspection. This film has a much warmer tone than most of Yang's work. Eight year old Yang Yang takes photos of the backs of people's heads to help them see things afresh. There is a reference to Yang's own methods here, which have always been based on indirection and distance. Dialogue scenes are done in extreme long shot, or from behind, or through narrow openings, or in reflection. This holds you away from characters and ensures that your relation to the narrative isn't straightforwardly emotional. When the emotion does emerge, it is mature and contemplative, and hence stronger for it.
The great thing about the commercial Hong Kong industry, on the other hand, is that it works so hard to deliver a maximum of force with the minimum of waste. I like to see the ads for contra deals in the credits. Here is a cinema that carries its own suitcases out to the car. Let's take Johnnie To and Wai Ka-fai's Needing You. It's a romantic comedy, a genre for which fan-boy culture has never had much time. It often seems that the couple in a HK romance don't want to go to bed together so much as to play together. Johnnie To keeps the camera close in to the action and then moves the characters around quickly so the camera whips after them as they snap through the frame. This is filmmaking intent on exploiting every ounce of kinetic possibility.
Juliet in Love is a small triumph. It pulls off the difficult combination of sentimental love story (complete with chubby baby) and hard-edged observation of globalisation in southern China. Sandra Ng is a waitress who lives in a New Territories development where the concrete was poured yesterday, across the road from the shanty town. She faces a losing battle to keep her grandfather off the bottle—the Coke bottle. This sad but inspiring film uses Coke as a motif which establishes the parameters of the characters' lives, before killing them in the end.
Gen-Y Cops also represents a dive into the global. It is that happy combination of popular film which kicks arse while having every bit as much to say about the new world order. Cool Canto-dudes take on evil homies with robots along with the arrogant Americans who think they own the world. Have I mentioned the latest in crime-fighting technology developed by the People's Republic? If only they can stop the arms from falling off. And the French robot, named in honour of Jerry Lewis? There's all the geopolitical allegory you could want here and then some. The central question for popular youth culture—and for the Hong Kong film industry—is how to be hip, how to be hot, how to be chilled out bro, and yet how to be proudly and identifiably Chinese at the same time.
Tsui Hark is back from a season in Van Damme and ready to show us how bad dudes really do things. Don't expect to be able to follow the story of Time and Tide. The film doesn't want to narrate, it just wants to smack you silly. As far as I can make out, it has something to do with a Latin American gang, a mercenary whose wife is heavily pregnant (I'm sure you can see where that one is heading) and a pretty boy wannabe. Those who have seen The Blade will have a sense of the dark, jagged vein in which this film works. Tsui doesn't move the camera—he thrusts it, accompanied by the whoosing sounds that normally go with martial arts moves.
If I can open a parenthesis concerning narrative incoherence and global politics, I'd like to mention Miklos Jancso's Damn! The Mosquitoes from the international season. From a Hungarian perspective, the grand narratives of history have lapsed into a confusing opacity. So what kind of films do you make? Perhaps something like this, which resembles the Three Stooges performing a Brechtian improvisation. Some critics have tried to read this as allegory, but it seems more like an attempt to capture the texture of an historical moment rather than its linear trajectory.
One of the most interesting emergent sources of Asian cinema is Korea. Barking Dogs Never Bite might become its breakout film. It works the familiar territory of the soulless centre of Asian economic miracle, but it does it with humour and vibrancy. To pull this off through a story about eating dogs is no small achievement. It balances its urban distopia against the idealism of its young female protagonist. Girlpower might not rule, but at least it endures.
The more prestigious Korean film was Chunhyang. This big budget film screams national culture. Subtract the Shaw Brothers martial arts film from Crouching Tiger and you might get something like this. It is a relentlessly picturesque folktale interspersed with on-screen narration by a pansori singer. The aim is to revitalise national culture by stressing its power to connect with a contemporary audience.
On to the Japanese youth film with Ryuichi Hiroki's Tokyo Trash Baby. Let me type that again: Tokyotrashbaby, tokyotrashbaby. Of course, no film could ever be as cool as this title. What we've got here is a solid character study of a young woman who attains her fantasy only to find out that she has no fantasy left. The film is well constructed and certainly not trashy—which may be good or bad, depending on your aesthetic.
In this brief sampling of Asian cinema, if Hong Kong wasn't at the cutting edge, it still did a pretty good job of filling in a lot of the recent and historical background. Hopefully we'll have a chance to see more of these films in Australia riding on the back of the current crop of arthouse successes.
Yi Yi (A One and A Two) is screening as part of the Sydney Film Festival, State Theatre, Sydney, June 8-22
Hong Kong International Film Festival, April 6-21
RealTime issue #43 June-July 2001 pg. 15
© Mike Walsh; for permission to reproduce apply to realtime@realtimearts.net